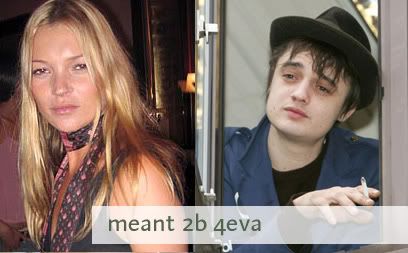 The Mirror reports that Kate Moss partied for nearly 24 hours, first heading out with designer Stella McCartney to see Jack White's new band in London on Thursday night. Later that night she met up with divorced couple Jude Law and Sadie Frost and went to a bar. Kate downed quite a few and teased the paparrazi waiting outside for her. She and Sadie then headed to a party held at artist Jake Chapman's house. Sadie left at 4am, but Kate sent her driver home and didn't leave until Saturday!
One of the reasons Kate went missing can be found in a report by News of the World, which says that Kate and her ex, Pete Doherty spent the night together at a mutual friend's house "after Moss enjoyed a night of wild partying on Thursday":
[A] friend explained, "Kate did see Pete and they both stayed overnight at the home of mutual friends. She's trying very hard to help him as a friend to overcome his drug problems and she still cares for him. This does not necessarily mean they are going to become a couple again."
It sounds like Kate either met Pete at the party, or called him and asked him to meet her there. Regardless of how they met up, they have been rumored to be back together for about two weeks. Moss and Doherty are even supposed to have a "secret date" to a comedy theater show this week, but it looks like they couldn't wait until then to see each other.
Doherty recently made headlines with a karate kick to a BBC reporter's arm outside of a court appearance for drug possession.