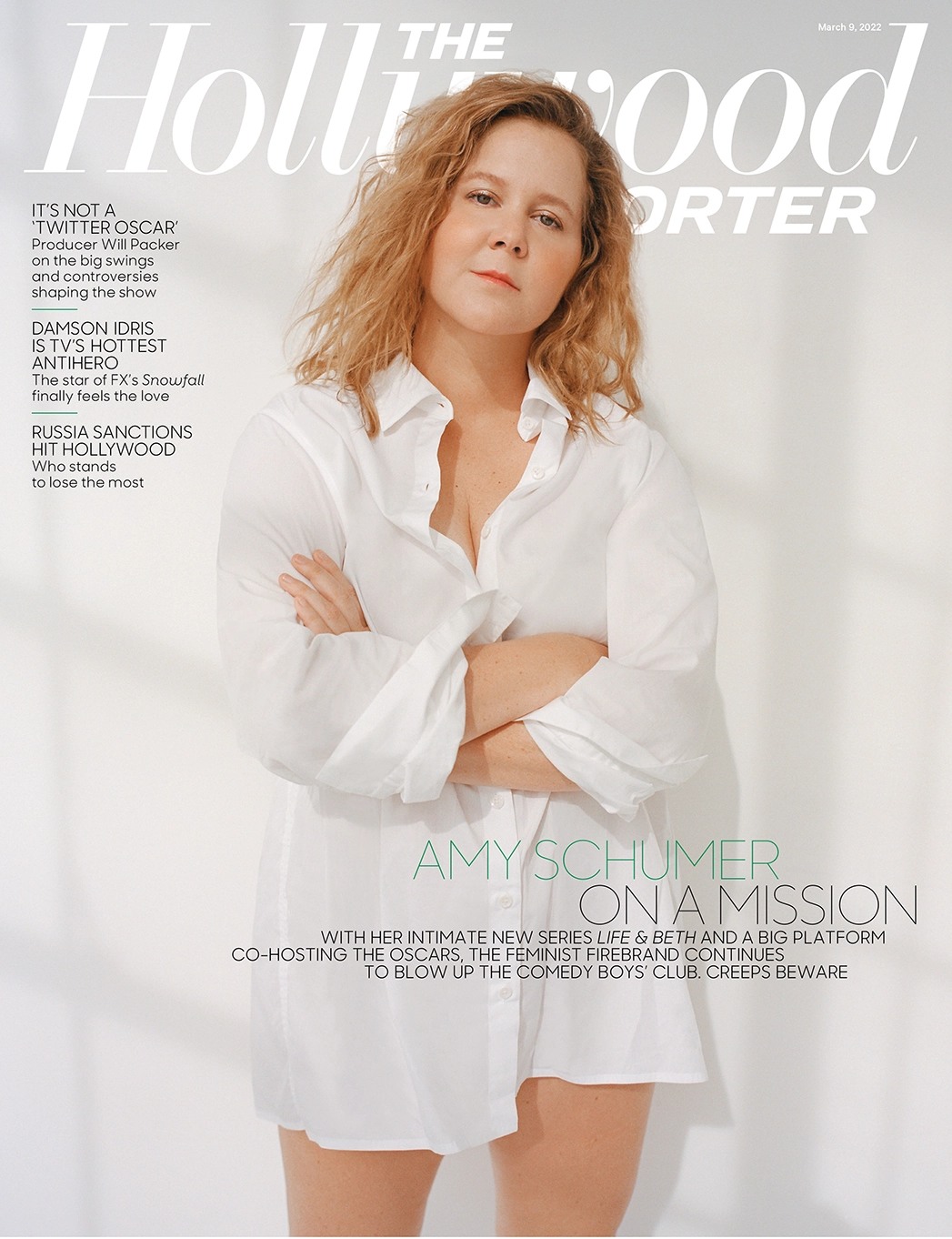 Amy Schumer covers the latest issue of the Hollywood Reporter. At first, I completely blanked on the fact that she's one of this year's Oscars cohosts and I was like "oh, she's probably got some new project." She has several new projects, she wants to get back to doing stand-up in stadiums, and she's got the Oscars gig. She's also got a baby and she talks about wanting another one. I'll be honest, I got very tired of Amy for several years, but she's a great example of someone who makes some very big, dumb public mistakes and actually goes away and works on her problematic sh-t and comes back a better person. Do I completely stan her now? Not really, but I don't actively dislike her and I do find her really interesting in this interview. Some highlights:
In 2020, she told victims she was there to listen. She posted a phone number from an app that allows anyone to send her texts. Soon, Schumer's inbox was so flooded with #MeToo tales that she began reaching out to other famous women about trying to set up some sort of a help line. When that plan didn't pan out, she started gathering victims — four from this guy; three from that one — and passing them along to lawyers, counselors and even the press.

On male comedian predators: "It's all been really sad and disappointing. And I don't think that the coercion and the taking advantage and the masturbating in front of people is cool, and I don't think that those guys should be allowed to come back…And the male comics are mad at you and mean to you and it doesn't feel good when those were your friends, but also f–k them."

On the backlash against her: "It's like, who gets the most hate? LeBron James? Tom Brady? It's people at the top of their game," she says, acknowledging that comparing herself to either athlete will only infuriate her haters more. Besides, she reserves the harshest criticism for herself, and there's plenty in her past that makes her cringe. "I'm disgusted with some of my old material," she says, citing one joke in particular about Black people not being able to swim. It was after reading Isabel Wilkerson's Caste that she better understood its racist roots. She has "so much undoing to do," she admits, and she's been busy educating herself to be a better ally — a process that entailed participating in Black Lives Matter vigils and workshops every day for six months following the murder of George Floyd.

Why she really dropped out of the Barbie movie: "They definitely didn't want to do it the way I wanted to do it, the only way I was interested in doing it," she says now. Just how far apart their visions of imperfection were — Schumer had written Barbie as an ambitious inventor; the studio asked that her invention be a high heel made of Jell-O — should have been apparent when she was sent a pair of Manolo Blahniks to celebrate. "The idea that that's just what every woman must want, right there, I should have gone, 'You've got the wrong gal.' " Greta Gerwig is now writing and directing the movie, and Margot Robbie is set to star.

This is a fantastic pitch: The film, which she intends to direct and star in, is inspired by Schumer's own girlfriends, a tight-knit crew that dates back to high school, and her love of The Bachelor franchise. "I'm always watching that show imagining, like, 'What if I was just f–king on there, just my body, in a bikini, next to the rest of the girls,' " she says. So, it's about "this sh-tty lawyer, me, who fights this claim for her client who was fired because of ageism and then uses that to get her and her friends on The Bachelor."

She wants to get back on the world's biggest stages. "I'm not Chappelle or these comics who I guess have more integrity than me, who are like, 'I'd rather do five shows [in more intimate venues].' I'm like, 'I want to go where the hockey team plays.'"
The thing about her criticism of comedian-predators is that she was always really good on that issue specifically. The biggest issues were around her racism and her blindness to her own privilege. But every time one of "her bros" in the comedy world was outed as a predator, Amy was always first in line to stand with the victims. I'm pleased that she committed herself to doing the work to understand her privilege and "unlearn" a lot of sh-t, because holy sh-t, so much of that part of her comedy was beyond "cringe." Also, I f–king love that pitch about a bunch of real (realistic) women scamming their way onto the Bachelor.
Cover & IG courtesy of THR.