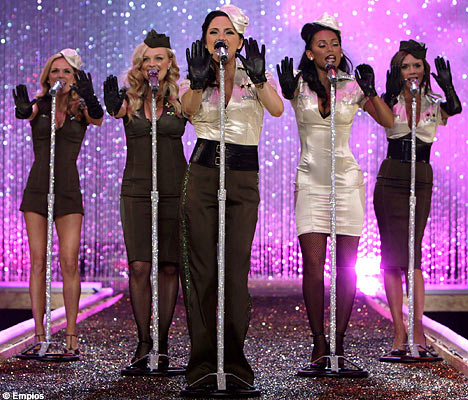 Fans the world over have been gearing up for the Spice Girls reunion for months now, with entertainment blogs studiously reporting on the Girls every announcement. While their tour hasn't officially kicked off, the Girls gave everyone a preview at last night's Victoria's Secret fashion show at the Kodak Theater in Hollywood. Unfortunately the girls were less than impressive… at least for their singing. They lip-synched through their whole show. While audience members noted that a few songs had some vigorous dancing that would have been hard to sing through, several others didn't – yet the girls just mouthed along anyway.
The Spice Girls took to the stage together for the first time in almost 10 years – but disappointed fans by miming their songs. Despite masses of hype surrounding their reunion, the Girls had clearly not prepared enough to sing live at the Victoria's Secret fashion show at the Kodak Theatre, Hollywood, last night. They performed two songs, the first was a rendition of their classic Stop, dressed in military clothes and with male dancers. The second was their new Children In Need track Headlines.

While Stop had some ambitious choreography, Headlines had no dancing – making the lip-synching unacceptable. One person at the show said: "It was amazing to see them back on stage again. They obviously put a lot of work into their dance routines, but it was disappointing they didn't sing live." The girls kick off their world tour on 2 December in Vancouver, but it's unclear whether they plan to sing live during any of those shows.
[From the Daily Mail]
Their outfits sure are cute though. And they look better than they did ten years ago. Were they ever really known for their singing? I remember reading years ago that the casting call for the group said something along the lines of "No singing skills necessary." Obviously they've had a lot of training and are able to sing just fine, but it's not like they were famous for their incredible vocals. One criticism of the Girls is that they're just trying to rehash the past and cash in on their old fame instead of coming up with new and creative songs.
Tonight the girls will do a live link from LA during the Children In Need event, but one person who's not overly excited about seeing them is Strictly Come Dancing [the UK version of Dancing With the Stars] judge Arlene Phillips.

She told us the girls should have moved forward with their sound, and that their new single is stuck in the past.

She said: "I think they are Spice Women now, and not the Spice Girls. I think their whole attack should have been about not what they were, but where they are now."

Nearly a decade after the five-member group became four — when Geri Halliwell left Mel C, Mel B, Emma Bunton and Victoria Beckham — the Spice Girls reunited for a greatest hits album, released this week, and a world reunion tour, starting in Vancouver on Dec. 2.
[From the Daily Mail]
I really don't think that's going to bother anyone. Most people seem to just want to look at the Spice Girls more than hear the Spice Girls. They're fun to watch, sorta diva-ish (but not if you ask them) and wear crazy outfits while dancing to annoyingly catchy songs. I wouldn't pay to see them, but if someone handed me a ticket I'd totally go to their show, just for the spectacle.