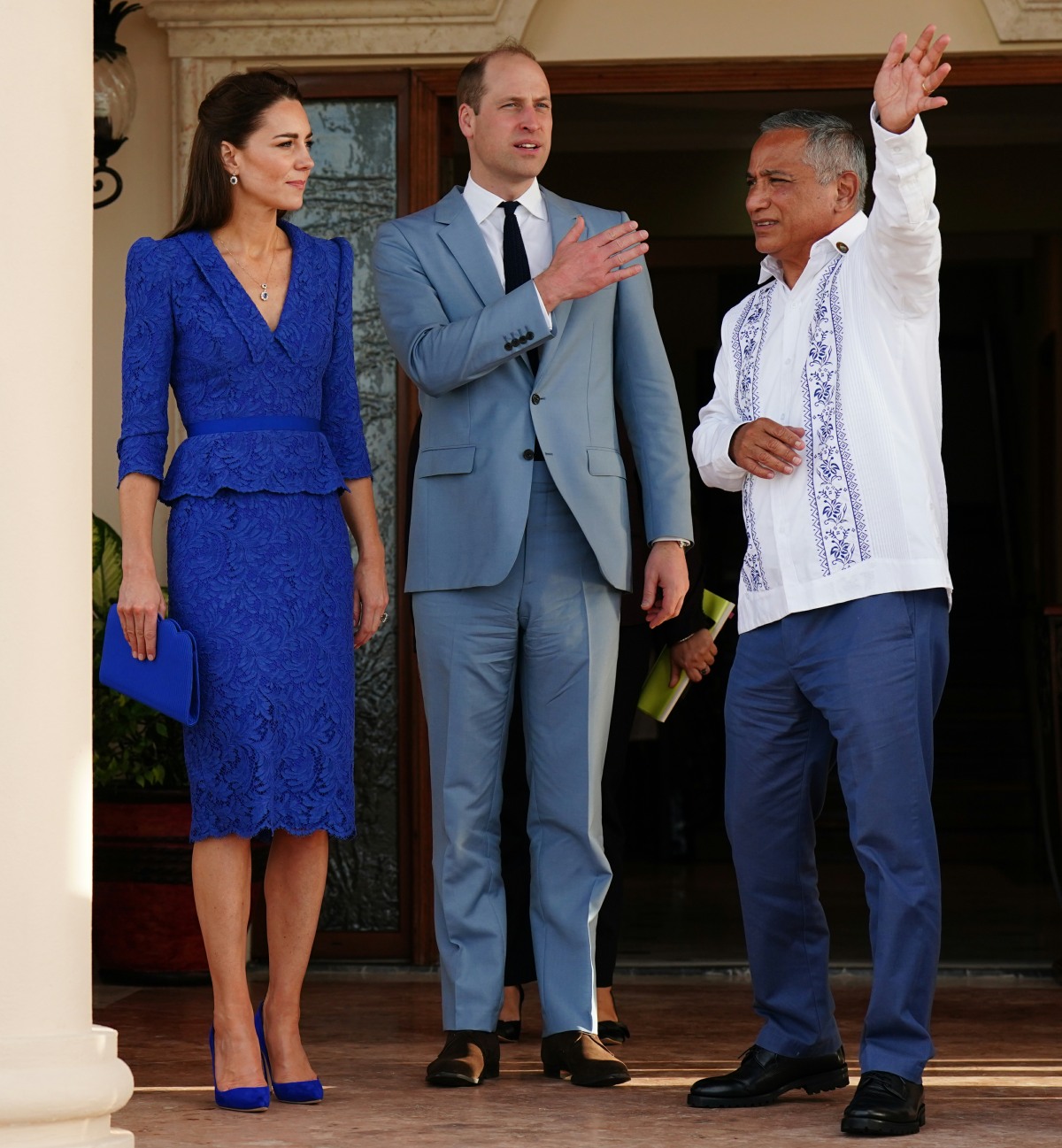 The Duke and Duchess of Cambridge arrived in Belize on Saturday, in what was the late afternoon in that country. For some reason, I had the impression that Saturday would be a full day of "touring" for the Cambridges, but not so much. They arrived around 4:30 pm in Belize, did the greeting on the tarmac, William did a "troop inspection" and then the keens did a quick meeting and photo-op with Belize's Prime Minister Johnny Briceno and the First Lady of Belize. And that was it for Day 1 of the Keen Caribbean Tour. I get that it was a long flight and they needed to decompress… but they could have flown out earlier??
For the arrival, our favorite button-covered flag-cosplayer wore a royal blue Jenny Packham suit. This suit actually took me back – Kate used to wear this kind of thing all the time eight or nine years ago. While the lack of buttons is very un-keen, it's good to remember that Kate also loves doily fashion. She loves lace dresses, the fussier the better. The combination of lace, peplum, V-neck "collar," shoulder pads and puffy shoulder detail… well, it's not great, and it's very "I'm going to a keen wedding!" But as I said, it's old-school Kate. This was how she liked to dress before Meghan came around and before Kate started dressing like a Victorian. And yes, Belize's flag is a coat of arms on a field of blue. Kate is a "literal dresser."
Arriving in Belize, the first stop of our Caribbean tour! 🇧🇿 🇯🇲 🇧🇸 pic.twitter.com/3x6vRVfYbr

— The Duke and Duchess of Cambridge (@KensingtonRoyal) March 19, 2022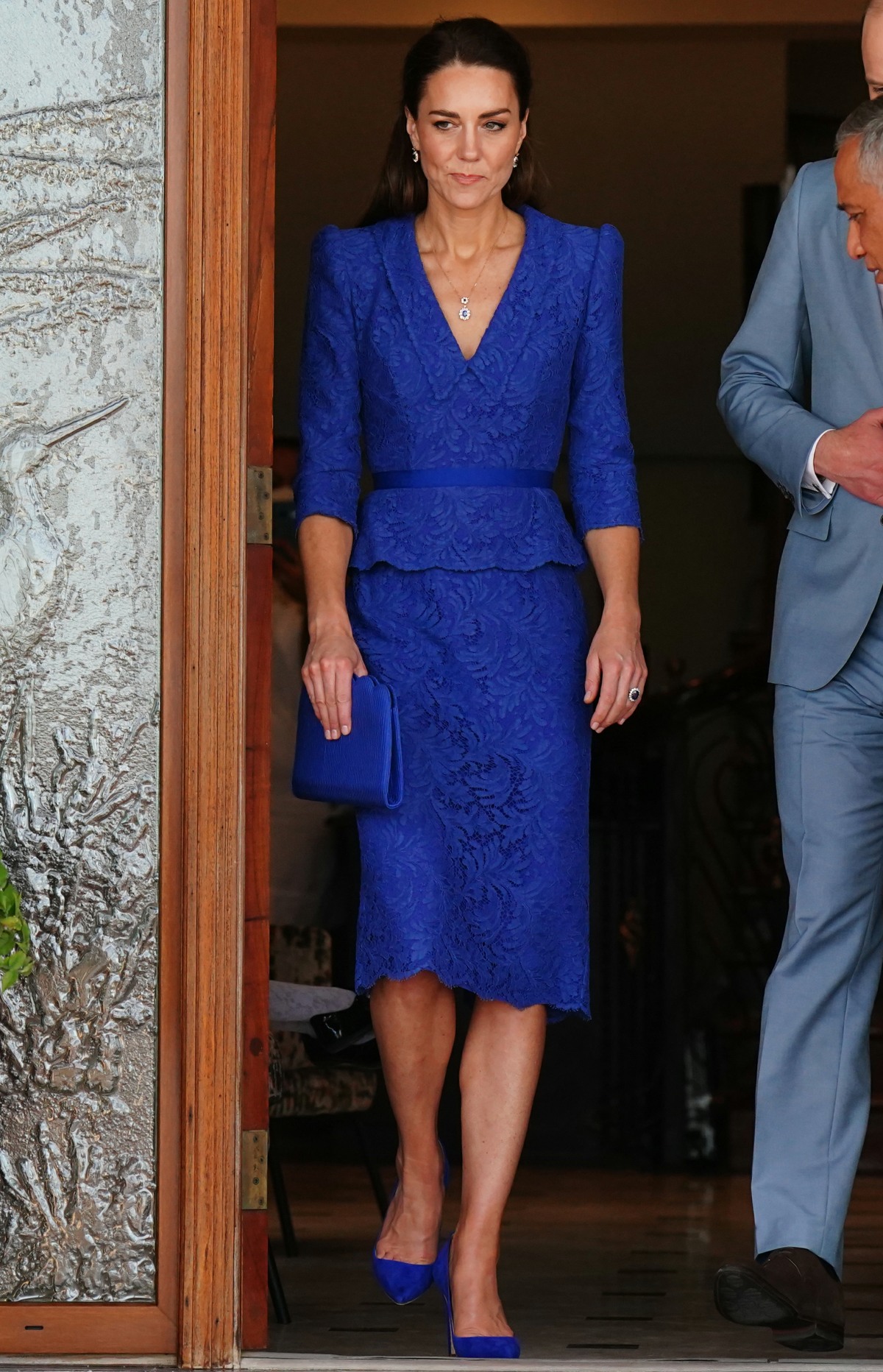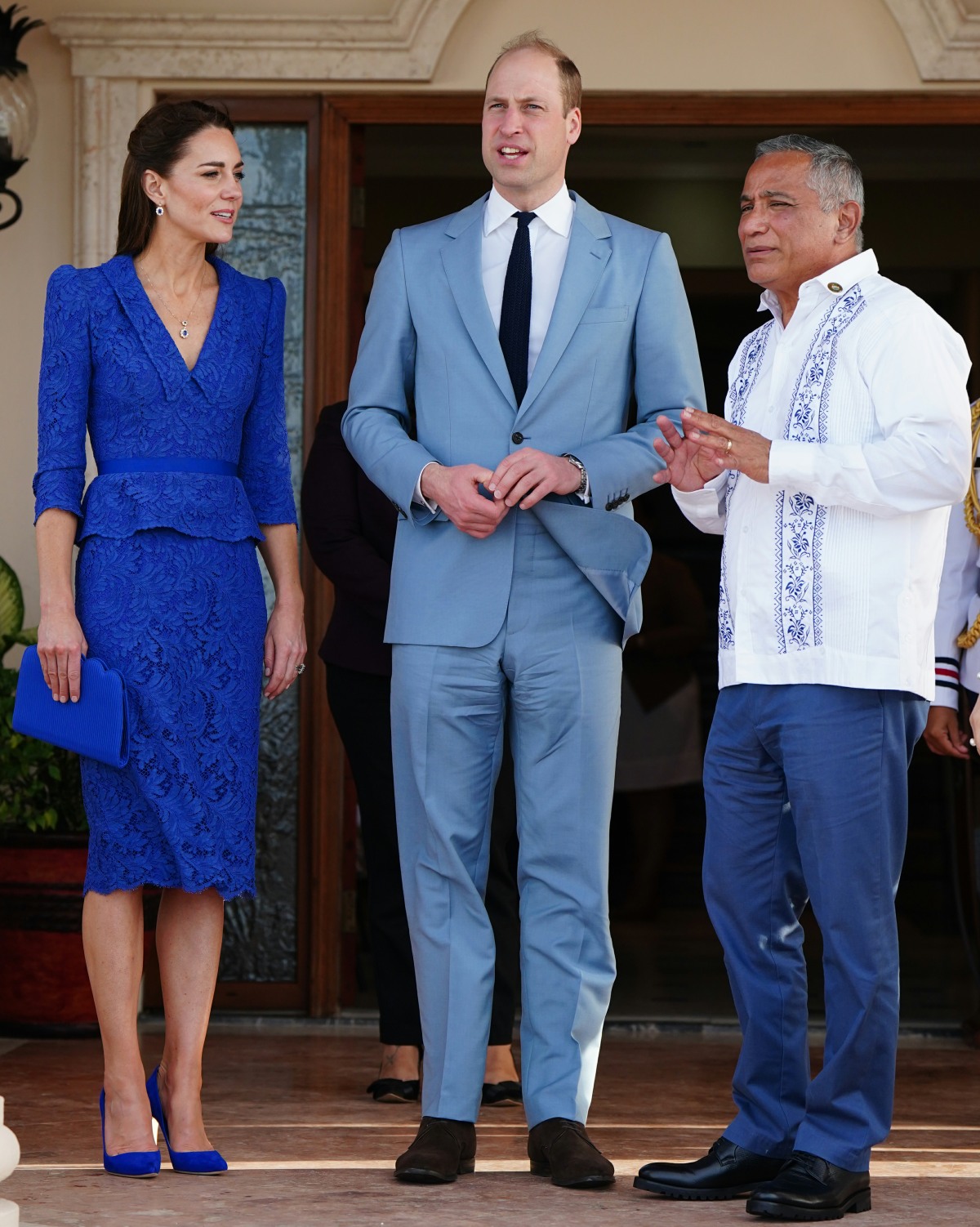 Photos courtesy of Instar.

North America Rights Only – Belize City, Belize -20220319- The Duke and Duchess of Cambridge arrive at Philip S. W Goldson International Airport, Belize City, as they begin their tour of the Caribbean on behalf of the Queen to mark her Platinum Jubilee. Picture date: Saturday March 19, 2022. -PICTURED: Catherine Duchess of Cambridge -PHOTO by: INSTARimages.com Disclaimer: This is an editorial, rights-managed image. Please contact INSTAR Images for licensing fee and rights information at sales@instarimages.com or call +1 212 414 0207. This image may not be published in any way that is, or might be deemed to be, defamatory, libelous, pornographic, or obscene. Please consult our sales department for any clarification needed prior to publication and use. INSTAR Images reserves the right to pursue unauthorized users of this material. If you are in violation of our intellectual property rights or copyright you may be liable for damages, loss of income, any profits you derive from the unauthorized use of this material and, where appropriate, the cost of collection and/or any statutory damages awarded For images containing underage children: Be advised that some Countries may have restricted privacy laws against publishing images of underage children. Inform yourself! Underage children may need to be removed or have their face pixelated before publishing
North America Rights Only – Belize City, Belize -20220319- The Duke and Duchess of Cambridge arrive at Philip S. W Goldson International Airport, Belize City, as they begin their tour of the Caribbean on behalf of the Queen to mark her Platinum Jubilee. Picture date: Saturday March 19, 2022. -PICTURED: Prince William, Catherine Duchess of Cambridge -PHOTO by: INSTARimages.com Disclaimer: This is an editorial, rights-managed image. Please contact INSTAR Images for licensing fee and rights information at sales@instarimages.com or call +1 212 414 0207. This image may not be published in any way that is, or might be deemed to be, defamatory, libelous, pornographic, or obscene. Please consult our sales department for any clarification needed prior to publication and use. INSTAR Images reserves the right to pursue unauthorized users of this material. If you are in violation of our intellectual property rights or copyright you may be liable for damages, loss of income, any profits you derive from the unauthorized use of this material and, where appropriate, the cost of collection and/or any statutory damages awarded For images containing underage children: Be advised that some Countries may have restricted privacy laws against publishing images of underage children. Inform yourself! Underage children may need to be removed or have their face pixelated before publishing
North America Rights Only – Belize City, Belize -20220319- The Duke and Duchess of Cambridge arrive at Philip S. W Goldson International Airport, Belize City, as they begin their tour of the Caribbean on behalf of the Queen to mark her Platinum Jubilee. Picture date: Saturday March 19, 2022. -PICTURED: Prince William, Catherine Duchess of Cambridge -PHOTO by: INSTARimages.com Disclaimer: This is an editorial, rights-managed image. Please contact INSTAR Images for licensing fee and rights information at sales@instarimages.com or call +1 212 414 0207. This image may not be published in any way that is, or might be deemed to be, defamatory, libelous, pornographic, or obscene. Please consult our sales department for any clarification needed prior to publication and use. INSTAR Images reserves the right to pursue unauthorized users of this material. If you are in violation of our intellectual property rights or copyright you may be liable for damages, loss of income, any profits you derive from the unauthorized use of this material and, where appropriate, the cost of collection and/or any statutory damages awarded For images containing underage children: Be advised that some Countries may have restricted privacy laws against publishing images of underage children. Inform yourself! Underage children may need to be removed or have their face pixelated before publishing