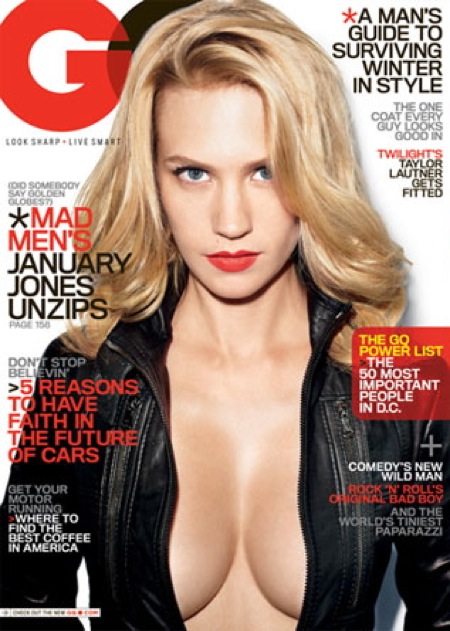 A few days ago, GQ released some excerpts from January Jones's November cover interview. January talked about how her first boyfriend Ashton Kutcher was a douche about her acting career in those early days, but she took pains to say that his criticism made her stronger. That got most of the news, although I did note that January looked totally stacked on the GQ cover. I mentioned that I had no idea that her body was this amazing, and now it looks like other people have noticed it too. Apparently, after the GQ cover shot was widely circulated, many claimed that January's enormous rack must have been somehow digitally enhanced for the cover. GQ responded by putting an interview online with their Director of Photography in a piece called "Yes They're Real. And They're Spectacular".
Really America? Do you not watch Mad Men? We have heard the rumblings that we somehow "enhanced" our Terry Richardson cover shot of January Jones. We did not. Just ask our Director of Photography Dora Somosi.

Okay, so did we mess with January Jones' cleavage?
No, absolutely not.

Why on earth is anyone saying that?
People think that a person will look the same in every photograph, but that just doesn't happen. You can have two pictures in the same light, same clothes, same setting, and just a couple of seconds of difference, just the way you move your hands or the way you hold your neck, will change how your body looks. Also, she's a smaller woman—she's pretty thin, so it might throw a person off to see her looking this way.

Do lighting and perspective matter at all?
Terry likes to work with harder lighting, and that can create a stronger shadow—that, and body position and perspective could give the illusion that her breasts are bigger.

So any comparisons between the cover shot and something taken on, say a red carpet…
…are a little ridiculous. Terry Richardson prides himself on unretouched pictures, and we only hire photographers who operate that way. We like a natural look—there's very minimal retouching.

So what kind of retouching do we do?
We'll take a pimple out or soften under eye dark circles. Or maybe there's a wrinkle in the shirt, or even dust on the lens. January Jones needed no help. Trust me.
[From GQ]
Maybe I'm naïve, but I think GQ is telling the truth. If there was any "enhancement" it was probably just a lighting and/or shadow trick. January has showed off her figure in Mad Men a few times, and she does have lovely, natural-looking curves, although it's kind of hard to tell if her boobs are really this big. Maybe they just seem deceptively smaller when she's fully clothed. I've known girls like that before – they're usually buttoned-up types and no one thinks they have much going on, but give them a low-cut blouse and a push-up bra and suddenly it's like "Good Lord, are those fake?"
Header via CoverAwards. Other images are from events as far back as 2006. Credit: Fame Pictures