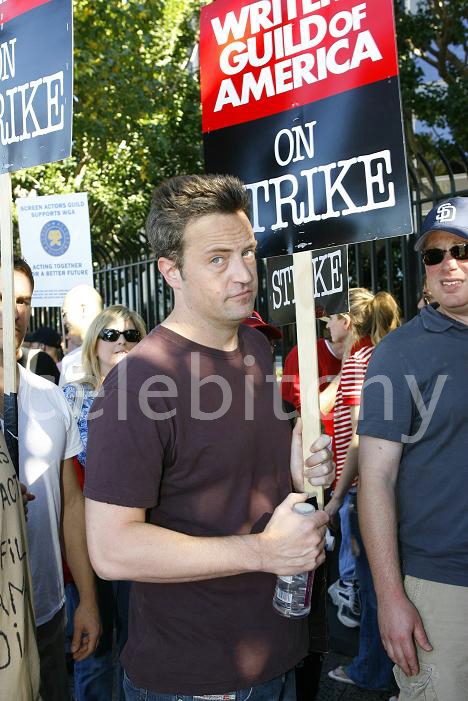 The Writer's Guild strike really is showing no signs of letting up. The WGA has publicly asked the Alliance of Motion Picture & Television Producers to "meet us halfway." That doesn't seem to be happening at all. Instead of ceding to the writer's very reasonable demands, many studios have chosen to exercise the force majeure clause in their actors' SAG contracts, which lets the studios suspend the actors for half-pay for up to five weeks if production on their shows shuts down. They can also suspend them with full pay or choose to release the actors from their contracts altogether. If the strike isn't resolved by the end of the five weeks, it's likely that they'll eventually fire thousands of employees, instead of meeting the WGA halfway.
UNIVERSAL
The casts of The Office, 30 Rock, Bionic Woman and Battlestar Galactica were informed Thursday that their contracts have been suspended for the next five weeks, now that Universal Media Studios has opted to exercise what's known as the force majeure clause in their Screen Actors Guild agreements. Regulars from those NBC and Sci-Fi Channel shows will collect half of their usual salaries. Obviously, this will be less financially painful for some, but it won't be pleasant for anyone.

SONY
Has suspended the casts of Fox's Til Death and CBS' Rules of Engagement without pay—a decision that has both SAG and the American Federation of TV & Radio Artists up in arms because Sony's move both cuts the actors' pay and, because it's not outright terminating the contracts, prevents them from working for another studio.

WARNER BROS.
Joining the worst-case-scenario fray also this week was Warner Bros. TV, which, according to the Hollywood Reporter, circulated a letter to production and facility employees informing them that production on all series will be shutting down within the next six or seven weeks—assuming the WGA strike continues—and that layoffs will probably be necessary. But, labor relations senior VP Hank Lachmund wrote, the studio anticipates that "such layoffs, if they occur, will be temporary and that many employees will be recalled to work at some point after the WGA work stoppage ends."
[From E! News]
It's probably looks like I'm very biased towards the writers – which I am to an extent. But more than anything I'm against the Alliance of Motion Picture & Television Producers. They make ridiculous amounts of money off the writers' talent. They make it off a lot of peoples' talent. But the writers are the foundation. They generally create the show itself, come up with all the concepts, and decide what's going to happen with a show. It's not just about writing dialogue. They provide the building blocks for members of the Alliance to make money. Certainly each needs the other to survive, but I can't help but root for the comparatively little guy. Let's hope the strike gets resolved soon so that the paycheck-to-paycheck employees are taken care of.
Picture note by Jaybird: Here's Sarah Silverman picketing at Universal Studios on Wednesday. Header image of Matthew Perry picketing. Images thanks to Splash Photos.