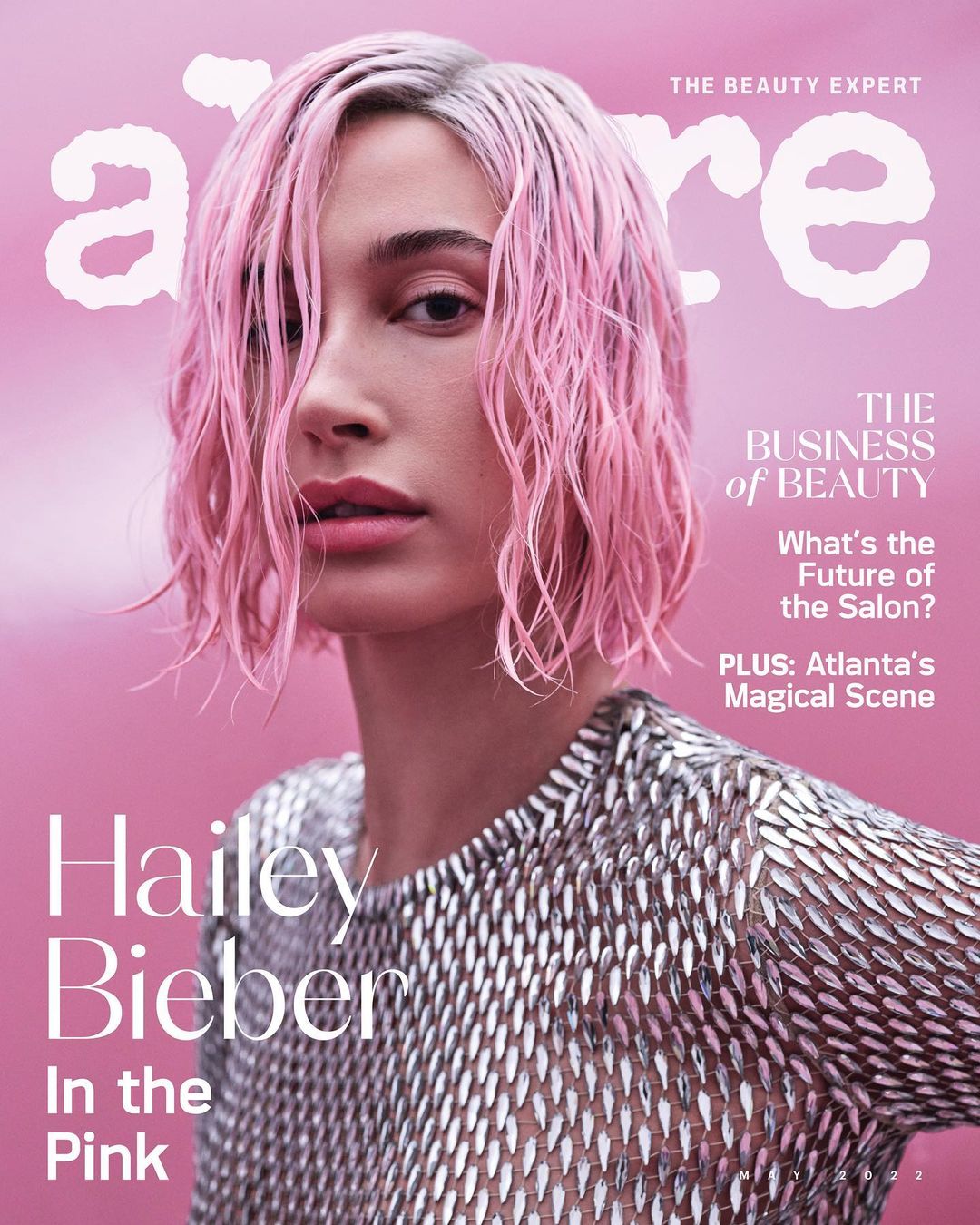 Hailey Bieber covers the May issue of Allure to promote her skincare line, Rhode. That's her middle name, she was Hailey Rhode Baldwin and now I guess we're just always referring to her by her married name. Anyway, the celebrity skincare and celebrity makeup industries are oversaturated as hell and it feels like several of these brands will probably collapse pretty soon. Make way for Rhode, I guess. Hailey spent a few years developing the line and her thing is that everything has to be "affordable," so nothing is over $30. Some highlights from this Allure piece:
Her feelings on LA: "L.A. is a really cool space of creative people, but…there's a lot of shady people here too."

She no longer does runway modeling work: "I had a really bad experience with a casting director who was very important. He said something to my agent that just shook my confidence when it came to the runway. I don't want to feel bad about myself in this space because I feel really good about the other work that I do. So why would I even put myself in a position to feel small?"

Going brunette during the pandemic: "I don't color my hair anymore. I don't bleach it or anything, but I might do a gloss or a toner."

Her YouTube channel: "I understand that there's a lot about my life that people can't relate to and I try not to be naive about that."

She's not even trying to control the narrative anymore: "It would be exhausting for me to try to control everything. There's just no way I can do that. It's very hard to control a media narrative, so I try to just do my best to be myself and accept that."

Using her fame to get financing on Rhode: "I talked to different investment firms. I talked to different brand-incubation teams, and at the end of it, I realized that I've lent my name and my face to a lot of different people and a lot of different brands." So she decided to go the start-up route, compiling her own team based on the insight she had gained. Rhode is funded by a small pool of investors, including One Luxury Group.

On the oversaturated beauty market: "I think that as a team, we are going into it knowing that people are tired of seeing brand after brand after brand from different people and faces and celebrities. I definitely have had my fears, for sure, because the market is so busy and so saturated. And I've had to, obviously, have the confidence in myself and in our brand to really feel it's going to be something refreshing and different."

Affordable: "I was ordering crazy amounts of skin care, trying everything that was expensive to inexpensive to mid-range. And I found that the most tried-and-true stuff were the solidly formulated products that were affordable, where I could tell people kept on going back to, and that's what I kept going back to as well."

She's happy with Rhode: "I'm really happy with everything. I feel proud of the products that are going to come out. I feel excited for what is going to come even after that and what I can continue to develop. I'm hoping that people get their hands on it and they absolutely love it. But if they have feedback, I want to accept that as well."
I honestly don't have a problem with anything she says here, but I still wish she wouldn't put all of her time and energy into this. You know what I mean? Like, she has as much right to do a skincare line as anybody else and she seems to have taken the process seriously. She did her research, weighed her options, met with different people, got a lot of feedback, organized investors and put a lot of work into it. Maybe it will be a success, maybe it won't, but again… the market is so oversaturated and this still reeks of yet another unnecessary celebrity side-hustle that no one cares about.
Cover & IG courtesy of Allure.