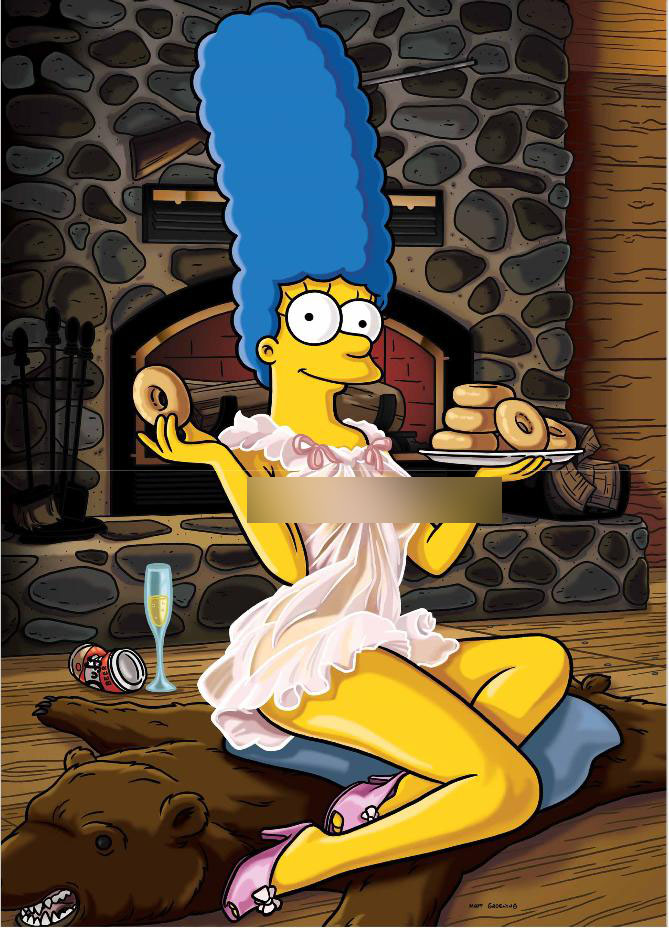 Oh No They Didn't has the scans from Marge Simpson's big unveiling in Playboy Magazine, and there's a kind of disturbing pictures of the cartoon mom posing in front of a fireplace in a sheer nightie while holding a plate full of donuts. Her boobs show through the fabric and they're decidedly un-cartoon like. Those are some realistic-looking nipples! (You can see the pics here) The see-through negligee picture isn't the only one in which we get a glimpse of Marge's boobs. There's another one where she's putting on a dress and just shows sideboob. Are these photos controversial at all or are the Simpsons just trying to drum up controversy after 20 years on the air? Movieline has a good editorial asking why it's kind of disturbing to see cartoon mom Marge with real-looking boobs:
It's hard to believe now that it's become such a beloved institution, but when The Simpsons premiered twenty years ago, it was regarded as the furthest thing from a family show. Since then, the reputation of the series has become considerably less controversial (it helps, of course, that The Simpsons is now followed by notably ruder shows like Family Guy), so when it was announced that Marge Simpson would be "posing" for Playboy, I didn't expect anything scandalous. Maybe some sideboob, or a comic silhouette.

Then, the pictures leaked, and I saw her nipples.

In today's sex-tape-saturated culture, I guess I shouldn't be thrown by some gauzy cartoon nipples, but I am. That's Marge Simpson, not some Ralph Bakshi character! Whether the series was originally intended to be or not, it's now become one of the biggest family shows on TV. Isn't there something a little queasy-making about seeing the mom from such a show sexualized and objectified to this degree?

Ultimately, though, the thing that bugs me the most about Marge going topless for Playboy is that it feels like the sort of stunt Family Guy would do. The Simpsons is just too good for that. (Or at least it was, ten seasons ago.)
[From Movieline]
This guy is right, and the reason why it bothers me a little is because it doesn't really jibe with Marge's personality. She has her sexy moments, but she's too dowdy for this. I wouldn't expect her boobs to look real either. She has eight fingers, it's not like she should have photo realistic nipples.
The faux interview accompanying this spread in Playboy has some amusing quotes and only seems to emphasize why this semi-nude spread is out of character for Marge. They offer some silly explanation for it, but the rest of the interview just shows her for the martyred cartoon mom she is:
How does a nice girl from Springfield end up in Playboy?
A nice girl like me would never display her body if it weren't to raise money for charity. That's why I'm donating my hefty fee from this tasteful pictorial to SPHG – Saving and Preserving Historic Gazebos. Gazebos are disappearing, people, and they're not coming back!…

What advice do you give your daughters about men?
I always tell my Lisa she should marry the man who loves her. It doesn't matter if he's losing his hair or is overweight or is at a bar every night… or if he forgets your birthday and anniversary… All that matters is that nothing means anything to him but you…

When did you first know Homer was the one?
Well, when the doctor said I was pregnant. I heard a voice saying "That's the man you're going to marry." The was my mother's.

Have you ever thought about dyeing your hair blonde? Do blondes have less fun?
I don't know about blondes, but I just found a few grays in my blue. It's as though there's a civil war on top of my head.

As a stay-at-home mome, what do you pride yoruself on doing around the house?
Searching for your magazines and throwing them away. …

When you were Lisa's age, what did you think your adult life would be like? How does the reality measure up to your early expectations?
When I was a little girl there were three men I wanted to marry: Elton John, Paul Lynde and Charles Nelson Reilly. But for some reason it never worked out.
[From Playboy, print edition, November 2009]
Marge ends the interview by saying she's "happy to be a MILK – Mom I'd Like to Know." Oh Marge, we thought we knew you, that's the problem. Those aren't your real boobs, are they?