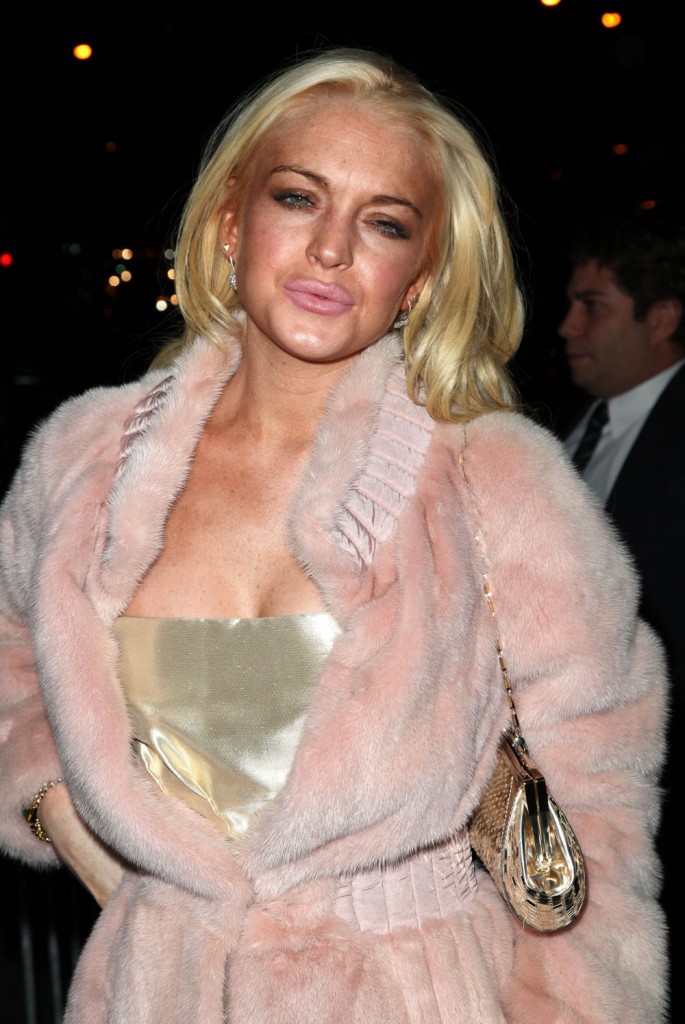 Here is Lindsay Lohan at the 2009 Whitney Museum Gala at The Whitney Museum of American Art in New York last night. Where do I even start? Well, Lindsay's dirty face is back. So I guess she's back to self-tanning her face. Either than or she really needs to review her foundation choices. Now, for Lindsay's fashion choices. Lindsay decked herself out in her finest fluffy pink bathroom rug/coat and a shiny gold strapless cocktail dress. The dress isn't bad, actually. It's pretty cute. Paired with the pink rug, however, and the high-fashion statement kind of dies a quick death. Plus, Lindsay tops off the ensemble with her pissed-off addict face. She wears that expression a lot – whenever I see her looking like she's about to tell someone off, I always think "Yeah, she's high."
In other Lindsay news, it seems that Samantha Ronson isn't totally out of her life, as Lindsay's cracked-out tweets last week would have us believe. People Magazine notes that after Lindsay's make-out/hookup session with still-married Balthazar Getty over the weekend, Lindsay went to see Samantha deejay at Teddy's in Hollywood:
After getting close with actor Balthazar Getty earlier in the week, Lindsay Lohan capped off her weekend with a trip to Teddy's at The Roosevelt Hotel in Hollywood to see her on-and-off-again love Samantha Ronson deejay for the crowd, which included Leonardo DiCaprio. The ladies talked non-stop while Ronson spun classics from Guns N' Roses and Jay-Z during her set, before leaving the club together.
[From People]
While Lindsay was on the red carpet for the Whitney Gala, she spoke to Gossip Cop and denied the whole Balthazar Getty story. She said the rumored hookup was "not true." She also said that they had just "met for the first time" and asked "Where are the pictures?" to prove People's story. Lindsay also said: "You think I would do that to Sam [Ronson]? I love her." Oh, for the love of God. While it's nice to think that Lindsay and Balthazar didn't really hookup, I tend to think Lindsay is lying as usual, and People probably got it right.
Lindsay also confirmed that she will seek a restraining order against her father because she fears he might be serious about kidnapping her. She told Gossip Cop, ""I'm going to do it in LA" because, in Gossip Cop's words, "she's less afraid of him in New York than in LA, where, we're told, he unexpectedly showed up to her house." Ugh. This family.
Photo credit: WENN.com