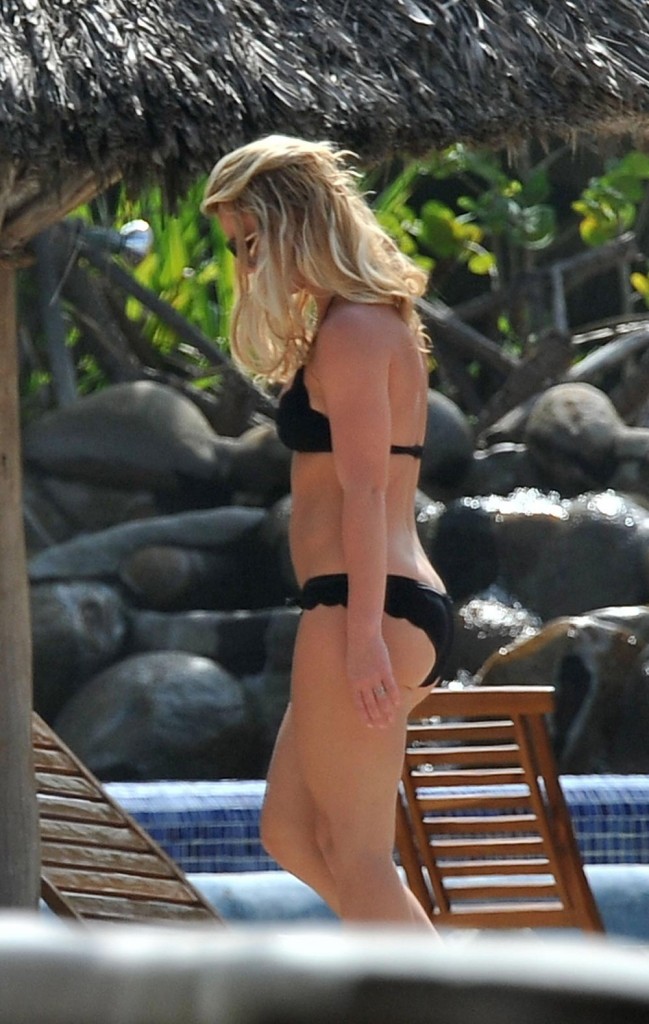 These are some nice pictures of Britney, her sons and her boyfriend vacationing in Mexico. Britney looks good, doesn't she? I mean, her hair is a train wreck, as usual, but her body looks great and she doesn't look crazy. According to Page Six, this is because Brit has quit the junk food. Will Michael K at Dlisted be able to go on? If Britney Spears, Our Lady of Immaculate Cheetos (or whatever Michael K calls her) is off the junk food, what will we do? Say it ain't so! Apparently, whenever Brit-Brit needs her salt fix, she reaches for sushi, not potato chips, corn chips, hot dogs, Big Macs, or Funions. Her video stylist noted that Britney's back and better than ever, and when they filmed her latest music video "3", Brit even "sang live". Gasp!
Britney Spears has cleaned up her act. GK Reid, who recently styled the music video shoot for her hit new single, "3," tells us, "She exhibited amazing energy and was in great shape — her body looked better than it has in years."

"She munched on sushi instead of junk food, and even sang live with the words. She worked really hard and was really sweet to all the dancers."

Says Reid of the video, which is an ode to threesomes: "It's really steamy."
[From Page Six]
Damn, I could use some corn chips right now. Is it wrong that I want corn chips for breakfast? It is, isn't it? Before, I could always look at my food choices with some smugness, thinking to myself "Well, at least I'm eating better than Britney Spears." No more! She does look really cute these days. Let's hope that Britney didn't just quit junk food, she quit the pink wig and all that it represents.
Photo credit: KADENA PIX/bauergriffinonline.com