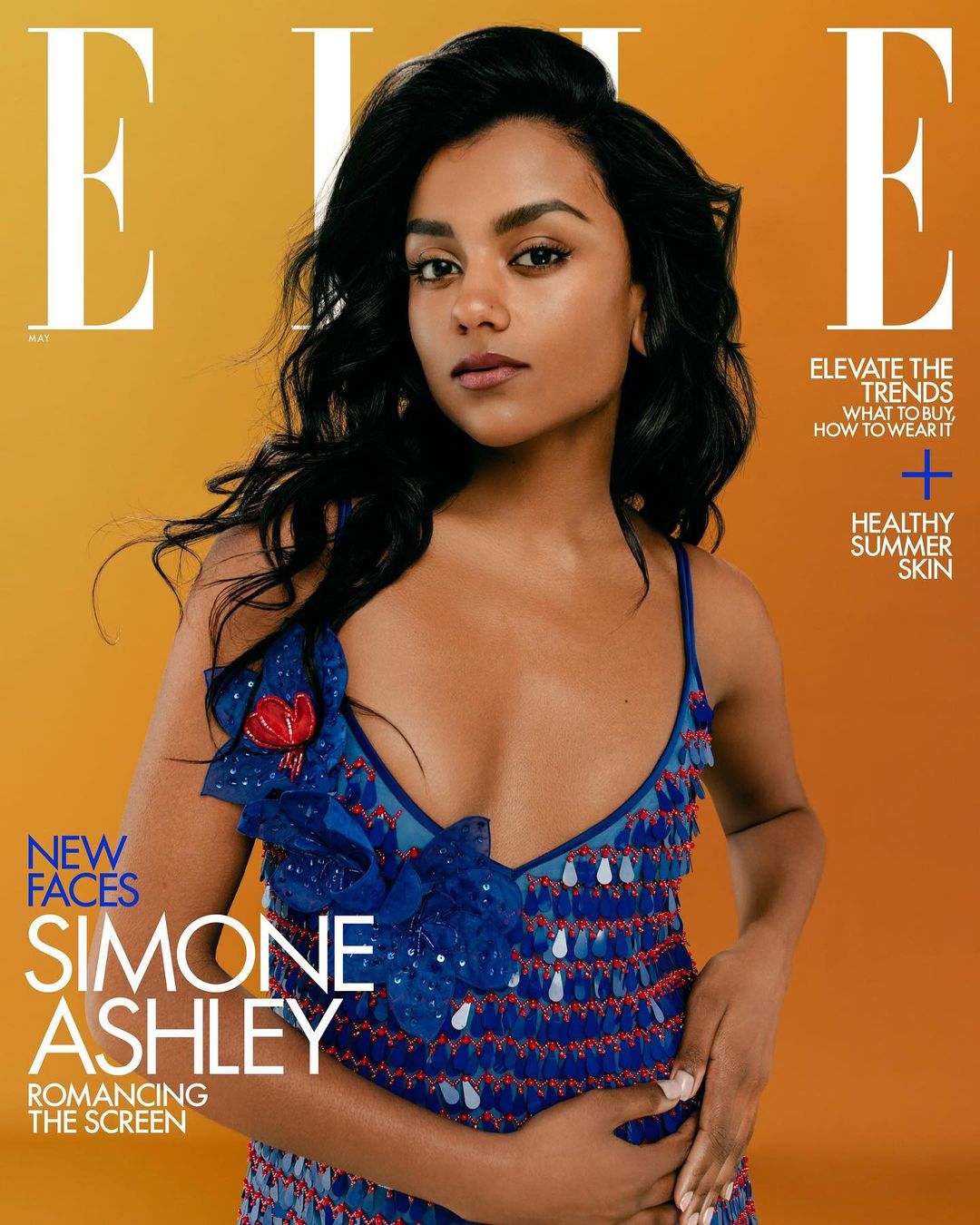 Simone Ashley is one of three cover stars for the May issue of Elle. Simone, as many of you know, is the star of Bridgerton's Season 2. She played Kate Sharma, the heroine of the season, basically. She's great! She's great in the role and I hope we see a lot more of her in film and television for years to come. She seems pretty interested in Hollywood too – the Elle interview started out with Simone referencing her time spent in California, and how she's a beach babe at heart. Move to LA, Simone! Get some Hollywood work, girl! You can read the full Elle piece here. Some highlights:
Learning to take care of herself within the industry: "When you get thrown into this industry, especially as a young woman, you've got to learn quickly how to take care of yourself—how to use your voice, how to set boundaries, how to speak up for yourself." Kate Sharma has those qualities in spades, I offer, and Ashley agrees, adding, "Sometimes she has a bit of an imbalance of it. Sometimes she can be a bit too hard-core—not that I judge her."

She thinks Kate & Anthony are so alike: "I think she and Anthony mirror each other in that sense, because he's always in charge, and then they kind of meet their match. I think a lot of people can relate to that type of relationship, where there's a feeling so strong with someone, and maybe it initiates as, 'Oh my God, I hate you,' " she says—adding that she "100 percent" pulled from her personal life to connect with her character. From the start, she felt aligned with Kate, an independent woman with a foot on two continents. "All I've ever really known is moving around and being on my own, but in the most positive way. I enjoy it. And I think that this character, in particular, has a life where she's had to be on her own quite a bit."

She signed with a modeling agency in her late teens: "I told them, 'I don't want to be a model. I want to be an actor… [soon] I was a blink-and-you-miss-me party girl in Straight Outta Compton." The constant auditioning was stressful, she says, "but I was never fearful. I just always knew [acting] was something I was born to do."

Relatively late bloomer: "I was quite nerdy in school, or maybe innocent, in that I grew up quite slowly until I was about 15 or 16. I wasn't part of, like, the cool mean-girls' group."

On body doubles in Bridgerton: "We didn't have body doubles. We knew what we were getting into, but the scenes were beautifully shot, and we tried to portray female pleasure, seeing it from that point of view, which was really interesting." It also helped that she and [Jonathan] Bailey got along like gangbusters. "We encouraged each other to just take it all in, and [accept that] it's never going to be the same ever again. Having anonymity, and then filming a show this big."

She loves spending time in LA: "I do love it there and miss it a lot. I may bring my dog and stay for a few months. I've got some really good friends [in L.A.] who aren't a part of the industry, and we just drive in our cars and eat banana pudding and talk about boys. Well, you know, we talk about other stuff, too."
I've noted this before, but the British media and entertainment industry puts such a high premium on actors who never leave. Like, they freak out and get really neurotic about British actors who decide to live in LA or New York. It's basically that same neuroticism that we see with Prince Harry's move – they just can't believe that "one of their own" would want to live in America. Anyway, I think about that a lot whenever I cover Simone's interviews. She has family in California and she describes herself as a beach girl and someone who loves the LA life. I feel like the British media won't respond well to that long term.
As for the late-bloomer thing… she said in the context of talking about her role in Sex Education, but as a stand-alone thing… not being or feeling "cool" until you turn 16 is pretty f–king normal. It's not "late bloomer" at all.
This Elle photoshoot was sooooo good, look at the other shots in the carousel. She is such a great model!
Cover & IG courtesy of Elle.