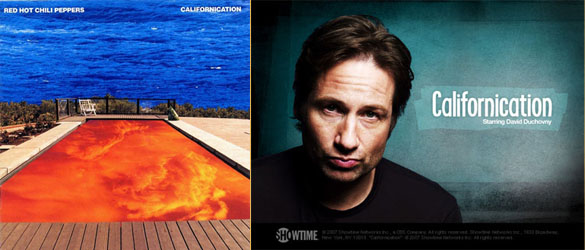 The Red Hot Chili Peppers are filing a suit, claiming that the television show Californication infringes on their trademark and creates unfair competition between the band and television show.
"'Californication' is the signature CD, video and song of the band's career," band frontman Anthony Kiedis said in a statement. "For some TV show to come along and steal our identity is not right."

Named as defendants are Showtime Networks, Twilight Time Films, Aggressive Mediocrity and Tom Kapinos. They were not immediately available for comment.

U.S. Trademark Office records show that Showtime filed an application to trademark "Californication" as an ongoing television series, but the rights have not yet been granted. Federal registration is not essential to claim rights in a mark.

Band members want the show to stop using the name and to turn over any profits made by using it.
[From Billboard]
So, Californication is the signature tune of the band? I guess that kind of depends on how old you are, since for me it is definitely 'Under the Bridge', with that video clip featuring Anthony Keidis shirtless, running down the beach…Where was I?
Interestingly, "Californication wasn't released as the lead single from the album, which is unusual as it is also the title track. It was actually the forth single from the album released, almost a year after the first, which was the grammy award-winning 'Scar Tissue'."
Still, the album has featured on a whole heap of surveys, like Rolling Stone's 100 albums you should hear before you die, and topped FHM's list of the best albums of the last ten years. The album also signaled the comeback of the Chili Peppers after their less than stellar effort on One Hot Minute, and got a rave review in Rolling Stone. All this reminds me how cool the album actually was.
This is not the first time a band has filed a suit against a television show because of the show's title, Living Color sued the show In Living Color unsuccessfully, for similar reasons, which is how I predict this will pan out for the Chilis. After all, Californication is in the dictionary now, they can hardly claim to own the term. Unfortunately relentless googling hasn't revealed who invented the term, but apparently the term was never trademarked by the band in 1999 when the album was released, and Showtime are trying to trademark the term for the show.
Here's the definition of the term from the Urban Dictionary:
Californication definition: The spread and influence of western memes and culture, esp. that of California, across the world. Especially focusing on the selling of sex. Made of the words "California" and "fornication"
[From Urban Dictionary]
Additional information from Wikipedia.