I have only ever known a world in which Lauren Hutton was a supermodel. She got her start in New York in the 60s, secured a Revlon contract in the 70s, became an actress and returned to modeling by the 90s. On paper, Lauren's description reads: blonde, blue-eyed, long-legged every woman. In reality, she has an iconic look that includes a tooth gap and an intensity in her stare that feels like it's coming through the page. I've never tired of looking at her. So it doesn't surprise me at all that she's still modeling at the age of 78. She's a master of her craft. I was interested to find out that her secret to maintaining the public's interest was to decide at the age of 40 to not try to look younger. Presumably, that means that Lauren has not had any procedures along the way, which can't be said for all her peers. Lauren said she finds some overly tweaked faces hard to look at and some she doesn't even recognize.
On protecting herself early on: in 1973, I read about Catfish Hunter; he was a baseball player who refused to play without a contract. He said he was in a youth-oriented business—and at that time, the modeling world wasn't any different. I was about to become 30, and I knew I was about to expire, and wanted to protect myself with a contract that would guarantee I kept working for years to come. So I got a contract with Revlon. At the time, it was the biggest one in modeling history.

On aging in front of us: I decided to get into acting, but in my mid-40s I decided to go back into modeling because I was making one bad movie after another. I couldn't stand watching them. So then I started shooting with Steven Meisel, and I told him, "I'm not going to try and look younger," and he said, "I love that. That's why I am working with you."

On plastic surgery: When it comes to cosmetic procedures, there's a real thin line you tread. There are people who I find hard to look at today. Their faces don't look like the people I once knew.

On her bedtime routine: I don't spend a lot of time on skin care. I'm usually in a rush to get to bed and make love or read. (Right now, I'm reading Savage Beauty: The Life of Edna St. Vincent Millay.) The only beauty ritual I have is washing my face with soap and water. It's horrifying. Then I'll put on the StriVectin S.T.A.R. Light Retinol Night Oil. It does really good things for your skin. I also have an aloe plant. I cut the leaves open, and I put it all over my face and décolletage.
"I'm usually in a rush to get to bed and make love or read," Oh gawd, me too, Lauren. Me too. Except maybe not so much to make love or read and more to fall into my pillow from exhaustion or some body part hurts for no known reason – but same-ish. In addition to the night routine she mentioned, Lauren puts castor oil on her fingertips and rubs it all over her scalp. She uses Briogeo. It makes her hair less dry. I'd be surprised if she's still a natural blonde at 78. If she's treating her hair and she keeps it from drying out with castor oil, I'm in.
As for the plastic surgery, if the person wearing the face is happy, I guess I remain unbothered by it. I love looking at Lauren's face and seeing a life lived on it. Same when I look at my mother. But I also see the confidence with which they wear their lines. If they were miserable every time they looked in the mirror, I'd rather see them content than lined. The best advice Lauren gives here is about securing her Revlon contract. She read the writing on the wall and protected herself, which allowed her to dictate her career on her terms, lines and all. And she earns it. She never phones it in for work, she's still one of the best out there. I had no idea she got the inspiration from Catfish Hunter. I love that tidbit about her.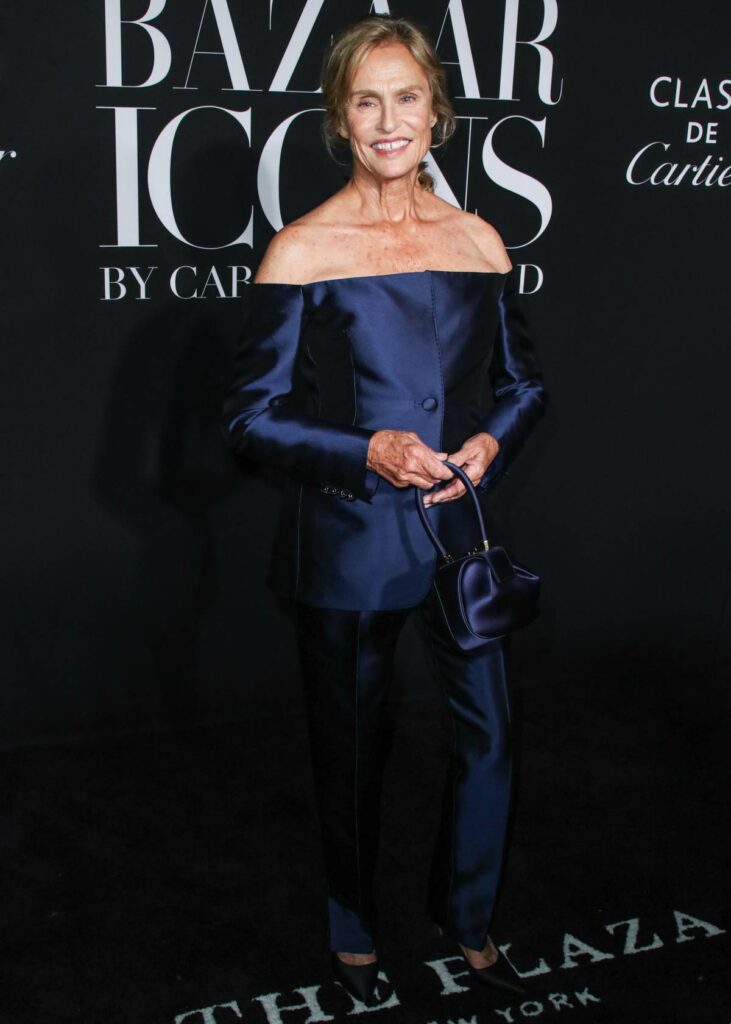 Photo credit: Instagram, Avalon Red and Getty Images