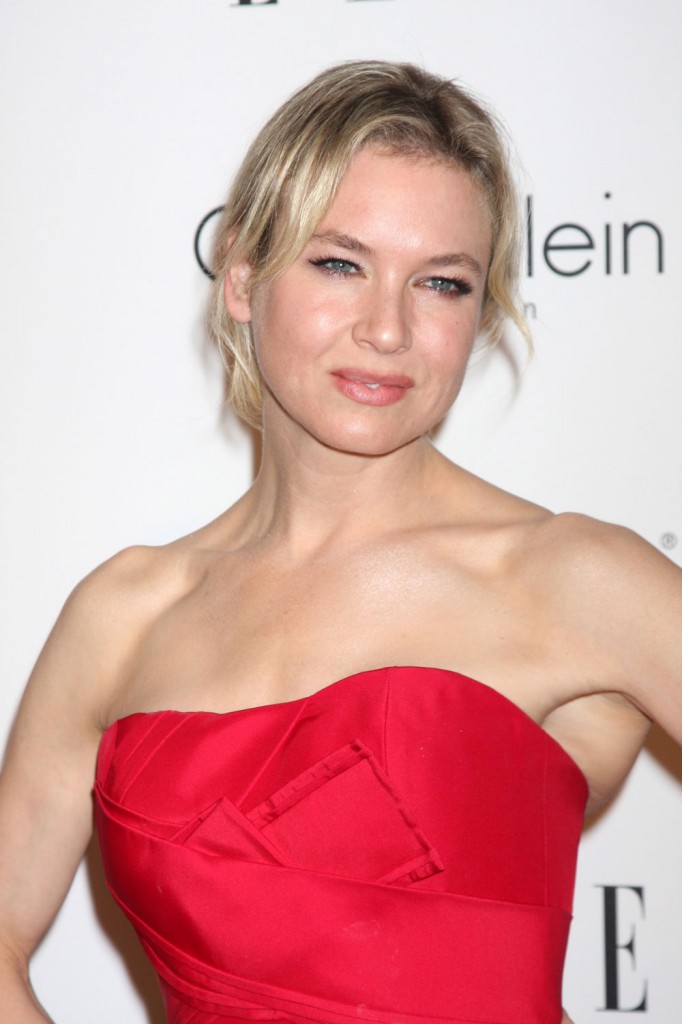 I'm not sure how many people care about this story, but it struck me as both newsworthy and odd. Over the summer, the third Bridget Jones film was announced. The producers were still in the early, early stages, and it was generally thought that once a good script draft came along, the film would probably be made, most likely filming sometime next year. A month ago there was even a report that Renee was refusing to gain weight for the third film, and that she was demanding a fat suit.
Renee walked the red carpet for Elle's Women in Hollywood event last night, and she looked really pretty, didn't she? That's a great color on her, and though I still think she's too skinny, this is the best she's looked in a while, in my opinion. While on the red carpet, Renee did the media rounds and she was asked about Bridget Jones. She totally denied there was a third film in preproduction to multiple outlets. When asked by OK! Magazine about her return as Bridget, Renee said "I don't know anything. Who said that?" When asked about the "rumors" of a third film, Renee said: ""Oh, goody!?? It is flattering. It's very sweet." When pressed further, Renee said she would do a third film "if it's good." Us Weekly has more from Renee about the "rumor" of the film:
If anyone hears anything about a third Bridget Jones movie, Renee Zellweger would like to know.

At Elle magazine's Women in Hollywood Tribute in Beverly Hills Monday, Zellweger, 40, told Usmagazine.com that she has no idea about a third go-round for her famous British heroine (she gained about 40 pounds — and received $15 million — for Bridget Jones: The Edge of Reason). "I don't know!" she laughed. "Isn't that funny? I get asked that every single day and I don't know anything. It's like a rumor!"

What's definitely on her radar lately: renovating her apartment. "I haven't had the nervous breakdown yet and I haven't been committed," she boasted. "That's no small miracle. I'm very proud of that part."

Zellweger explained that she's living adjacent to the apartment during construction. "I'm safely away from the asbsestos and whatever else we might unearth."

The Oscar-winner says that decorating "used to be a lot of fun, but now its too many decisions to make!"

The famously fit star prefers to watch other people's renovations at the gym. "I go to the treadmill," she explains, "and I choose between the Yankees and the Angels game or some guy in Australia buying a new apartment. I want to see what he's going to buy!"

Zellweger has been romantically linked to Bradley Cooper and recently visited him on the Vancouver set of The A-Team.
[From Us Weekly]
Uh… I think Renee is on drugs. The third film has been announced. It's on IMDB. Someone has spoken to her about it, I'm sure. So what is with Renee's ditz act? Is she holding out for more money? Could be. But I think Renee simply doesn't want to do a third Bridget film because she doesn't want to gain the weight again. And I also think that Renee doesn't want to fly over to England for half a year to make a film because things are going so well between her and Bradley Cooper. Call me crazy, but I think she's head over heels in love with that guy, and she's putting everything on hold, preparing to really settle down with him.
Photo credit: Nikki Nelson / WENN.com