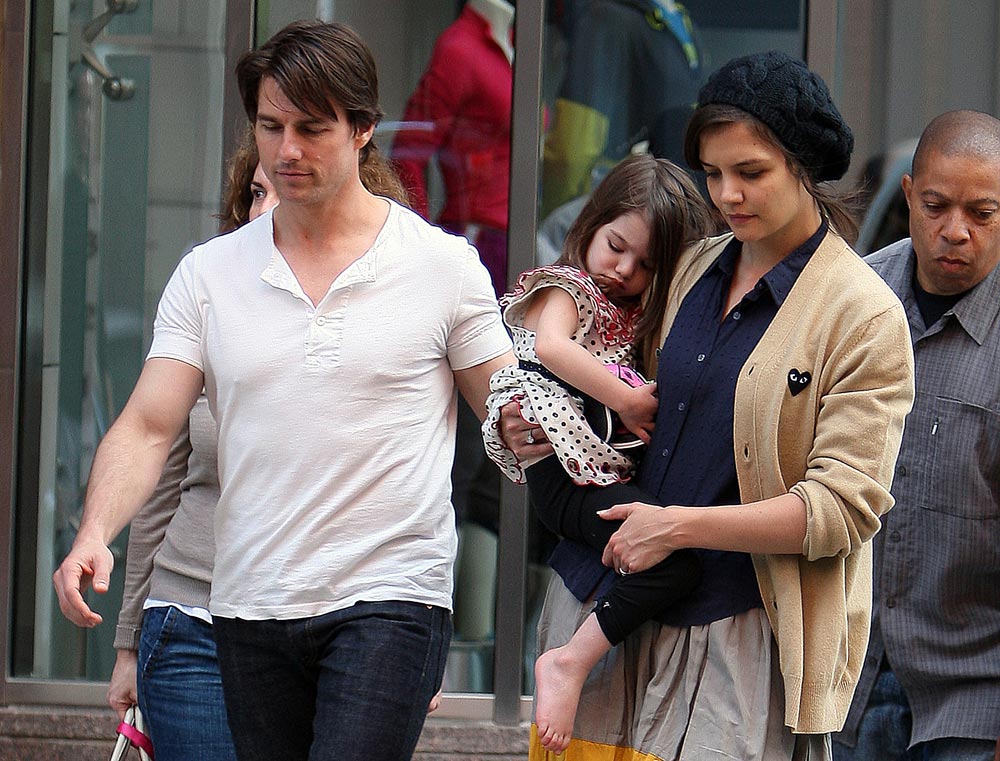 High profile Scientologists Tom Cruise and John Travolta were spotted at a big Scientology shindig in England with their wives on Friday. This might put to rest those rumors that John Travolta was ready to step away from the cult following his admission in court that his deceased son, Jett, suffered from autism. Autism is not recognized by Scientology, which vehemently and irrationally opposes all forms of psychiatry. According to a former Scientology minister quoted by CBS News, Scientology teaches that non-physical disorders stem from connection to "a suppressive person… who is opposed to Scientology."
The party, a gathering of the "International Association of Scientologists," was attented by 4,000 people who listened to lectures that lasted almost two hours. The best part of this story, reported exclusively by US Weekly, is Tom Cruise's nonsensical quote about the protesters outside. He allegedly called them "squirrels" who were "stuck in an electronic incident." Say what? Doesn't that sound like something from Minority Report?
Tom Cruise, Katie Holmes and daughter Suri reunited with John Travolta and wife Kelly Preston — plus over 4000 other Scientologists — at a massive party in England on Oct. 16, Usmagazine.com has confirmed.

The stars were surprise guests at the 25th anniversary of the International Association of Scientologists held at Saint Hill Manor in East Grinsted, West Sussex. During nearly two hours of speeches, Cruise, 47, briefly addressed the rapturous, fist-pumping crowd: "Because we never took our eyes off the ultimate prize, we stand where we are today," he intoned, witnesses tells Us. "We are in this together!"

When a choir took to the stage, the Cruise-Holmes family stood up with the rest of the audience. "Tom was swaying and looked like he was in heaven," an attendee tells Us. "He was really, really into it. Katie was next to him doing her best to look as enthusiastic. She was clapping along with the song, but was totally out of sync. Suri was standing by, looking a little bemused in a cute little party dress."

Seated nearby, the Travolta and Preston — still mourning the death of son Jett and dealing with a related extortion trial — were more muted. "John and Kelly were holding hands throughout the performance," an onlooker says. "They look like a very united couple."

Later, during a reception, Cruise was overheard chatting with another American man about the protesters outside the venue. "They're squirrels," Cruise said angrily, according to a witness. "Stuck in an electronic incident. It makes me so angry!"

The family left the party around 11 p.m.; they have a home in nearby Dormans Park.
[From US Weekly]
It recently came out that Scientology head David Miscavige regularly beat and imprisoned his staff in an attempt to control them. Former Scientology "Inspector General," Marty Rathbun, has a blog in which he details the abuses he's witnessed in the cult. Rathbun even posted a letter from Tom Cruise's lawyer confirming his former position in Scientology and asking him to no longer admit that he was once Tom Cruise's "auditor." Rathbun now works as a counselor for former Scientologist and states on his blog that "I have also counseled people who were abused by Tom personally – in matters that eerily resemble the behavior of Miscavige."
According to Rathburn the organization is running scared following the leak about some of the nasty abuses committed by Miscavige and other higher-ups. Scientologists can't control the Internet although they try, and all anyone has to do is Google the cult to figure out they shouldn't get involved. Scientologists are masters of deceiving both other people and themselves, though, and can always hold big parties and speak in their own wacky pseudo language to help make themselves feel like they're the chosen ones. The word is out about them, though, and they can only keep up the facade for so long. They don't have tax free status here in Germany, and everyone pretty much knows they're a dangerous cult. Let's hope their status as a religion is soon revoked in the US too.
Do you think Katie Holmes tries to get into all this Scientology foolishness or does she just put up with it for the sake of her marriage and the designer perks? Is she afraid that if she doesn't put up with it she'll lose her child or worse, and is she regularly subjected to the type of intimidation that other Scientologists face? I like to think she's shielded from that type of treatment, but she does look pretty beat most of the time. There's only so much that shopping can fix.
Katie, Tom and Suri are shown in Boston on 10/4/09. Credit: WENN.com