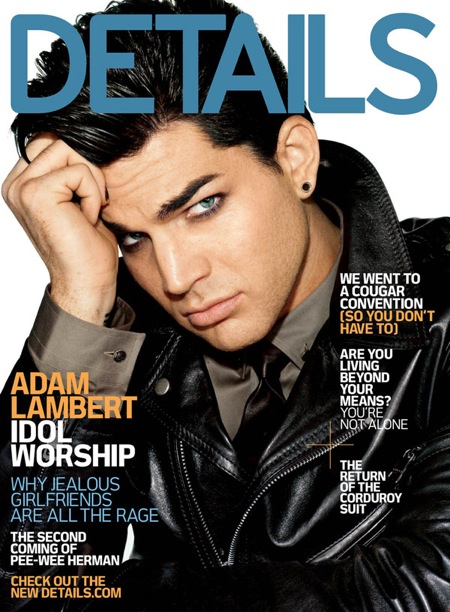 As many have already seen, Adam Lambert is Details Magazine's cover boy for November. I guess Details has had enough with their "metro sexual" image, because they decided to make the very out-and-proud Lambert pose for some awkward pictures with a nearly nude lingerie model named Kim Cloutier. My favorite is maybe the one where Adam is touching Kim's boob. His face says to me "Wow, squishy!" The others are kind of gross-uncomfortable, and I'm saying that as someone who has occasionally enjoyed a little male-on-male (or male-on-male-on female) pr0n. Adam looks like he's never really touched a naked woman before. Although in the interview, he claims he has. Sort of. Here's the full interview (it's boring) and here are the highlights:
"I think it's weird that I'm having this effect on women. It's flattering. I've never had underwear thrown at me before. Clearly there's something significant about it, because there aren't a lot of openly gay men in the entertainment industry."

"I have no problem telling people, 'You know what? I'm not your babysitter, and I'm not your church,'" he says. "They go, 'Jesus loves you, too.' One time I just blurted out, 'I'm Jewish, okay? I don't need another crucifix! This is not an appropriate gift for me!'" He laughs. "I know people are coming from a good place, but it can be offensive. Like, 'Thank you, I'm not Christian! I don't read that book.'"

"There was one woman in Jersey who was actually gorgeous," says Lambert. "She had obviously had a couple of cocktails, and during an after–show meet–and–greet, she just slithered up next to me and started kissing my neck. I was cool with it. But then it started to get a little weird because she was, like, moaning. She gave me a note that said, 'I want to make out with you, here's my number,' and I was like, wow, this is crazy. But again, it's cool. Because yeah, I am gay, but I like kissing women sometimes. Women are pretty. It doesn't mean I'm necessarily sleeping with them. Of course, had I been the one drinking the cocktails," he adds, "I probably would have made out with her."

He says it wouldn't matter to his 24–year–old boyfriend, whom he won't discuss except to say that he's "Cajun" and has "swagger." ("I like 'em smaller and younger," Lambert says mischievously.)

He smiles. "I don't see how all this is any different than—let's take a modern sex symbol like Brad Pitt. How many of these women who fantasize about him actually get to sleep with him?" he asks. "It's all fantasy—that's what entertainment is. I'm here to entertain you, and if my sexuality is apparent and you respond to it, and you're attracted to it, then great, I'm doing my job. It ain't happening anyway!"
[From Details]
I don't have any problem with him being gay, but I still think that Details made the editorial decision to wrap him up in this more hetero-sexualized image of a boob-lovin' mysterious… bisexual, maybe? And it's pretty clear he's just straight-up gay. That I take issue with that, because it's as if Details thinks their readership won't respond if they made Adam pose with nude men, you know? Or maybe it was just a way of getting us to talk about their magazine. I don't know. In Page Six this morning, Details editor-in-chief Dan Peres said: "Women obviously know he's gay, but they are still crazy about him. He's no Liberace. To put him with a beautiful female model felt absolutely right." Uh… no.
Photos via CoverAwards and Huffington Post