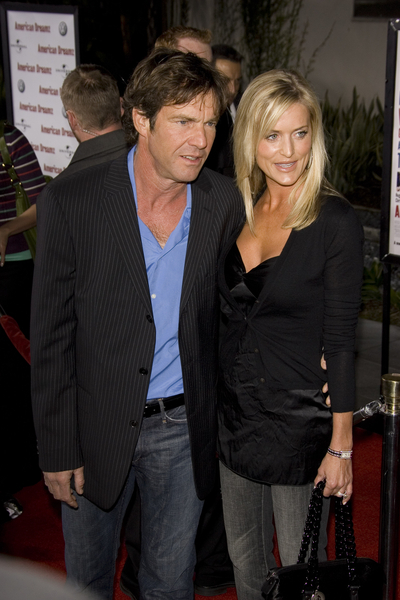 Dennis Quaid's 12 day old newborn twins were the victims of an egregious hospital mistake. Little Thomas Boone and Zoe Grace were given one thousand times the regular dose of the blood thinner heparin not once but over two days in a gross oversight that could kill them. They are said to be in stable condition, so let's hope they recover and suffer no long-term effects from this terrible case of hospital error:
TMZ has learned that Dennis Quaid's newborn twins are fighting for their lives after being inadvertently overdosed at Cedars-Sinai Medical Center in Los Angeles.

Sources tell us the twins — Thomas Boone and Zoe Grace — were accidentally given a massive does of Heparin, an anti-coagulant. Babies typically get 10 units. Our sources says they were each mistakenly given 10,000 units. The drug is used to flush out IV lines and prevent blood clots. We're told one dose was given on Sunday morning, another on Sunday evening.

We're told late Sunday night, both babies started to "bleed out." Both babies are now at Cedars in the neo-natal intensive care unit where we're told they are stable.
[From TMZ.com]
A recent study suggests that nearly 200,000 people die each year in US hospitals from "preventable medical errors," which is more than the number of people who die from breast and lung cancer combined . If those are the number that died, just think of how many countless more people must be seriously injured due to common errors like the one that happened to Dennis Quaid's babies twice.
Ironically Quaid does work with the charity "International Hospital for Children in New Orleans" in which he helps build medical clinics in Central America, bringing some children back to the U.S. for treatment they cannot get at home.
Dennis Quaid, 53, and his wife of three years Kimberly, 35, had the twins through a gestational carrier, which were conceived using their own egg and sperm. Our thoughts are with Dennis and his family for a speedy and full recovery for his babies.
Dennis Quaid and his wife are shown on 4/11/06 at the American Dreamz premiere, thanks to PR Photos. Some Details from Wikipedia