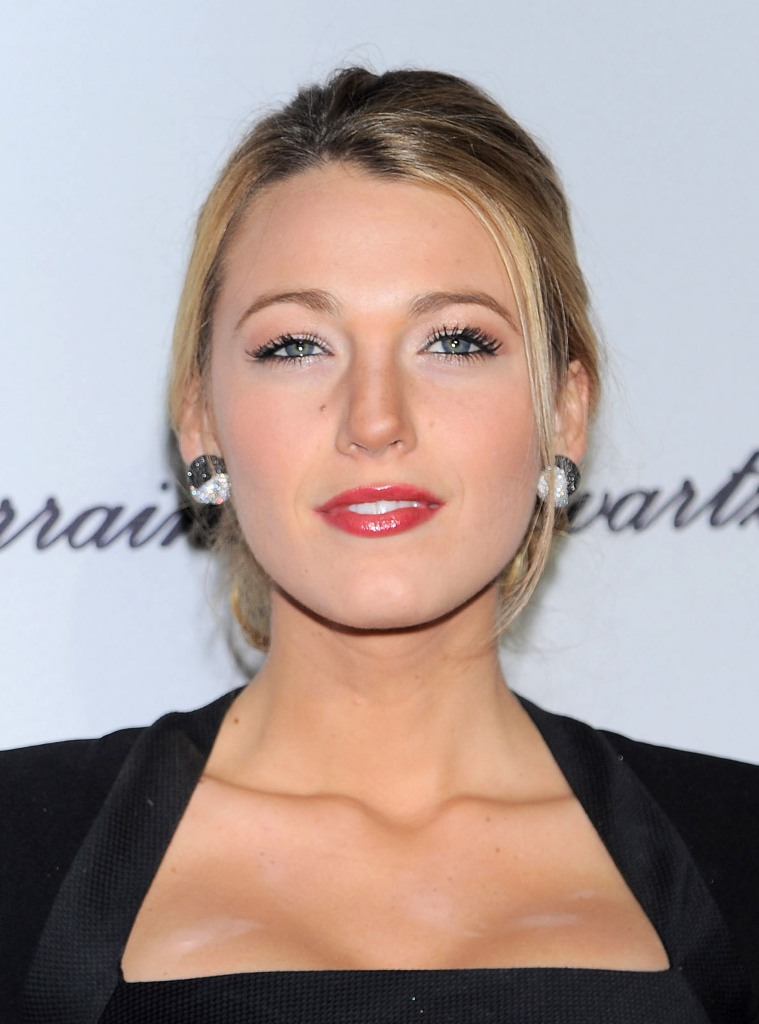 I think quite a bit of Blake Lively's beauty. Honestly, I find her to be one of the prettiest girls in the current crop of Young Hollywood. I am aware, however, that her beauty has a slightly manufactured feel. I'm pretty sure she had a nose job a few years ago, and if those are her natural breasts, my day just got worse. If she did get this work done, it was done well and she looks gorgeous. We get to see a lot of her too – she usually goes to any New York red carpet event, and she almost always looks interesting and flawless. Not so much for last night's appearance at the 2009 Angel Ball in New York.
Blake wore a black Victoria Beckham dress that I find kind of "meh", but taken with Blake's styling, it looks really good. However, Blake had what I can only describe as a makeup malfunction. The makeup on her face looks fine, of course – flawless, really. But she seems to have used her foundation to try to cover up something on her chest. The result was some weird, discolored blotches on her chest that would have looked at home on Lindsay Lohan. On my Blake? Not so much. Get it together, girl.
When Blake Lively arrived in a short, sexy dress at a charity ball last night, she must have been delighted with her understated and elegant look.

But the Gossip Girl actress fell foul of the bright lights on the red carpet which showed up a collection of strange blotchy marks on her chest. The 22-year-old, who until now has had immaculate fashion credentials, looked as if she had tried to cover spots on her chest with foundation or concealer.

The odd patches were the same colour as her foundation, but not the skin on her body.

They drew attention away from her otherwise flirtatious and fun Victoria Beckham mini dress from Spring/Summer 2010 collection.

She teamed it with the diamond yin and yang earrings and blue-toed heels.

Blake is said to have become firm friends with the former Spice Girl-turned-designer and Posh is rumoured to be filming a cameo role in Gossip Girl this week.

The actress has already worn Beckham's designs on the show, so it was no suprise she chose the designer's dress for the Angel Ball for The Gabrielle's Angel Foundation for cancer research, in New York.

Blake, who is currently filming season three of Gossip Girl, has been dating her co-star Penn Badgley for two years. He admits in the November issue of Men's Health magazine that mixing business and pleasure can get messy.

'Having a relationship with someone you work with might not always be the smartest move,' he said. 'But it's been wonderful to be in a relationship where we can both identify with what the other is experiencing.'
[From the Daily Mail]
Is this the worst thing in the world? Of course not. Especially when we have celebrities walking the red carpet looking like hot death. My guess is that Blake's makeup person thought Blake had a few "imperfections" on her chest, and just dabbed a foundation-soaked makeup sponge on the "problem areas". It's likely that the blotches didn't even stand out in normal lighting, and only became more prominent with camera flashes. Still, let this be a lesson to Blake and everyone out there – do not use your normal foundation to cover up skin imperfections on the rest of your body. People will notice. And they will judge!
Images thanks to WENN.com and Fame Pictures .