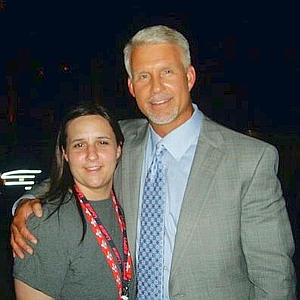 The NY Post has a disturbing and morbidly fascinating account of ESPN's baseball analyst Steve Phillips' affair with a 22 year-old production assistant, Brooke Hundley. When Phillips, 46, broke off the relationship after sleeping with Hundley three times this summer she launched a campaign against him, communicating with one of his teenage sons through an alias on Facebook and contacting his wife several times. Phillips has admitted to the affair but claims that Hundley used personal family information she learned from his son to overstate the seriousness of the relationship to his wife.
It all culminated in a scary scene in which Hundley drove to Phillips' home in Wilton, Connecticut to leave a letter for his wife. When his wife pulled in the driveway and saw Hundley's car, she tried to block her in by parking her truck across the driveway. Hundley then drove over the lawn, running into a stone column with her car but managing to escape before the police got there.
Phillip's wife Marni, 40, has since filed for divorce. The couple has four sons, the youngest of which is seven. Phillips is currently on a leave of absence from his job at ESPN. This is not the first time he's been caught cheating with a woman at work, and he had to take a leave of absence as the general manager of the Mets in the late 90s after admitting a relationship with an employee who later sued him for sexual harassment.
Here's some of the NY Post's story. They also have PDF files of the letter that Hundley sent to Phillips' wife, along with declarations from Phillips, his wife and his son. If you have some time to kill they're pretty interesting reads, particularly the batsh*t crazy letter from Hundley. I sense a made for TV movie in this family's future:
ESPN analyst Steve Phillips had a fling with a 22-year-old production assistant, who, after being dumped, taunted his wife with "Fatal Attraction"-like phone calls and a letter that bragged about her sexcapades with Phillips while taking pot shots at their "loveless marriage," The Post has learned.

The former Met general manager, whose tenure with the team was rocked by admissions of infidelity, confessed to his wife and local cops that he had slept with ESPN assistant Brooke Hundley several times this past summer before dumping her.

In retaliation, the jilted young woman repeatedly phoned Phillips' wife, Marni, saying, "We both can't have him!" an explosive police report claims.
Hundley's desperate actions — including accidentally smashing her car into a stone column while speeding away from the Phillips' home after leaving the letter — terrified the family, according to the Wilton, Conn., police report.

"I have extreme concerns about the health and safety of my kids and myself," Steve Phillips said in a police statement, adding that the woman became "obsessive and delusional" after he dumped her.

But Phillips, 46, declined to pursue criminal charges against Hundley, a Bristol, Conn., woman who cops learned may have used an ESPN computer to contact Phillips' 16-year-old son on Facebook while posing as a high-school classmate.

Phillips — who admitted having multiple affairs with women while working for the Mets — is now being sued for divorce by his 40-year-old wife, the mother of his four sons. Two months ago, Phillips deeded the family's five-bedroom, multimillion-dollar Wilton home to her.
[From The NY Post]
The Post has photos of the stalking woman in question, and to put it bluntly she's not cute. In some pictures she's heavier and is dressed in sporty clothes with no makeup. In other photos she's thin and plain-looking and trying desperately to look sexy. I feel badly for this family, and it looks like this serial cheater picked the wrong crazy woman to mess with. The odds were against him, as he's probably been doing this for years and inevitably ended up with a stalker. I think he's lying though about the seriousness of the relationship and that he did give this girl false hope for something longer term.
Photo credit: NY Post