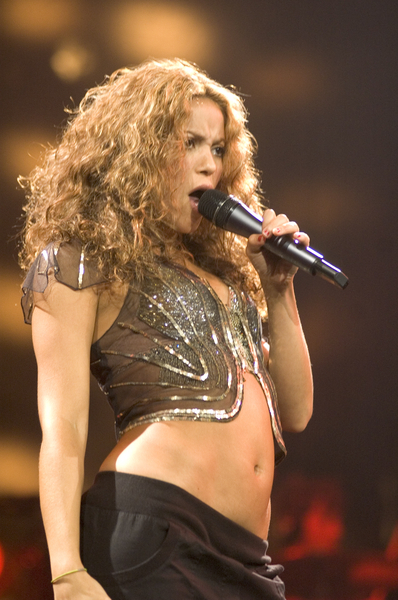 Shakira is one of our favorite celebrities here at Celebitchy. She's fun, she's cute, and she donates a lot of her money and time to charities – not to mention the good publicity she brings to them. But Shakira caused a pretty big stir in Afghanistan recently, when one of her concerts was aired on a privately owned television station. One could see how Shakira's hip-shaking might not go over so well in more conservative country. However it seems the real problem was her upper half that was the problem – and as a result Shakira's top was covered with computer pixels. Sexy.
A hip-shaking performance by the pop star Shakira has provoked a showdown between the Afghan government and the country's independent media. The culture ministry has been joined by senior Muslim clerics in warning the country's largest private television station of serious consequences following the broadcast of a concert by the Colombian singer, famous among her young fans for her onstage gyrations.

The Shakira broadcast caused consternation even though she appeared with computer pixilation covering her chest. State television broadcast interviews with clerics and MPs criticizing the concert while one pro-government newspaper attacked the "notorious" broadcast of a "naked US pop singer and dancer" claiming it provided inspiration to suicide bombers.

"We believe Shakira's song will be shown with Tolo TV's exclusive logo at the training camps for suicide attackers to urge our immature young people to leave a number of our mothers bereaved," said the Weesa newspaper. But the owner of Tolo TV, Saad Mohseni, who grew up in Australia, said: "This was not that provocative and Shakira was pixilated. The government are looking for an excuse to have a go at us.
[From the Telegraph]
Afghanistan's media isn't as restrictive as it used to be since the Taliban government lost control in 2001, however it is still very conservative, and could become even more so. New legislation is pending (and likely will be signed into law) that will give the government expanded rights to censor broadcasts they deem offensive to the country. I'm mildly surprised that someone would broadcast a Shakira concert there in the first place. I mean she's cute as a button, but she's not exactly known for covering up. And the hip shaking is impressive, but certainly not subtle. You're not left wondering what it is she's up to.
Picture note by Jaybird: Here's Shakira in concert during her "Oral Fixation" tour. Hmmm. Images thanks to PR Photos.