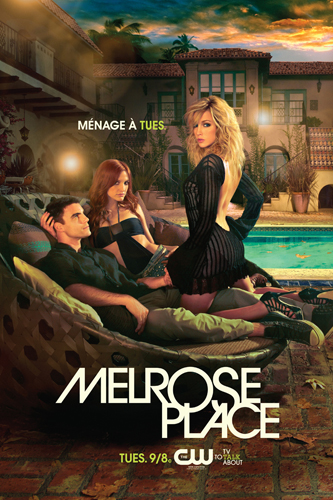 I've been keeping up with the new "Melrose Place" on The CW since the premiere, and while it can be kind of cheesy I do enjoy the glamor and the intrigue. My favorite character is bitchy but vulnerable Ella Simms, played to a T by Katie Cassidy. Cassidy is a talented actress and she really makes you root for Ella despite her character's opportunistic personality.
Ashley Simpson's character is the obvious weak point of the show, because she just can't act. Her character Violet is emerging as the prime murder suspect and she's supposed to be conniving, but all she does is over-emote and I've found myself rolling my eyes during her scenes. It's hard to see Ashlee as anything but a mediocre singer trying too hard to act.
Yesterday it was reported that "Melrose Place" had been half renewed by The CW, which ordered another five episodes for next season. The show is just treading water in the ratings, as opposed to the blockbuster "Vampire Diaries," which has been renewed for a full season with 10 episodes.
Spoilers for future episodes start here, do not read on if you want to be surprised
EW's Michael Ausiello has a new interview with producers of the show, who reveal that both Ashlee Simpson and Colin Egglesfield (who plays hot chef Auggie) are off the show next year starting in January. He also reports that the mystery of Sydney's murder will be solved in December. (I suspect that Auggie was involved, because he was shown burning bloody clothes at the end of the first episode, but it's hard to tell.) Heather Locklear is coming back in November as we've already heard, and more new characters will be introduced.
I'm looking forward to seeing what happens with the show and am kind of relieved that Ashlee's character will be leaving. Auggie is such delectable eye candy but I'm not that attached to that character either. The producers claim that it was planned all along that Violet and Auggie would leave this season, but Colin Egglesfield tells E! it was a complete surprise and that he had a multi-year contract. You can kind of tell it wasn't set it stone by the way the producers phrase their answers too.
Two months into its run, The CW's ratings-challenged (but creatively-smokin') Melrose Place reboot is about to undergo a major renovation. For starters, Ashlee Simpson-Wentz and Colin Egglesfield have been let go (they'll last air in January), and the "Who Killed Sydney?" mystery is being wrapped up in December. Then, in addition to Heather Locklear's Amanda, several new characters will be introduced and the show will take on a lighter, more fun vibe. Here, in an exclusive interview, exec producers Todd Slavkin and Darren Swimmer explain why they're fixing a series that many (myself included) felt wasn't broken and tease what's ahead for Melrose 2.0 3.0.

What was behind the decision to let Ashlee and Colin go?
TODD SLAVKIN: Well, we always knew that this murder mystery would end in episode 12. And we always knew that [Ashlee's] character of Violet would be instrumental in that as a suspect, and [Colin's character of] Augie as well. And once that murder mystery was solved, she would go on her way. That was the original plan going into the development of the show.

So it was always the plan for Ashlee to leave after episode 12?
SLAVKIN: Yes. Because we felt that once the murder mystery was resolved, the tone of the show was going to shift into a much more fun, romantic, sexy upbeat kind of show, and [her] character would move on.

Same thing with Colin?
SLAVKIN: Colin was always meant to be the ultimate suspect. And his brooding alcoholic [character] tonally didn't fit the paradigm moving into post-murder mystery Melrose Place.

Is it fair to say that if either of those characters clicked you would've found a way to keep them?
SLAVKIN: Well, you never know when you go along. But in the end, we felt like it was right [decision].
DARREN SWIMMER: The nature of soaps is that as things progress along, the story takes on a life of its own and the characters come and go in relation to that.

How did Ashlee and Colin take the news?
SLAVKIN: They're total professionals and they took it like professionals. When you go into a show you never know what's going to evolve and what the possibilities are. But because they knew ahead of time [that leaving was a possibility], it wasn't a complete shock.
[From EW.com]
The interview then covers the new fun direction that show will take. Although the producers deny that they've been influenced by the ratings, you can bet that was a large part of it. The trashy and superficial parts of the show are much more appealing than the murder mystery and I'm glad they'll be switching gears. We'll have to see how Heather Locklear mixes things up as Amanda too. She's going to be a large part of the new show, and you can bet there will be a mini-war between Amanda and Ella. Bring it on!
Photo below from Patrick Wymore/The CW via E! Online. Other photo are promotional photos thanks to The CW