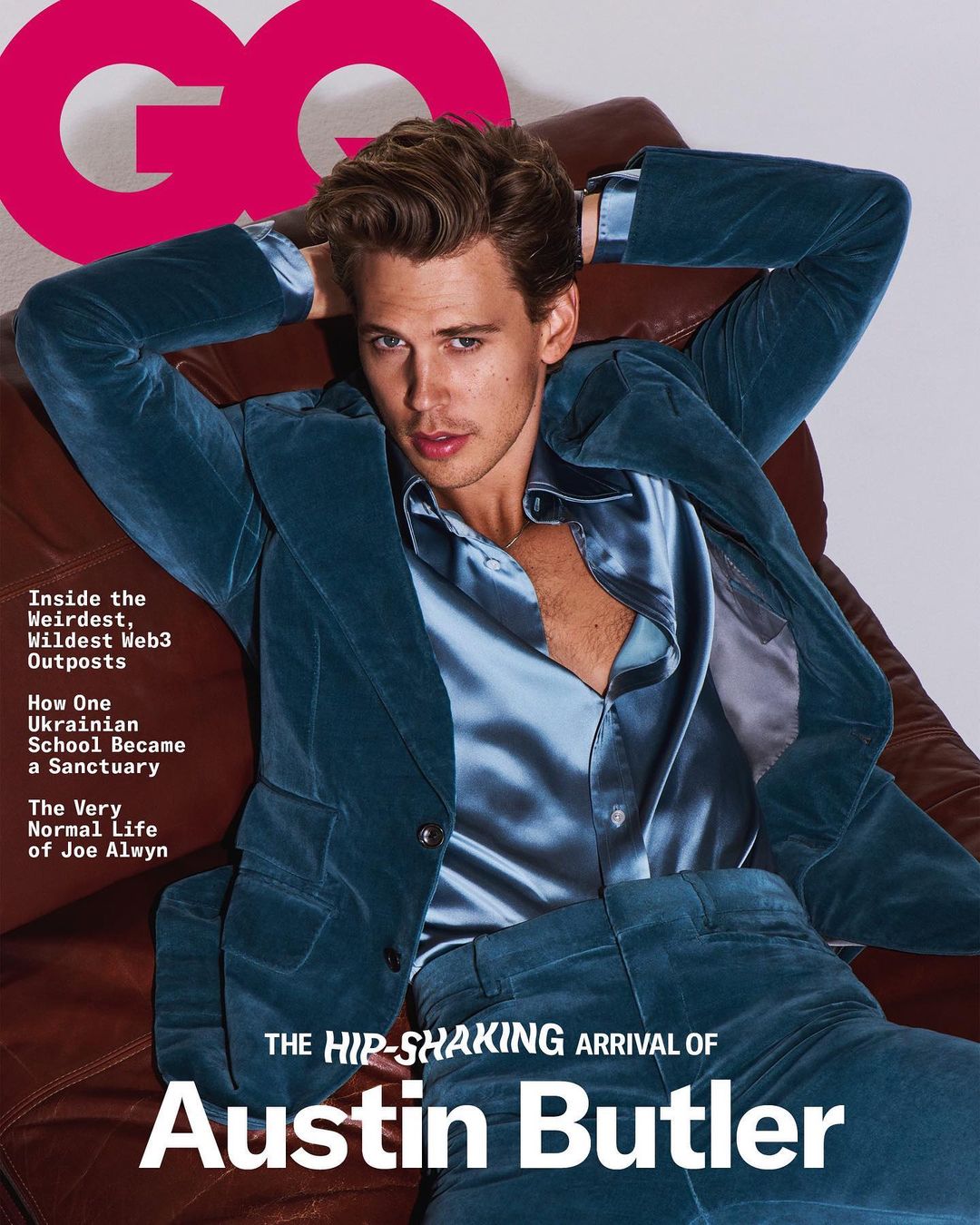 Austin Butler is 30 years old. Did you know that? He actually turns 31 this summer (he's a Leo, like so many celebrities). Austin seems a lot younger than that, and it's not just his baby face or his time as a child/teenage star. As I read through Austin's British GQ interview, the journalist had to keep reminding the reader that Austin is already 30. It's genuinely because his whole energy is that of a very young man. Even the way he talks about work, his professional goals, his mentors… he comes across not as immature, but just… unfinished, youthful. Austin covers British GQ because he's the star of Baz Luhrmann's Elvis. He plays Elvis Presley. While he sort of looks the part… I'm still not sure about any of this. Some highlights from the GQ interview:
He grew up in Orange County & lives in LA: "LA can be a coal mining town. You know, where everybody works in the coal mine. Everybody talks about the coal mine."

He made the pilgrimage to Graceland to meet Priscilla: Priscilla embraced him and told him he had a lot of support. "She looked like an angel," Butler says. "I walked down the hall with Baz afterwards with tears in my eyes." Beyond all the technical preparation, he sought out other things that would allow him to access this larger-than-life figure on a personal level. "His mother passed away when he was 23, and my mum passed away when I was 23," Butler says. "So when I learned that, it was one of those things where I got chills, and I just thought, Okay, I can connect to that."

He asked Tom Hanks for advice: Hanks had a simple tip, Butler recalls: " 'Every day I try to read something that has nothing to do with the job that I'm doing.' " This advice was a relief. "That gave me permission, because up 'til that point, I was only reading everything to do with Elvis. I was only listening to Elvis. It was Elvis's influences and Elvis himself and nothing else."

Elvis never went on a world tour: "The sad bit about it is that Elvis never got to tour the world. That is a thing that I think a lot of people don't quite realise. And that was a big thing that he really wanted to do."

When he wrapped on 'Elvis': "The next day I woke up at four in the morning with excruciating pain, and I was rushed to hospital," Butler says. He was diagnosed with a virus that simulates appendicitis and spent a week bedridden. "My body just started shutting down the day after I finished Elvis."

On Denzel Washington praising him to directors: "I was so grateful for that. He didn't call me beforehand, he didn't call me after. It was this generous thing that he just did."

His relationship with Kaia Gerber: "I go, 'If I don't see the picture, then it doesn't really exist to me.' I don't want to be really negative, but there's hardly any job I despise more than paparazzi." He is similarly positive when I try to get him to open up about his relationship with Gerber. "I don't think there's anything I want to share about that. But thank you for providing the space."
He ended up talking a lot about Denzel – they worked together on Broadway, in The Iceman Cometh. Austin went out of his way to try to impress Denzel with his work ethic, all while trying not to act overly familiar with his idol. Denzel finally noticed him and took Austin under his wing and mentored him as an actor and gave him career advice. Denzel really is the Godfather, right? He's not just the church elder, he's helping white guys too. Anyway, the impression I now have of Austin is that he is a very hard worker, he takes his job very seriously, he actively seeks out the mentorship of older actors and he's surprisingly buttoned-up. I wonder if that's how he really is.
Cover & IG courtesy of British GQ.