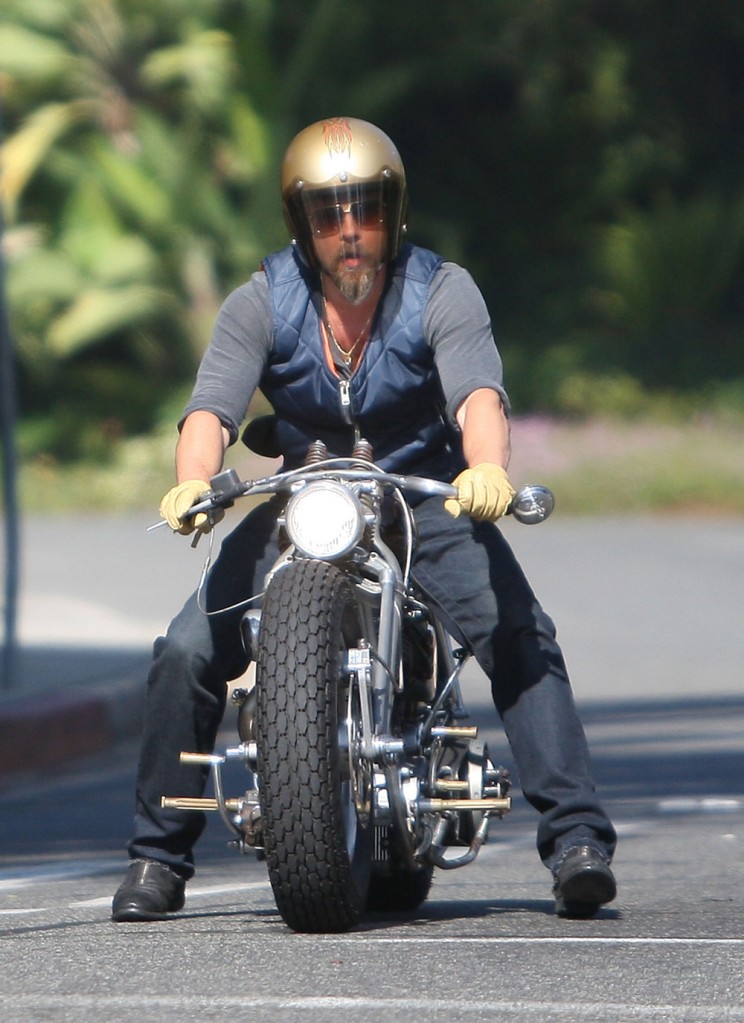 On Saturday, Brad Pitt got into some kind of accident while riding his new motorcycle around Los Angeles. There are a few different versions of what happened, and I really don't know which one to believe. Radar claims that Brad was rear-ended by a photographer following him, while Us Weekly and X17 (who apparently had photographers on the scene) claim that Brad was cut off by a photographer in a Toyota Camry, who was apparently driving in a very uncool way. Meanwhile, TMZ claims that no other paparazzo or anyone else was involved in the crash.
In any case, the result seemed to be pretty much the same. Brad lost his balance and ended up hitting either a parked car or the car in front of him in traffic. The damage to both his bike and the other car is likely minimal to none, and Brad was wearing his helmet. Brad pulled his bike over to the side of the road, and went into a nearby apartment building where he called his assistant, who later picked him up. Brad temporarily left his bike at the scene of the accident, but X17 also reported that Brad was "shaken" by being cut off, and may have had some words with the paparazzo in the Camry. Radar also reported that Brad exchanged insurance information with the owner of the other car:
Following the frightening but fortunately minor motorcyle spill that Brad Pitt took Saturday morning in Los Angeles, the actor was as cool as one of his movie characters as he dealt with the aftermath.

Brad carefully checked out the damage to his brand new chopper, politely chatted with some fans who offered assistance and made arrangements to get his chopper trucked home.

Brad was reportedly accidentally clipped by a photographer's car. In his maneuver to get away from it, he rear-ended a car in front of him. That sent Brad and his bike to the asphalt.

Even though the incident wasn't Pitt's fault, he naturally did the right thing and exchanged insurance info with the driver he collided with.
[From Radar]
Considering this is the first time I've ever heard of Brad having any kind of accident on one of his motorcycles, I tend to think there probably were some kind of extenuating circumstances involving a paparazzo who likely did something to endanger Brad and/or other drivers. Or, you know, maybe Brad was having problems with a new bike – reportedly, this bike was just delivered to his Los Angeles home just a few days ago. Perhaps he wasn't comfortable with it yet. That happens to me whenever I get a rental car. I'm too dumb to take a moment when I first get in the car to familiarize myself with where everything is, and I end up almost getting into an accident while I try to find the wipers while I drive. I guess the other possibility is that Brad's a bad driver, and he couldn't handle his gear. Whatever… I'm glad he's okay. And I'm glad he was wearing his helmet too!
Brad Pitt is shown before and after his motorcycle accident on Saturday, October 24, 2009. Credit: FAME.