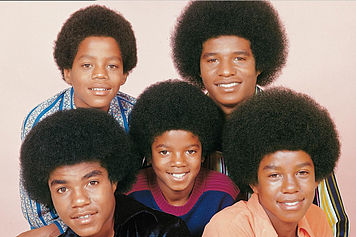 Bust out your "I Heart Tito" tops kids! The Jackson 5 will be touring again. Marlon, Tito, Jackie, Jermaine and yes even Michael will be bringing the afro back. For the first time in over 23 years they will gather together to crank out a live tour starting in the UK. It is more like the Jackson 4 and that creepy manimal, but they are excited to have Michael on board.
Michael will be involved. We want to tour. We want to touch the lives of everybody who's bought our records and supported us. It will probably start here first, but it will be sometime in 2008. That's our plan.
[From BBC 6 Music]
Meanwhile, Jermaine has been busy peddling his family story. Currently, he is putting together a musical based on the early days of creating the Jackson 5. Another project in relation to the musical has reportedly peeked the interest of the brutally honest "America Idol" judge….Simon Cowell.
"We have a show called In Search of the Legends: The Jackson 5. We're finding people who are gonna play us which is gonna be a reality show. I'm talking to Simon Cowell for some of his involvement. We're very excited about it."
Is it just me or does anyone else see the potential flop? It sounds to me like it will be a huge circus-like gathering. They might as well throw Britney in there and make it the worst attempt at a last ditch effort.
Note by Celebitchy: Here's the Jackson 5 doing "I Want You Back"