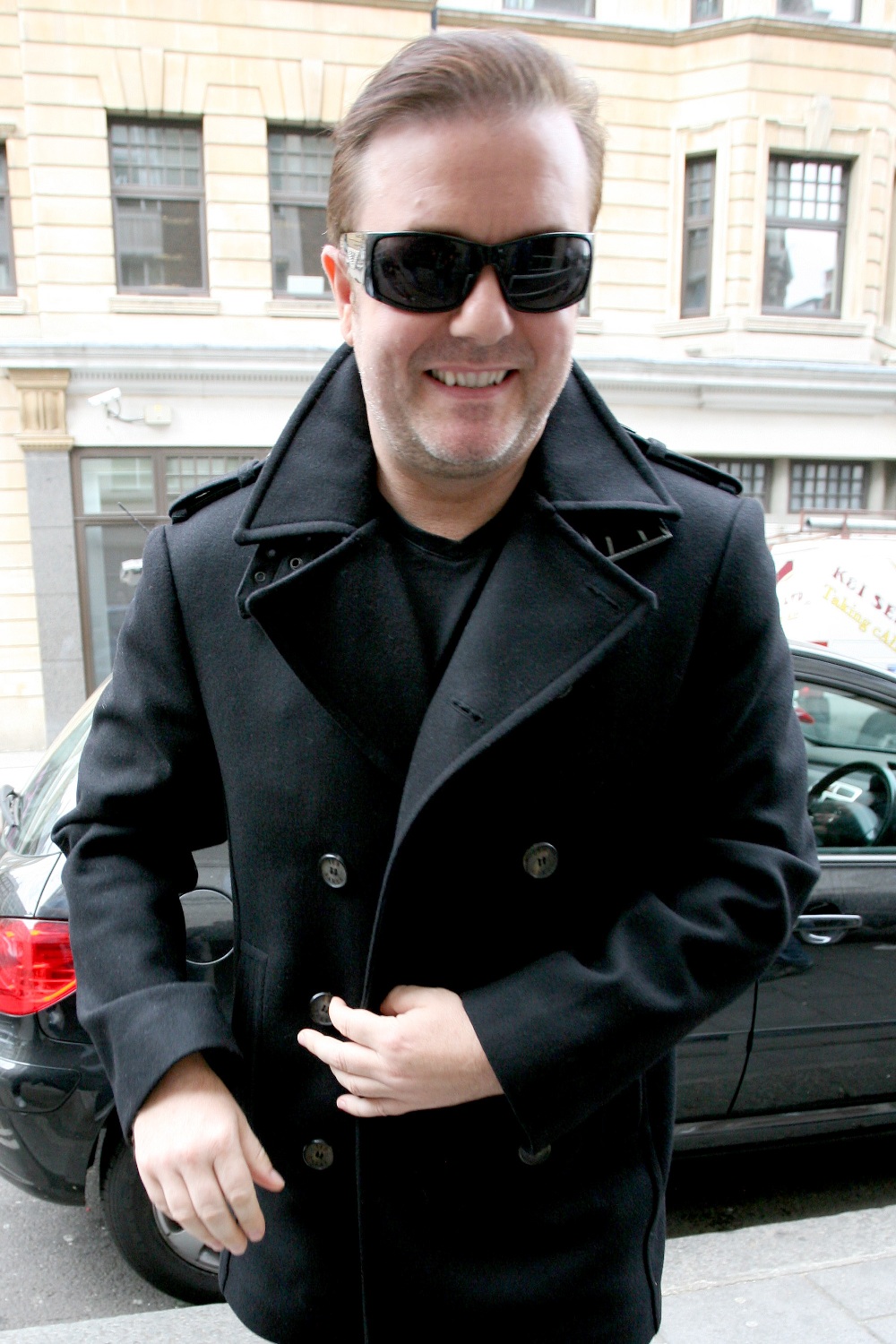 Ricky Gervais has been confirmed as the host of the 2010 Golden Globes, to be held in January. In the past few years, the Golden Globes have gone host-less, opting instead for just straight category presenters and a disembodied voice announcing whoever or whatever. It's been 15 years since there was a real "host" of the Globes, according to People. Part of the reason the show works well without a host is because the setting is more like a fancy dinner than an awards show – food and copious amounts of alcohol are served, and by the end of the evening, the last Globe winners are usually slurring their words a bit.
All that being said, I'm totally thrilled Ricky will be hosting. He's the highlight of any awards ceremony, he's brilliant, he's hilarious and he's naughty. He's the kind of host a crowd of drunk actors will fully appreciate. At this year's Globe ceremony, he stopped his presenting duties to congratulate his friend (and Extras guest actress) Kate Winslet for her win for The Reader. Ricky, referencing her part on Extras, said "Well done Winslet! I told ya – do a Holocaust movie, the awards come, didn't I? Trouble is with Holocaust films: There's no gag reel on the DVDs. There isn't." Here's the video:
He's provided memorable moments on the Golden Globe awards in the past – and this year Ricky Gervais will have the chance to do so again. The British comedian will host the 67th Annual Golden Globes in January, PEOPLE has confirmed.

"Not only is this the biggest Hollywood celebration of the industry, which includes both film and TV, but also an environment where I feel I can get free reign as a host," Gervais said Monday. "I have resisted many other offers like this, but there are just some things you don't turn down."

This marks the first time that the telecast has had a host since 1995

"We are delighted to have Ricky Gervais as the host on our show," said Philip Berk, President of the Hollywood Foreign Press Association.

A four-time Emmy winner, Gervais has also won three Golden Globes. In 2008, his HBO show Extras was named best television comedy at the Globes.

The Golden Globes will be broadcast live on NBC on Jan. 17 from the Beverly Hilton Hotel in Los Angeles (8 p.m. ET). Nominations will be announced on Dec. 15.
[From People]
A while back, I said on some post or another that Ricky should be asked to host the Oscars. While I hope that does happen some day, I do think Ricky should get his feet wet hosting shows like the Golden Globes and the Emmys. Do those shows for a few years, and then move on to the Oscars. He'll be brilliant!
At the 2008 Emmys, Ricky had one of the best moments too – he called out Steve Carrell for taking his Emmy the year before:
Here's Ricky outside the BBC 1 radio studios on September 28th. Images thanks to WENN.com .