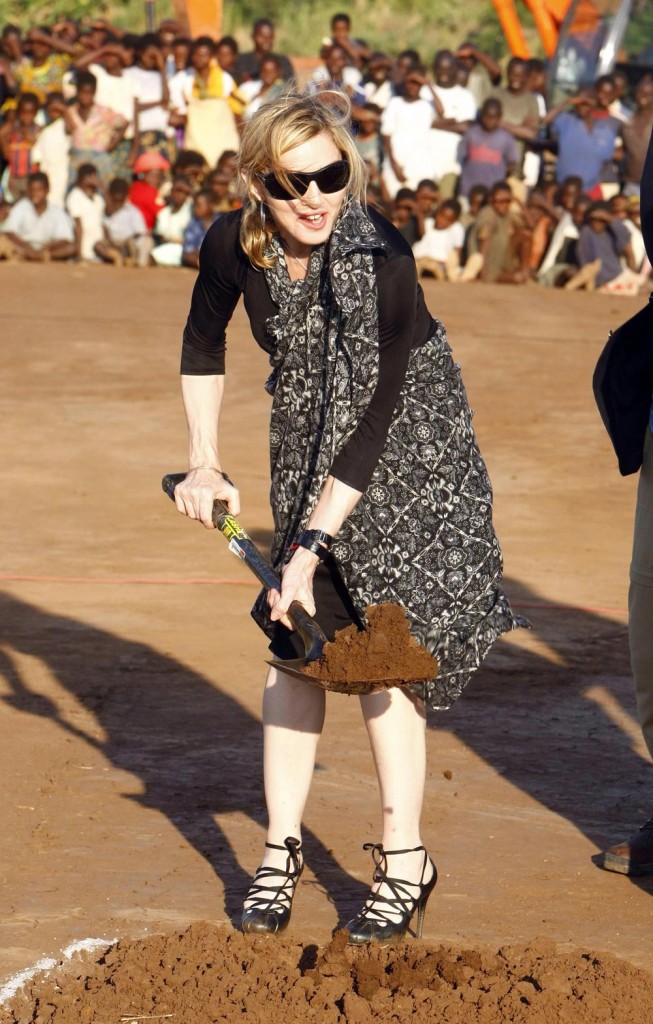 Madonna is killing me in these pictures. The Madge graced the lovely Malawi people in her most elegant black and grey sack and Jackie O-style sunglasses on Monday. She first broke ground on the Raising Malawi Academy For Girls, then planted a small tree. A shrub, if you will. She did all of wearing some (lovely) strappy black stilettos. In some of these pictures, it looks like Madge might be losing her balance in the loose-looking dirt. The school is supposed to cost in the neighborhood of $15 million, all of it funded by Madge and Raising Malawi. Also note – The Daily Mail seems to be hinting that Madonna might have been giving off the whiff of colonialism with her Malawi appearance:
As Madonna launched the construction of her school for girls in Malawi, the pop star seemed to channel movie stars from films based in the colonial era.

Evoking Meryl Streep in Out of Africa with her flowing clothes and straw hat in hand, the pop star smiled as she opened the proceedings yesterday.

Madonna wore a silver and black patterned shawl wrapped over a conservative, knee-length black dress.

But as the 51-year-old singer laid the foundation stone of the school she decided she needed no more practical footwear than a pair of strappy black heels.

The singer has previously been criticised by conservative Malawian groups for her
outrageous fashion sense.

Madonna is funding the £9million Raising Malawi Academy, in Chinkhota village, about 15 kilometres outside the Malawian capital Lilongwe.

It is expected to be completed in two years and will admit 500 girls from the small southern African country's 28 districts.

Holding a colourful bouquet of flowers, she smiled curtly to waiting photographers. The star laughed as she cut a ribbon at the ground-breaking ceremony and was even snapped shovelling earth and planting a tree – despite wearing the high heels.

She said: 'Growing up in a privileged life, I took education for granted, but coming to Malawi has taught me a lot of things and I have learnt to appreciate what life gives.'

She concluded: 'People always ask me, "Why did you choose Malawi?" But I have always said: "Malawi chose me".'

Madonna was accompanied by her four children – daughters Lourdes and Mercy, and sons Rocco and David.

The pop star adopted Mercy from Malawi earlier this year and adopted David from the country in 2008.

Madonna's Raising Malawi, a charity founded in 2006, helps feed, educate and provide medical care for some of Malawi's orphans.
[From The Daily Mail]
The Daily Mail also puts a picture of Meryl Streep in Out of Africa so we can have a little side-by-side colonial comparison. I don't really see it. But I'd like to see a side-by-side comparison of Madonna and Meryl in The Devil Wears Prada. Yeah… Madge wishes. As for the whole "Madge is a neo-colonialist" thing, I'm not really buying that either. I mean, I do think her Raising Malawi organization is sketchy, and I do think Madge is a raging narcissist, but I really do think she's trying to help in her own way. She doesn't expect the Malawians to crown her queen or anything. She seems to want to give back, and I can't bash her for that.
Photo credit: Barcroft/Fame Pictures