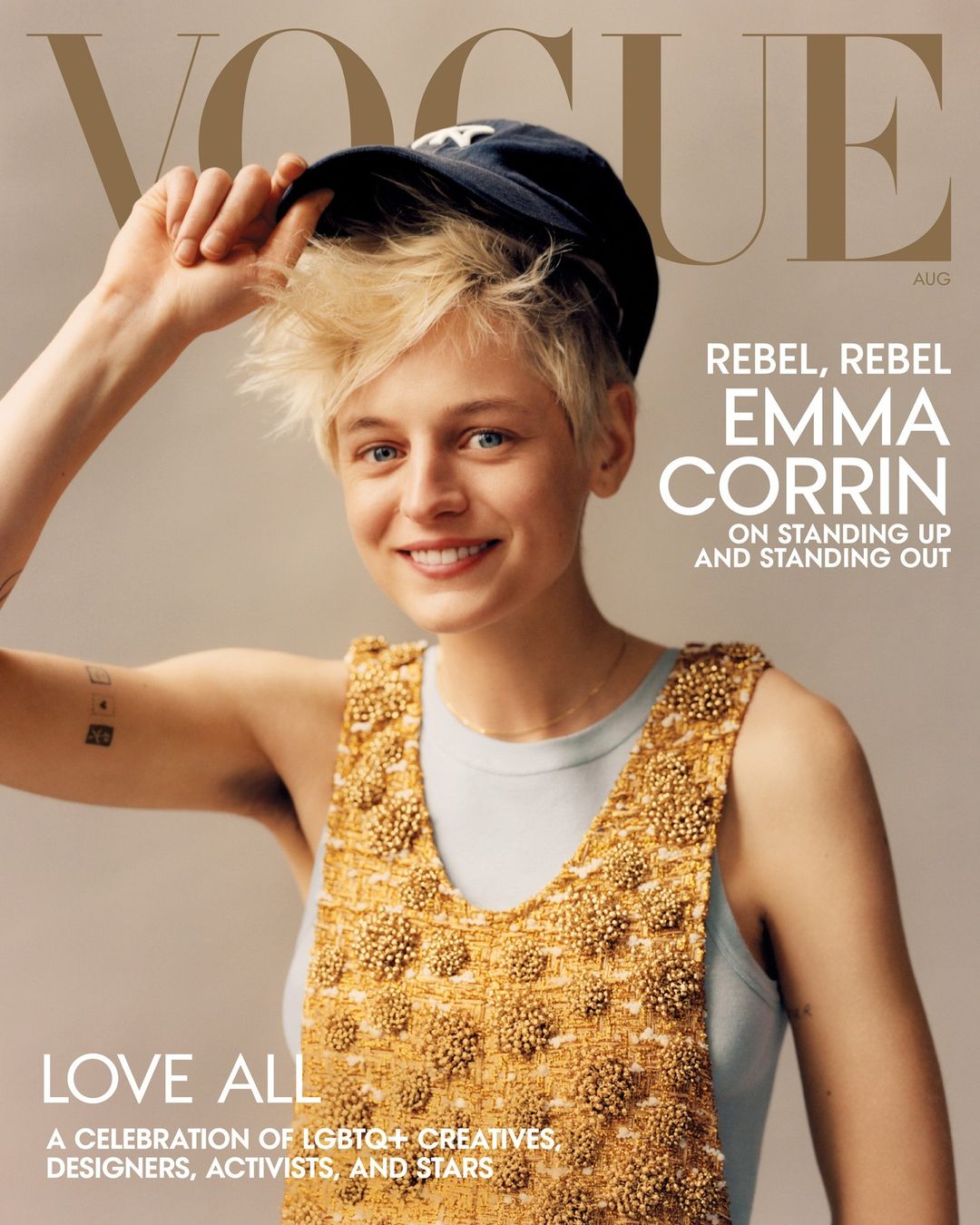 Emma Corrin's pronouns were she/they for a bit, but now their pronouns are they/them. Emma covers Vogue's August issue, which surprised me. While Corrin has had major success – The Crown's Season 4, Emmy and SAG nominations and a Golden Globe win – they're not what I would consider to be a household name here in America. Granted, people probably know Emma as "Diana on The Crown," but still. They're an interesting choice for a Vogue cover. Corrin is currently promoting My Policeman, where they play the "jilted lover" opposite Harry Styles and David Dawson. Emma's Vogue profile is a lot about being non-binary and their journey of self-discovery. They were working in New York for this interview and they were really enjoying their time in the city (Corrin is super-tight with Dan Levy, which is cool). Some highlights:
Pronouns: "I feel much more seen when I'm referred to as 'they,' but my closest friends, they will call me 'she,' and I don't mind, because I know they know me."

Talking about gender on social media: Posting anything to Instagram about gender identity can be "really scary," they say. "In my mind, gender just isn't something that feels fixed, and I don't know if it ever will be; there might always be some fluidity there for me." Corrin is focused, they say, on building a queer and trans community. Taking to Instagram helps on that front: "If you have a platform and you're able to use it, that's obviously so important—and I met some incredible people through it."

Dating life: "I like people," but also fondly remembering a date they went on not long after they came out that served as a kind of entrée to a new world. "My first date with a girl, they were like, Oh! You're a baby queer! It was amazing. We actually didn't end up seeing each other again, but she really gave me the lowdown." Corrin has also dated men and admits they've occasionally felt "intense pressure" to justify their LGBTQ+ identity: "I'm working out all this complex gender and sexuality stuff. And yet, I'm seeing a guy? That feels very juxtaposed, even if I'm very happy."

Their family was supportive: "I started dating a girl and told my mum, and then my little brother DM'd me saying, 'Hey, I wanted to say welcome, because I've been bi for ages.' " Corrin says they are consistently amazed by the fluidity and ease of their younger brother's peer group, noting, "the next generation is so much more chill. They are finding a way to express themselves which is less binary in a very organic way. While we're almost caught in between."

Playing characters who wear corsets & pointy bras: "I remember struggling with having to wear bras in Chatterley and as Marion, but it's quite difficult, because I'm not Emma, right? I'm an actor, and I have a job to do," they say, noting that working with a queer dresser on the set of My Policeman was a comfort. "My dresser and I really had a laugh about me putting on these 1960s bras."
I wondered about that last part, whether Emma would still take on roles which are "traditionally feminine," roles where they would need to wear corsets, dresses, makeup, etc. It sounds like they have a healthy respect for the separation between their gender identity and the roles they're playing. It reminds me a bit of Asia Kate Dillion, a non-binary actor playing a non-binary character in Billions, donning a wig and a dress for an episode of Billions because their character had to temporarily mask their nonbinary identity for their job. Anyway, it sounds like Emma is very happy to explore and figure out their place in the world and meet new people and expose themselves to new ideas and new ways of living.
Cover & IG courtesy of Vogue.