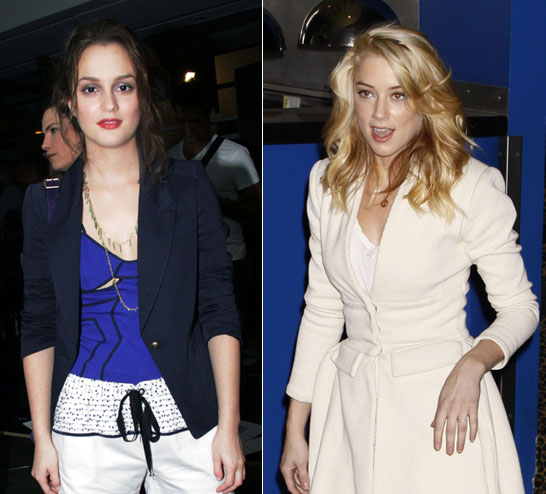 File this one under "Worst (and Most Insulting) Ideas Ever". According to Production Weekly, someone idiotic is pitching a remake of Thelma & Louise. Only this one will be, in Moviehole's words "pre-menopausal". Insulted yet? Director Jessica Manafort wants to do the remake with Amber Heard (who I had never heard of) and Leighton Meester (from Gossip Girl). I just looked Amber Heard up, and I think I can safely say she's just another blonde "It Girl" wannabe, someone who just looks like all of the other girls. She was in Pinapple Express, and I have absolutely no recollection of her. As for Leighton, I think she's a very pretty girl, and she's got some acting chops, but I still feel a big, fat "NOOO!" when thinking of her in this project. Here's more from Moviehole:
Amber Heard ("All The Boys Love Mandy Lane'') and Leighton Meester (TVs ''Gossip Girl'') will star in a pre-menopausal version of 'Thelma & Louise', according to Production Weekly.

Jessica Manafort is attached to direct ''Cowgirl Bandits'', with Paul Schiff producing.
Manafort worked with Heard on the 2007 comedy ''Remember the Daze''. The movie, which Manafort also wrote, revolved around the relationship dynamics of a group of suburban teens on the last day of school in 1999. Heard played a cool "stoner" chick who is looking for direction and meaning in her life.

Heard is known for playing the lead role in the popular but mistreated "All the Boys Love Mandy Lane", as well as for her performances in "The Pineapple Express" and 'The Informers". She next appears with Johnny Depp in "The Rum Diary".

Meester is best known for her role on CW's "Gossip Girl". She also has a top ten track in the charts at the moment – Good Girls Go Bad.
[From Moviehole]
Here's the thing about Thelma & Louise – it was a really, really good movie. Maybe it's not cool to admit that now, or maybe it's been so long that people forget how groundbreaking and awesome that film is, but it's totally worth it's iconic status. First of all, it's one of Ridley Scott's best films, and that's saying something. The way Scott directed it – with the washed out desert colors, the twists and cuts in the story, the two women against the larger (epic) landscape, it's all pretty amazing. Plus, he got two of the best performances ever out of Geena Davis and Susan Sarandon, two of the best actresses working at that time. I could go on, but do I need to? This film doesn't need to be remade, and it really doesn't need to be remade with some asinine commercial director with two actresses with little more to offer than dimples.
Amber Heard is shown on 10/13/09. Leighton Meester is shown on 9/13/ and 9/16/09. Credit: PRPhotos.