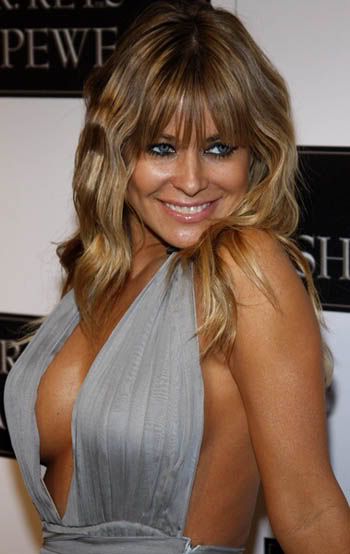 In 2003 Carmen Electra put out a 5 DVD set of aerobic stripping videos to help women get in shape at home while exciting their men. The Carmen Electra's Aerobic Striptease Collection
isn't much of a workout, according to some reviewers on Amazon, but others find it sexy and motivating. She's said to also be planning a line of home stripper poles for housewives to better practice their moves while keeping their husbands away from the strip clubs. It should quickly pay for itself in saved tips and drink costs.
An insider close to [Carmen Electra] says she's close to signing a deal to endorse stripper poles for homes. "It's something her people are looking into," the insider says, adding that Carmen herself has a stripper pole in her house.
[From Life and Style, print edition, December 3, 2007]
Home stripper poles were recently popularized by Kim Kardashian's precocious little 9-year-old sister, who creepily demonstrated her moves on their family's new faux-reality show, using the pole in her parents' bedroom.
Carmen Electra might need the money that comes with a new endorsement deal. She's suing the Naked Women's Wrestling League for not paying her $400,000 they owe her and using her name and likeness on their DVDs such as Operation Naked Storm and Tag Team Dream. She's suing them for $3.3 million for damage to her branding. If only they would have paid her what they owed her, they could have saved a lot in attorney's fees.
Carmen demonstrated her moves on The Tonight Show in March of 2006, laying on her back and spreading her legs wide to the delight of fellow guest Rob Schneider.
Here she is at the launch of Dr. Rey's Shapewear on 10/15/07. I really don't like her new hair, it looks greasy like that and the color doesn't suit her. That raccoon eye makeup really confounds the problem. Thanks to PRPhotos for these pictures.