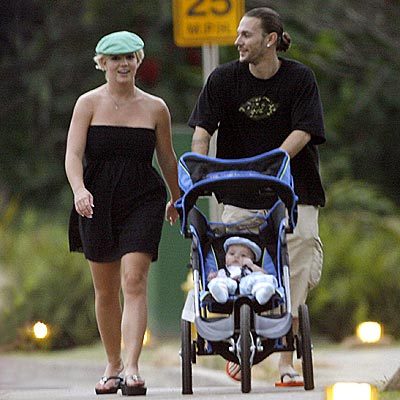 My faith in humanity is shaken. "Details" magazine has named Kevin Federline the 7th most influential person under 45. He is stationed on the cover of the magazine looking like he is guilty of passing gas and hoping you don't notice. To his right, amongst several story topics included in the issue, is the highlight "Are You Turning Your Kid Into a Douchbag?" I am guessing this was done on purpose.
"Who's the 7th most-influential man under 45? Well, according to Details magazine, that man is Kevin Federline. And they even gave him the cover!"
[People]
To further the jaw dropping factor, Details gives the title of "Good Father" to both Kevin and Larry Birkhead. Their reasoning for the father of the year award is due to "being more visible presences in their children's lives than many Hollywood A-listers." Federline also delves into his deep fuzzy thoughts for the magazine, touching on subjects like his career and kids.
Kevin on fatherhood:
"To be a father is…everything. It shows me how little I am."

The direction of his career:
"I'd actually like to play somebody other than a bad guy or an ass."

What is playing on his TV right now:
"My TVs are pretty much G-rated right now. Anything from SpongeBob to Finding Nemo, and you know, I'm still trying to decide which one I like more."
Meanwhile, Kevin is at the center of a battle for his babies. Both he and Britney Spears are under investigation for child abuse. The Los Angeles County Department of Child and Family Services is appealing to Commissioner Scott Gordon to take a look into the actual care of both Sean Preston and Jayden James. Several complaints and tips have been presented to Child and Family Services. Most have been from employees of both Spears and Federline.
If looking at your kids as a walking dollar sign and a great way to pump press for yourself is good parenting, then sure, Kevin and Larry are the front runners for father of the year. As my Grandpa would so plainly put it…. "He is like a turd that won't flush."