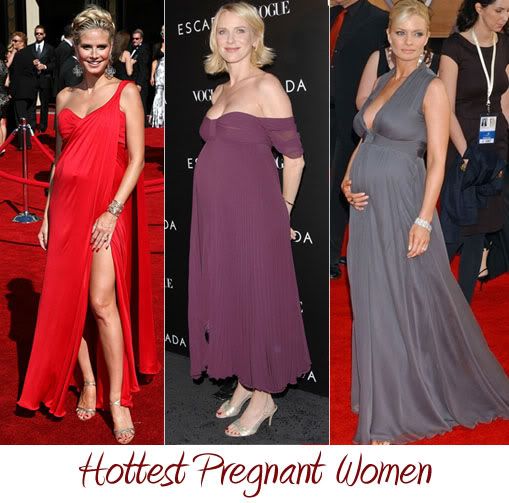 Maxim magazine has released a list of the 'Hottest Pregnant Women, Ever'. Which seems a big call as, in order for the species to continue, women have to keep on making babies. Rather adorably, my husband emailed me this list, saying I should be on it. This was very sweet, particularly since I spent my whole pregnancy with bloodshot eyes from vomiting. Although I do wonder why the Maxim webpage isn't blocked, what is he doing at work looking at this?
The Hottest Pregnant Women, Ever
1. Halle Berry
2. Christina Aguilera
3. Heidi Klum
4. Brooke Burke
5. Gwen Stefani
6. Angelina Jolie
7. Naomi Watts
8. Jaime Pressley
9. Monica Bellucci
[From Maxim]
Looking at the pictures, I'm guessing that most of these women spent their pregnancies with a personal stylist maintaining their sexiness, which is maybe how it should be for all pregnant women's self esteem. Could we get some kind of government assistance for that?
Halle Berry is shown on 10/25/07 at the Things We Lost in the Fire premiere, thanks to Splash. Christina Aguilera is shown at the launch of Kitson men on 11/12/07. Heidi Klum is shown at the Emmy Awards on 8/28/06. Brooke Burke is shown at the Enchanted premiere on 11/17/07. Gwen Stefani is shown on 5/27/06. Angelina Jolie in Paris photos are from late May, 2006. Naomi Watts is shown at the opening of an Escada boutique in early May, 2007. Jamie Pressly is shown on 1/28/07 at the SAG Awards. Thanks to WENN, Splash and PRPhotos for these pictures.