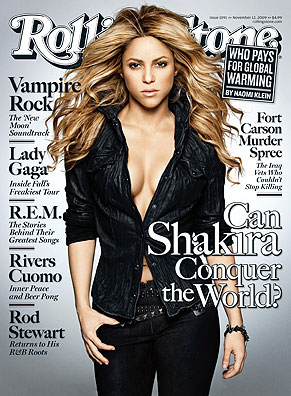 Is Shakira crazy in a very pleasantly eccentric way? That's how she comes across to me sometimes, and I've began to have quite a bit of affection for her. I'm not the only one either – Shakira has sold 50 million records worldwide, and she's currently releasing her third English album She-Wolf. Thus, Shakira appears on the new issue of Rolling Stone to promote her wolfiness and talk babies (pro) and marriage (against). First – the cover image. I like it generally, she looks lovely. But that cleavage is photoshopped, right? When I've seen her perform, she's never quite so… boobtastic. And while they maximized her cleavage, her hips (that don't lie) look minimized. Why would Rolling Stone do that? She's got lovely hips! Not every woman needs to have the hips of a ten year old boy!
Unlike most women, Shakira is willing to let her body go. In fact, the 5-foot-2 Colombian "She Wolf" singer, 32, says she's looking forward to it — if it means she'll become a mom.

"My body feels like it is asking to reproduce, to have a huge belly and carry babies," she tells the new issue of Rolling Stone, on newsstands today. "My boyfriend is six feet tall, and sometimes I feel like I'm his keychain, a small thing."

But while the Grammy winner — currently in a nine-year, monogamous relationship with investment banker Antonio de la Rua — has long had a maternal instinct, don't expect her to walk down the aisle any time soon. It's something she says she'll never do.

"We live in a society that represses women's subconscious dreams," Shakira, who considers herself a die-hard feminist, says.

"You know, women have to make enormous efforts through life, much larger than men. We deal with so many pressure: the pressure of aesthetics, and how society wants us to deliver our performances as mothers, daughters and wives."

"It's funny how the papers want to see you married, and then they want to see you divorced," she continues. "Well, I won't do any of it."
[From Us Weekly]
Aw, I like what she says about babies and marriage. She sounds so cool. I wish she was my little pocket keychain friend. I kind of like this trend among celebrities to eschew marriage, it's an interesting development that seems to be picking up more steam. Shakira's right about how the tabloid media would treat her marriage, and the marriage of anyone as famous as her. We would root for her to get married, and then enjoy all of the "Divorce!" stories immediately afterwards.
Shakira is shown on 10/19/09 at the Whitney Gala and on 10/1/09 at a press conference. Credit: Brengola-Diena / WENN.com