Highlight the blank space for a major spoiler for the season finale of Stranger Things
We talked about how Joseph Quinn's character, Eddie Munson on Stranger Things, played Metallica's Master of Puppets. Not only was it a great rendition of the song, but it was also a climactic moment for the character and story. Highlight for major spoiler: A true rock star's death. We found out that the band worked with the show to make it fit and that Robert Trujillo's son even helped lay the new guitar down. When fans tried to pull the same weird possessiveness they did with Kate Bush's music, Metallica gave a lovely response about how music bonds people no matter when they discover it. It was a feel-good story all the way around.
Over the weekend, it got better. Joseph attended Lollapoloza where Metallica was playing. He went backstage only to have the band gift him his own warlock guitar that they signed for him. Then they all jammed to Masters of Puppets together. And a new Metal Prince was birthed from the flames created by shredding guitars. Okay, maybe not the last part. But the rest is true and it's awesome.
Joseph Quinn, the actor who portrays guitar-shredding metalhead Eddie Munson in the new season of Stranger Things, paid a visit to Metallica at Lollapalooza on Thursday (July 28). Quinn joined the band backstage ahead of their headlining set at the Chicago festival, where he chatted and jammed with the group. They obviously played "Master of Puppets," Metallica's 1986 single that Eddie Munson plays in the upside down during a the season finale of the series. Metallica also gifted Quinn a custom red and black electric guitar and signed it. Watch it all happen below via Netflix.

Prior to jamming, Metallica frontman James Hetfield expressed love for Stranger Things, calling himself "a big fan." He added: "My kids and I, it's a bonding experience for us." Quinn then told Metallica about the process of learning "Master of Puppets" in preparation for the scene. (The actual guitar solo performed on the episode was recorded by Tye Trujillo, son of Metallica bassist Robert Trujillo.) "It's all I was listening to for two years," Quinn told the band. "I feel very connected to you guys."
If you watch the clip from Netflix below, it's so wonderfully staid as they sit around chatting about watching TV with their kids. Then Joseph talks about feeling his connection to the band. But I think my favorite part is Joseph's face when he's playing with the group – he's so focused, trying not to mess up with his new super-cool friends. The band, by contrast, it just ripping it up. But they all genuinely seem pleased as punch to meet each other. Even though it's filmed, I think they meant everything they said. I kind of identified with James Hetfield – and believe me when I tell you that is not something I often say – when he talked about bonding with his kids over Stranger Things. I fell away from the show, remember, but my daughter got into it and wanted to watch with us so it because an 'us' thing. The band took a risk putting their song in the hands of a TV character. And Joseph did, in turn, do that song justice in every way. I'm also extremely jealous of the guitar they give Joseph. Could you imagine getting a custom warlock electric guitar from Metallica and having them all sign it for you? The question is: do you ever play it, or does it sit behind glass?
🤘this is for Eddie 🤘
Joe Quinn met Eddie Munson's heroes: @Metallica! pic.twitter.com/y0oaSLpT6P

— Netflix (@netflix) July 29, 2022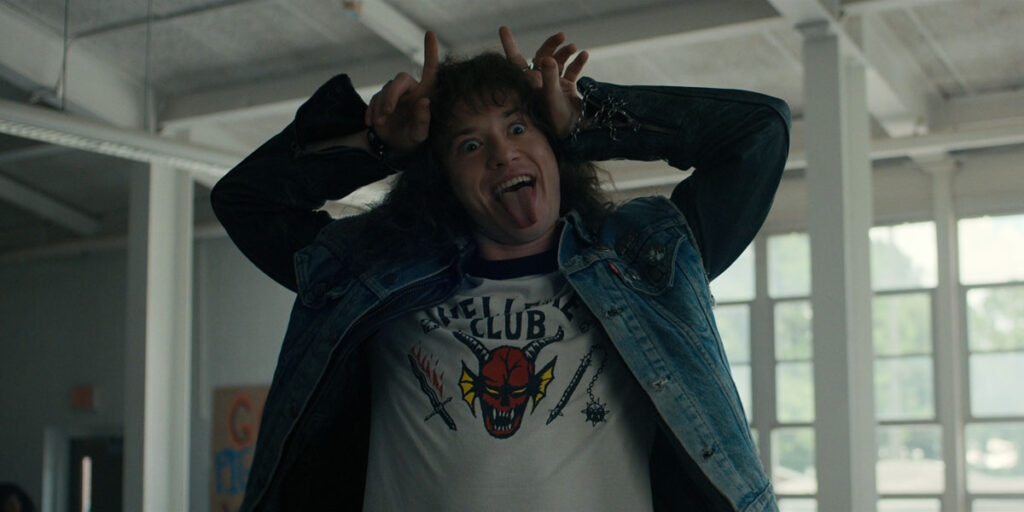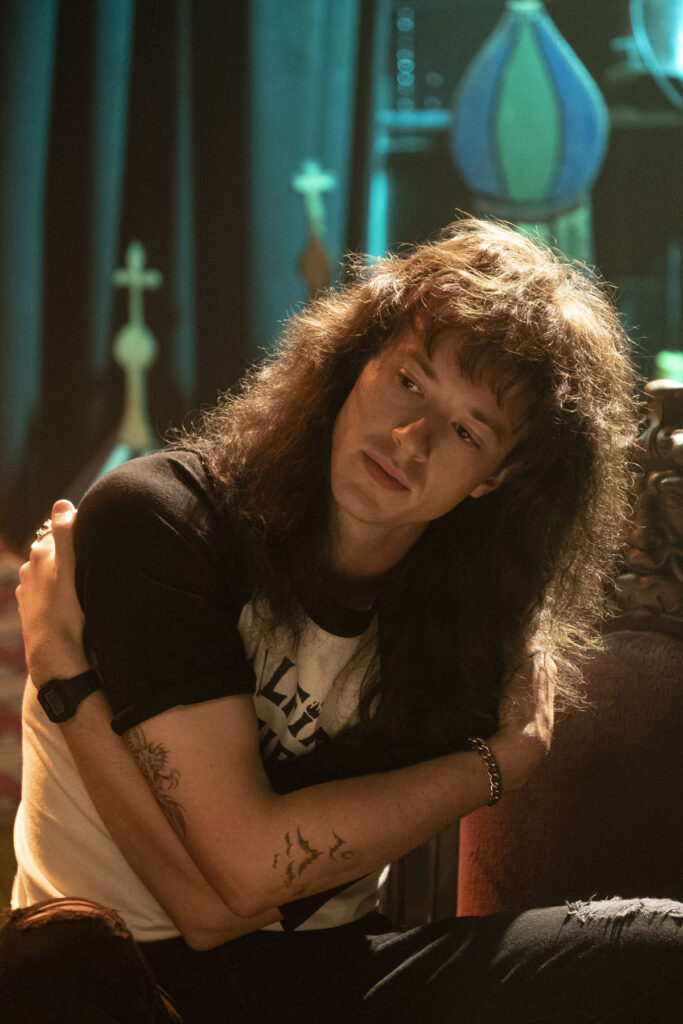 Photo credit: Instagram, Twitter and Netflix