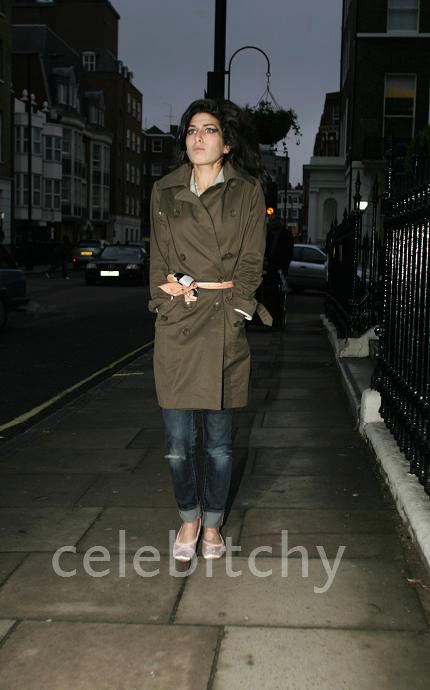 At some point, when you just have catastrophe after catastrophe, I guess it makes sense to call it a day. That's not really a great life motto, but I'd have to say that in Amy Winehouse's case, it seems like a good idea. Now if she were calling it a day and heading into rehab, I'd actually swim on over to London to pat her on the back. But she's decided to cancel her entire tour because she can't handle life without her incarcerated husband/professional moocher Black Fielder-Civil.
Amy Winehouse has dramatically canceled the rest of her tour, saying she cannot perform "without my Blake". A statement from her record company said she had canceled her performances on the instruction of her doctor. The cancellation comes after her performances became increasingly erratic. A statement issued on Tuesday night by Island Records said Winehouse, 24, had been told to deal with "health issues".

The statement said: "Amy Winehouse has canceled all remaining live and promotional appearances for the remainder of the year on the instruction of her doctor. The rigors involved in touring and the intense emotional strain that Amy has been under in recent weeks have taken their toll. In the interests of her health and well-being, Amy has been ordered to take complete rest and deal with her health issues."

Winehouse said: "I can't give it my all on stage without my Blake. I'm so sorry but I don't want to do the shows half-heartedly; I love singing. My husband is everything to me and without him it's just not the same."
[From the UK Press Association]
It's odd ,most people would argue that she wasn't even doing her shows halfheartedly when Blake WAS around. What the hell was left once he was gone? Amy had a few more pictures taken of her the other day with white stuff up her nose mixed with a bit of blood. She's drinking and snorting on stage. At some point, can't they just say, "Amy's too coked up to sing?" Okay I realize they can't, but instead of "health problems" or they always-classic "exhaustion" couldn't they just say, "Amy's dealing with substance abuse issues?" Probably not, because putting it that way implies that she'll get help for it, which she won't. It's sad, being away from her addict husband is probably Amy's best shot of getting her life together. But she's so emotionally entrenched in their dramatic, abusive lifestyle that she obviously can't see this is an opportunity.
Picture note by Jaybird: Here's Amy waiting outside the London Clinic for a taxi to pick her up on Tuesday. When she doesn't find one, she wanders around the street in her ballet slippers for a bit. You'd think she'd be able to afford a driver. I looked up the London Clinic, and it's a private hospital. Unfortunately their specialties don't list anything that screams addiction treatment. Images thanks to WENN.