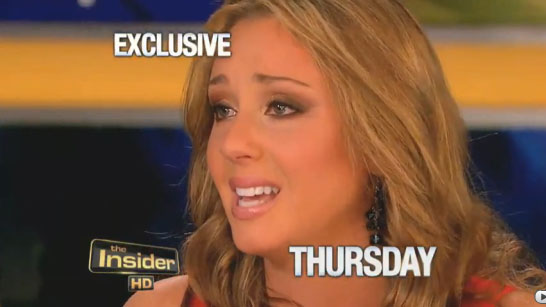 Jon Gosselin's number one girlfriend, Hailey Glassman, will appear on the panel of "The Insider" for two nights, starting tonight. It will be Glassman's second televised interview following her E! interview with Giuliana Rancic in mid August. Radar has an advance clip of the interview, and Hailey breaks down crying and says things like "I can't take this anymore," "If you really love me, let me go." She also reveals that Jon emotionally abuses her and lies to her. People has more details, and apparently Glassman isn't ready to leave Jon despite the way he treats her, and says "I don't want to leave him all alone… I love him." I get a feeling that the Porsche SUV Jon is leasing for Hailey and the expensive jewelry he reportedly bought her are factoring heavily in that decision.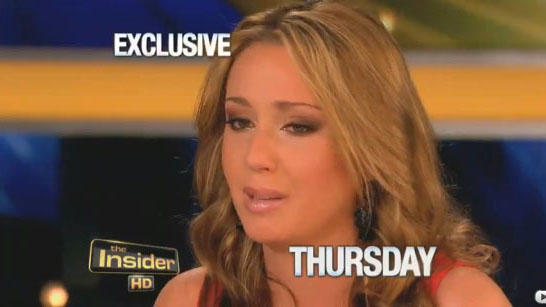 Jon Gosselin has more relationship drama on his hands.

Hailey Glassman says her reality star boyfriend is emotionally abusive – and she's sick of it. "He'll call me and take his anger out on me," Glassman, 22, says in a two-part interview scheduled to air on The Insider beginning Thursday. "He has 'mantrums.' I shouldn't have to put up with being emotionally abused. I cry and say, 'Why are you so mean to me?' "

But she may not get a straight answer. "Sometimes he has trouble with the truth," she says, "and he will dance and dance around his lies. He's like Jekyll and Hyde. But I still love him."

RELATED: Hailey Calls Jon Her 'First Love'

Ever since she started dating Gosselin, Glassman says her life has changed – and not necessarily for the better. "I met Jon in a bubble," she says. "I'd never seen the show. I had no idea." After their trip to France in July, she says she's faced harsh criticism. "People judge me before they meet me. I get threats everyday. I get called a home wrecker and a fat whore. People will stare or point. It gets worse everyday."

She admits their relationship is "not normal," but Glassman says she can't imagine leaving Gosselin. "I don't want to leave him all alone," she says. "At the end of the day, I love him but I dislike him at times. When I love someone I would never hurt them."

A source close to Jon says, "He was very supportive of her doing the interview. He wants her to clear her name." As for Gosselin's anger, the source says, "He has a lot of on his plate and he gets frustrated but he's supportive of her."
[From People]
Someone needs to tell these pseudo-stars that celebrity talk shows should not serve as a substitute for therapy. I do feel for her, it's kind of an automatic response to seeing someone crying like that. If she's that torn up about it she should walk away from Jon though and not go on talk shows. I know it's not that simple to leave a relationship, but it is comparatively simple not to grant interviews about it.
It's pretty obvious that Jon is a terrible boyfriend based on just the things he's said about his ex wife, not to mention all the women who have come out to say he's duped them. If Hailey wants a normal life, though, she needs to keep her pain private. She's only reminding the world that she exists by going on a talk show. We heard a lot of stories this summer about how Hailey was seeking the spotlight by hooking up with Jon. They're definitely ringing true, no matter how genuinely distraught she may be.
All images are screenshots from the video available on Radar Online