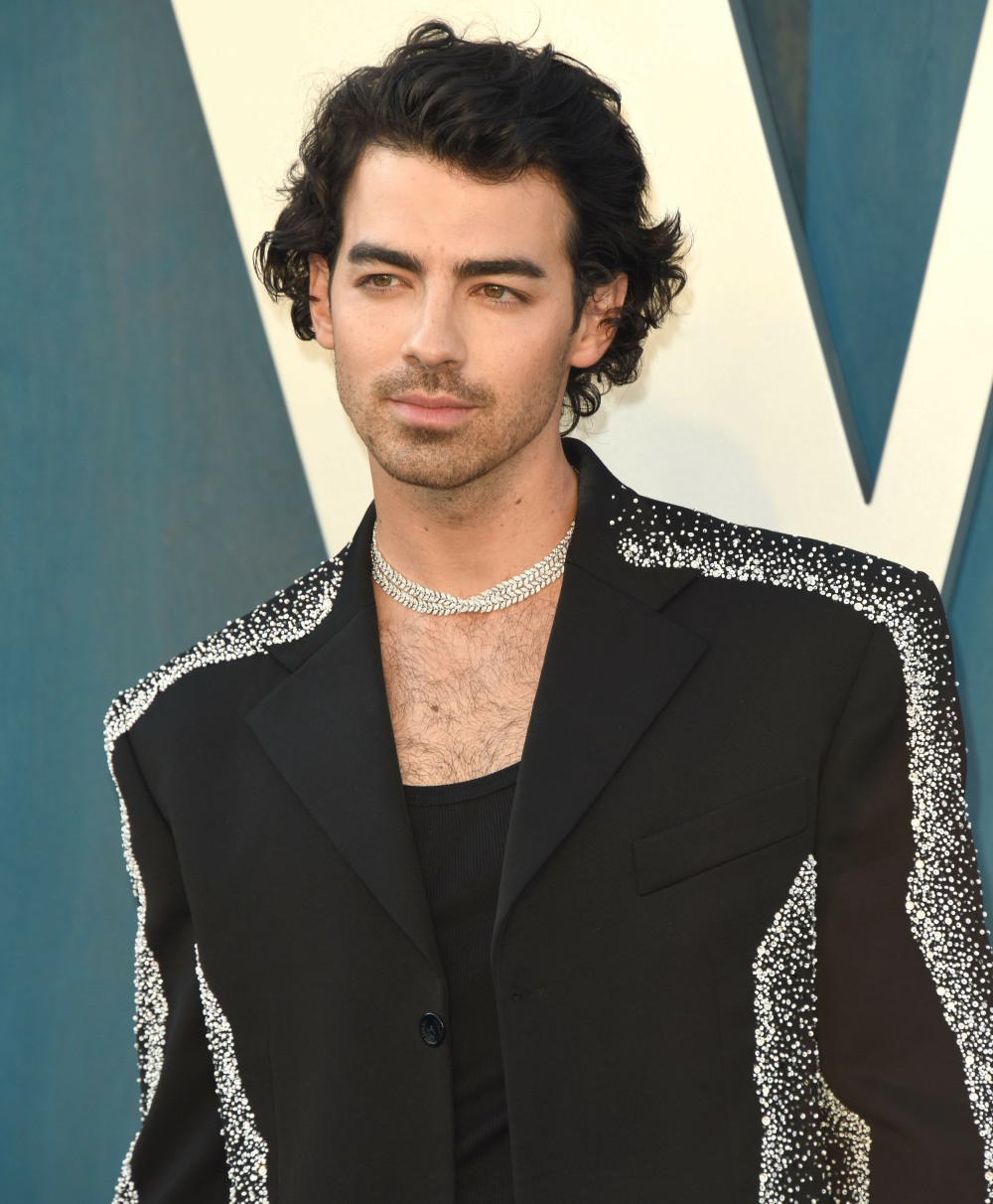 I am a decade older than Joe Jonas, who is currently 33 years old. I've started noticing some fine lines on my face, which I don't mind, honestly. I've always had kind of a full "babyface" look, which means that I have nature's fillers. The only thing bugging me about aging these days is whatever is happening to my eyes. I am starting to get really dark circles under my eyes. I would consider having my eyes done, but I'm honestly too lazy. I bring this up because Joe Jonas, only 33, is already doing cosmetic injectables. He's the new face of Xeomin, a somewhat popular filler brand. Joe gave a lengthy interview to People Magazine to promote his new injectables sponsorship:
He isn't shy when it comes to talking about fillers: "We're all getting older and part of that is being comfortable [in our skin]. I don't think it's necessarily something that we have to shy away from. We can be open and honest about it and be confident and not really shy away from speaking our truth."

Why he's using Xeomin: "I personally care a lot about what I put in my body, and with an aesthetic treatment like this, I wanted to be mindful of what was in it," he says, adding that after speaking with the brand and his own healthcare provider, he felt good about diving in. Tackling his frown lines and even a scar between his eyebrows with Xeomin gave him that little extra boost in confidence he needed as he heads into the next year of his life. "I liked that it relieved the area a little bit and I was like, 'Okay, this is great,' without it being too much for my liking. I appreciated that it wasn't over the top. It's very light."

Men should embrace cosmetic enhancements: "There were all these talks at one point, like, 'Oh, men can't do this or it's weird for guys to do that,' and I think there's a stigma that's fading, and I like that. Guys are more openly wearing makeup, and it's great to see. It's like, do whatever you want, you know? It's a beautiful generation that we're living in."

He pays attention to which products he uses: "I like to learn a little bit more and understand the ingredients that are in products. Everything from deodorant to what's going in my hair to even body lotion and sunscreen. [As I've aged] I think I've just smartened up a little bit, maybe researched more. I love how men's grooming has evolved so much."

Self-care naps: He may have two little ones to take care of at home and a high-pressure job, but he still wants to make his own self-care a priority. He jokes that his goal this year is to "try to sneak a nap in here and there" if he's lucky. "I'm starting to really enjoy naps."
Joe posted his video ad with Xeomin on his social media and can I just say? You can see a difference. His face looks much "smoother" and he does look somewhat frozen in some shots, and like it takes a lot of effort for him to move his eyebrows. It's so… strange. I mean, obviously, he can do whatever he wants, it's his body, it's his face, go buck wild. I appreciate that he's talking about it too instead of flatly denying it. But at 33, his skincare should be about using a good night cream, a good moisturizer, a good sunscreen. I don't understand why people in their 20s and 30s think they "need" fillers, I really don't.
Photos courtesy of Avalon Red.

Joe Jonas attends the 2022 Vanity Fair Oscar Party Hosted By Radhika Jones celebrating the 94th annual Academy Awards at the Wallis Annenberg Center for the Performing Arts on March 27, 2022 in Beverly Hills, California,Image: 673513663, License: Rights-managed, Restrictions: , Model Release: no, Pictured: Joe Jonas, Credit line: – / JPI Studios / Avalon
Joe Jonas attends the 2022 Vanity Fair Oscar Party Hosted By Radhika Jones celebrating the 94th annual Academy Awards at the Wallis Annenberg Center for the Performing Arts on March 27, 2022 in Beverly Hills, California,Image: 673513674, License: Rights-managed, Restrictions: , Model Release: no, Pictured: Joe Jonas, Credit line: – / JPI Studios / Avalon
Joe Jonas, Sophie Turner attends The 2022 Met Gala Celebrating "In America: An Anthology of Fashion" at The Metropolitan Museum of Art on May 02, 2022 in New York City,Image: 688275006, License: Rights-managed, Restrictions: , Model Release: no, Pictured: Joe Jonas, Sophie Turner, Credit line: – / JPI Studios / Avalon