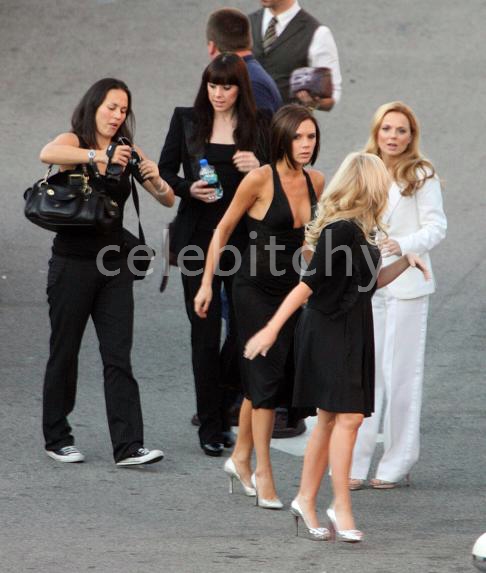 The Spice Girls world tour kicks off this weekend, and it's been a busy week for the girls. Geri Halliwell blogs on the lead up to the first show on Sunday in Vancouver.
I actually feel like I'm in the Spice bubble… we are encapsulated in this world where we are just immersed in each other's lives constantly. Just before the run through of the show this morning, Mel B, Victoria and I even went to the loo together… in separate cubicles, obviously!

But of course… there's also my daughter Bluebell. She loves hanging with the Beckham boys. Cruz and Bluebell have play dates, and Romeo – well, he is just gorgeous with her. Actually, it was a beautiful moment when we were rehearsing the other day and all of our kids were playing on the stage at the same time. It made me smile.

As you probably know, Mel B was in the live final of Dancing With The Stars and we surprised her on Monday down at the show. She was so shocked, it's the first time we've ever seen her quiet! She was with us in rehearsals yesterday morning and then went to the studio in evening for the results show. She SO should have won… I'm very disappointed. But we are all so incredibly proud of her. You're a winner to us Mel!
Read the full entry at thespicegirls.com
Mel B was robbed! Robbed I tell ya!
The girls were also visited by Tom Cruise and Katie Holmes this week, and surprised them with an impromptu performance.
Tom and Katie's 19-month-old Suri danced around as the band belted out a selection of their greatest hits.

Following the surprise visit, Victoria – who is married to England soccer star David Beckham – said: "David and I are great friends with Tom and Katie. It was lovely of them to come down to rehearsals, a really nice surprise.

"Katie has told me before that she used to be a huge Spice Girls fan, so it was great for her to meet the other girls."
In other Victoria Beckham news, she's just been announced as the new face of the Marc Jacobs campaign. We're unsure whether her new boobs have been temporarily added at the designer's request, or if they are a permanent fixture. They're definitely nicer than her old half melons.
Sadly, the Spice Girls aren't coming to my town. Still, video of the shows should be up on YouTube before I even make it out of bed. I'll be listening to their CDs, and watching their movie this weekend. Not because they're on tour – I do it most weekends…
Picture note by Jaybird: The Spice Girls made a surprise visit to the studio's of 'Dancing with the Stars' to support Melanie Brown. Images thanks to Splash Photos.