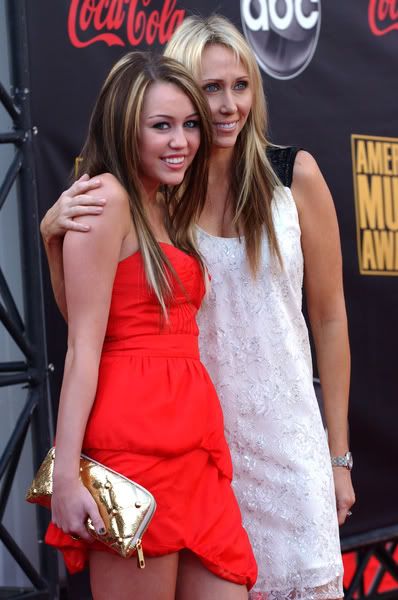 Miley Cyrus fever is sweeping the nation, with the 14 year-old Hannah Montana star's tour selling out a full 54 cities. Tickets are in such high demand for the teen phenomenon that they're selling for thousands of dollars.
Miley may be the latest big thing, but her parents aren't letting her get a big head. Last week's National Enquirer reported that Miley's mom Tish grounded her, taking away her cell phone and allowance, when she threw a fit and wanted to wear a sexy too-small top:
When 14-year-old Miley threw a backstage hissy fit before a California concert, loving but hard-nosed mom Tish punished appropriately. The brouhaha began with a classic mother-daugher clash in Miley's dressing room as Tish inspected a flashy top her little darling had donned – and pronounced it much too short and revealing. Miley, usually a pretty normal kid, flipped out and started randing and raging like a diva. Mom quickly reminded her child that even though she's raking in mega-millions, she's barely a teenager and needs to behave. Tish informed Ms. Superstar that 1) she's grounded until further notice; 2) her allowance is suspended; and 3) surrender your cell phone…. Mom then locked Miley in her dressing room until she "calmed down."
[From The National Enquirer, print edition, Mike Walker's column, November 26, 2007]
Maybe we're looking at a future Hayden Panettiere instead of a Lindsay Lohan-type. Parental guidance makes all the difference. It also seems to have worked. This week Mike Walker reports in the National Enquirer that Miley has earned back her cell phone and allowance for good behavior.
Gossip site Media Take Out, which is more sensational and inaccurate than most, has photos of Miley Cyrus bending over with her pants falling down to show some silly writing on the back of her underwear. She looks like she's just goofing around, and her underwear says "talk to you later." I didn't want to make a big deal out of it. Unlike fellow Disney star Vanessa Hudgen's leaked photos, these weren't that scandalous.
Miley Cyrus and her mom are shown at the American Music Awards on 11/18/07, thanks to PRPhotos.