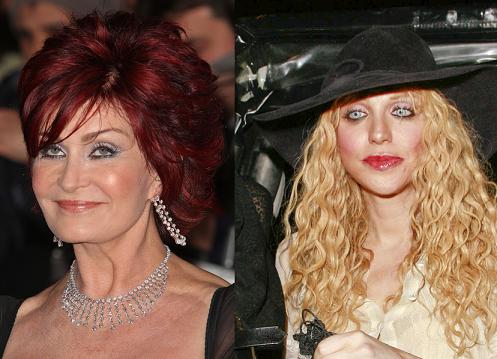 As we reported earlier, Sharon Osbourne and Courtney love are feuding about who's fault it is that Jack Osbourne was addicted to drugs. Did Courtney give him drugs? Should former Mother-of-the-Year Sharon have taught him to 'Just say no'? The fur flies.
"I never did that. I would never give drugs to a teenager. F— you, Sharon – as if I would ever give drugs to a teenager," Love fired back recently, reported Spinner.com.

Osbourne has thrown another punch, telling the New York Daily News, "I'm glad she doesn't like me. I only pity her. She's a virus. I don't want her anywhere near people I love. The cold, hard fact is she's a has-been."

The war started in September when Osbourne told the Daily Mirror:

"I will never have time for Courtney Love. She was the first person to give my son Jack the prescription drug OxyContin. There's not a shadow of doubt in my mind about that."

"My dislike towards her is very personal," Osbourne continued. "I'm not saying Jack wouldn't have taken it if she hadn't given it to him, but I'm appalled that an adult mother would give that to a 15-year-old boy. How could she do that to someone else's child?"
Unfortunately we're not going to be hearing anymore of this cat fight for a while – at least not until the matter goes to court.
And now Osbourne admits she can no longer talk about her bitter feelings for Love: "It's kind of got to the point where it's now in legal hands, so we can't talk about it, because it's gone to that stage."
What is the legal issue here? Is Sharon going to try and prove that Courtney did addict her son, or is Courtney going to sue for defamatory remarks? Is Sharon using the legal excuse as a way of getting out of talking about this issue? Is she going to make Courtney pay for her son's rehab? Are Courtney and Sharon actually the same person and someone has made the court case up so we can see them in the same room?
I must be great to be the kind of lawyer that represents these petty disputes. You don't have any moral or ethical issues that you might if, for example, you had to defend a murderer. You can also laugh at your clients silly, petty fight while taking home a paycheck, providing they don't catch you at it. The only issue I can see is how you might feel about taking money from someone so stupid. It's kind of like stealing.