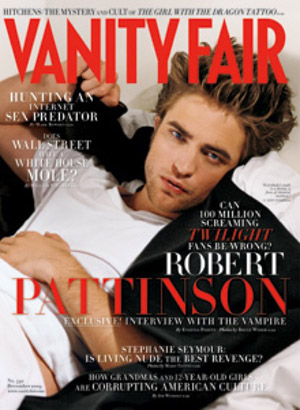 Oh. My. Sparkles! Vanity Fair has given the every man, woman, teen and tween Twihard something very special – a December cover devoted to Sparkles himself, Robert Pattinson. Don't judge Vanity Fair by the cover shot they chose – Sparkles laying back on some kind pillow, looking vulnerable and perturbed, and slightly horny. VF also put up an epic slideshow (seriously, they describe it as "epic") that you really should look at before Vanity Fair's site crashes from all of the damp Twihards. I'm not being judgy – some of these gorgeous Bruce Weber pictures are making me hot, too. The photo shoot looks like it took place on some gorgeous, rugged, deserted New England coast town. Maybe Maine? Maybe somewhere on Long Island? Wherever it is, it's lovely. Here's VF's interview excerpt – Sparkles denies the Kristen Stewart rumors! NO!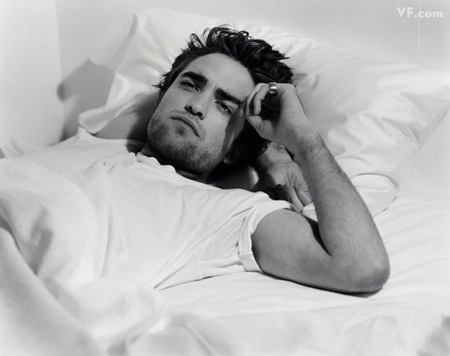 It's been exactly one year since Twilight, the teenage-vampire book series turned film franchise, became a worldwide phenomenon, launching brooding, reluctant star Robert Pattinson into the celebrity stratosphere. Not since Leonardo DiCaprio's Titanic era has there been a young actor so rabidly hunted by teenagers and paparazzi alike—enough that mere sightings of him with his co-star and rumored paramour Kristen Stewart make for international front-page news. For the cover story of Vanity Fair's December issue, contributing editor Evgenia Peretz interviews Pattinson, Stewart, and a host of Twilight insiders for an intimate profile that describes how he landed the role of Edward Cullen, distills the essence of his appeal, and explores his discomfort with the hormone-fueled frenzy he inspires among his fans.

Peretz, who, as it happens, profiled DiCaprio in 2004, follows the Byronic British actor from the Comic-Con convention in San Diego to the Waldorf Towers in New York City, as he prepares for the November 20 release of Twilight's sequel, New Moon. There are no wild nights out at clubs—even if he could go out without being mobbed, Pattinson would prefer to curl up with a good book.

Rather than working his way through supermodels, Pattinson, who's been living out of three suitcases for the past year, has been feeling overwhelmed, self-conscious, and guilty. "I'm trying not to drown," he says in his hotel room at the San Diego Hard Rock Hotel, which is littered today with beer bottles, old scrambled eggs, a half-eaten Twix bar, and a dirty pair of jeans on the living-room floor. And he notices that he hasn't made his bed. "Oh, God. Sorry about that."

"I'm unbearably self-conscious about stuff," he admits. To the point where, while filming scenes before the army of New York paparazzi that has been following him around, he is terrified that his "ass crack is showing."

Raised outside London in a small village, with a wavering desire to be either a musician or an actor, Pattinson is painfully modest about his talent and looks, and eternally confused by his fans' devotion.

Despite the fact that he is an exquisite beauty—with perfectly formed red, red lips and a face that might have been dreamed by the Romantic poets—he thinks he resembles "a cartoon character." One of his legs is longer than the other, which makes him look, he assures you, "like an idiot."

He's sure he's driving people crazy by constantly talking about how he can't leave his hotel room. And he sees his inability to relish his fans' reverence as his own shortcoming. "I guess I'm not the type of guy cut out to do a franchise," he says. "I'm not much of a crowd person."

Pattinson's first role in a major film was a bit part in Harry Potter, which ended up bringing him to the attention of Twilight's producers. But if he had his way, he'd stick to playing awkward, tortured outsiders.

[Pattinson's director from the indie film How to Be, Oliver Irving,] recalls, "he'd make his eyes water and get himself all worked up … slapping himself and doing everything he possibly could to make him feel ill," while passersby wondered what the hell was the matter with this guy.

When you play a weirdo, he explains, "You can always have an excuse… He's a weirdo!"

But Pattinson's behavior was far from antisocial during the filming of Twilight. In the evenings, director Catherine Hardwicke remembers, Pattinson was "always drunk," entertaining Stewart and other members of the cast in his hotel room with his guitar. A "nervous attraction" was brewing offscreen.

"What Rob and Kristen had is a multitude of feelings for each other. Complex feelings for each other," says Hardwicke. "It was what we needed. Complex, intense fascination."

Pattinson, for his part, says of Stewart: "She's influenced how I've done all the Twilight stuff. It's quite nice to have someone who is genuinely indifferent to the whole spectacle of everything." For the record, however, Pattinson says the rumors of a love affair are false: "It doesn't make any difference what you say [to the tabloids]. I've literally been across the country [from Kristen], and it's like 'Oh, they were on secret dates!' It's like 'Where? I can't get out of my hotel room!' " Stewart is even more emphatic: "It's so retarded," she says. "We're characters in this comic book."
[From Vanity Fair]
I'm still not buying this whole "we're not dating, that's retarded" thing. I think they can't keep their hands off of each other. I think he adores her, and she's fallen pretty hard for him too. And I think the studio needs to sell Kristen and Taylor Lautner, and they told Sparkles and Kristen to be low-key, which they probably would have been anyway.
Oh, and I love the "ass crack" line. Sparkles is funny! I love him. Sigh… I'm such a closeted Twihard. Swoon!
Photos from Vanity Fair via Cover Awards