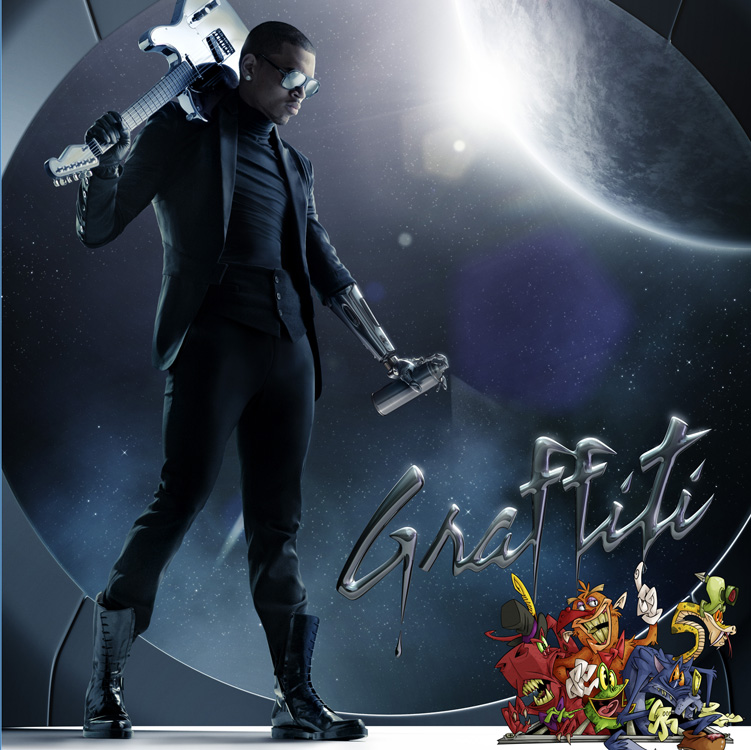 The album artwork for Chris Brown's supposed "comeback" album, Graffiti, has been leaked, and it's strange to say the least. While there are no references to Rihanna or any of that debacle on the image, it does leave you with a giant, cartoon-like question mark floating above your head. Like… why the waist cincher? I've long been a fan of that old adage "Nothing makes a man sexier than a waist-cincher." Is that not an adage? Maybe it's an idiom. Or just good, common sense advice. Okay it's none of those, but I fully intend on saying it enough that it becomes a saying. And Chris Brown is right there with me, trying with all his might to make the man waist-cincher happen.
By freakish coincidence, I was actually looking at waist-cinchers on Etsy last night. Just one of those things where one link leads to another and you end up searching for things you never knew existed. So I can tell you that they come in a wide variety of styles, including lace-up corset types, jacquard fabric, intricate leather belts, with boning, etc. The possibilities are endless. But, as a general rule, they are for women.
But that doesn't stop Chris Brown! Now his waist cincher doesn't really seem to be cinching his waist at all – he's just using it as the world's thickest belt. But it's probably reassuring for him to know that should he overindulge in a late night of drinking and carb loading, that belt will cover most of his sins. Most of them. When you're wearing pants that are exceptionally tight in the crotch (but appear to be comparatively baggy below the knee), you've got to look your best.
It's hard to go over all the things that are wrong about Brown's album cover. But a sampling: Brown is obviously borrowing heavily from Kanye. From the sunglasses, the haircut, and the facial hair styling, it's very similar. I'm not going to say that's entirely a bad idea – Kanye's very successful and influential, especially in terms of his influence on style. Yet I'm quite certain Kanye's never sported a "bionic hand," as PopEater pointed out. Kanye needs his regular human hand to be readily available for pushing people away from microphones and holding his liquor before awards shows. Chris might want to keep that in mind. And PopEater also points out, it certainly begs the question: how does Chris Brown even work his spray can nozzle with his robot hand? I think you'd lose a lot of important control over your graffiti subject, and your tags would look all wonky.
Personally I've never been a big fan of a turtleneck on a man. It just strikes me as too fussy, even if he does have a giant guitar slung casually over the back of his shoulders – as we all do, at some point in the day. If I had a nickel for every time my guitar accidentally ended up on my shoulders… And then I'm looking for my guitar all over the place. It's like searching for your glasses and finding them on top of your head. Can't see the guitar back there, and it's just such a natural place to put it that you'd easily forget altogether.
No idea about those cartoon characters. But they sorta remind me of the Looney Tunes critters in "Space Jam." Oh and speaking of the Kanye/Chris Brown connection, it was revealed last year that Kanye likely has a ghost blogger, a guy named Marcus Troy. Given how similar the style is between Kanye's blog and Brown's, Celebitchy pointed out to me that they're probably using the same ghost blogger. Innovative.
The only thing I will give Brown credit for: he showed enough restraint not to have the retouchers enhance his package. And that's gotta be tough to resist when you're wearing man-leggings.
Here's Chris performing during POWER 105.1′s Powerhouse concert in East Rutherford, New Jersey last Tuesday. Images thanks to Fame Pictures .