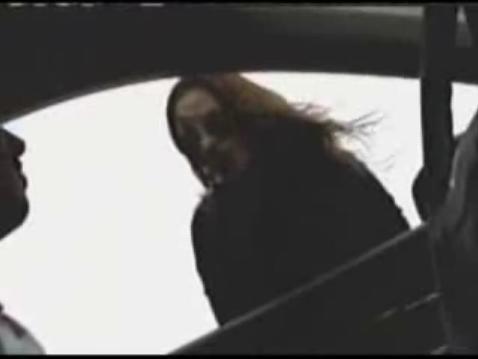 Julia Roberts is getting some pretty bad press for chewing out one of the paparazzi who had followed her to her kids' school. Apparently she was so pissed that she got in her car and was following the guy and blaring on her horn. The paparazzi caught the whole thing on tape, and of course sold it as soon as he got home. It seems like a lot of people are criticizing Julia, but she makes some really good points. There is a line between following celebrities – who have chosen to be famous – and following their little kids, who deserve a reasonable amount of privacy, and didn't choose fame.
Julia Roberts, a mother of three, has made it clear – in her actions and now in words – that she doesn't like paparazzi staking out schools in order to get photos. Roberts, 40, recently chased down a photographer in her SUV near a school and gave him an earful, in an incident that was caught on video and shown on TMZ. Asked by Access Hollywood for Friday's show what she said to the man, Roberts replied, "I just told him a school is not a place for a grown man to be crawling around trying to take pictures."

She added: "If you want to take a picture of a person, then go to an adult place. Go to the coffee shop, go to the grocery store, go to the restaurant. Don't stake out someone's children's church, school or playground environment."

In the recent incident, Roberts, who did not have her kids with her, pursued a car of photographers and got them to pull over. Telling one man to shut off his camera, she said, "I want to talk to you about the fact that you're at a school where children go. Turn it off!"
[From People]
Frankly I think Roberts was perfectly right to get mad. Even if her kids weren't with her, she was at their school, so it had to do with them. There are worse things than overprotective parents. I think it's totally normal that her natural inclination is to get mad and go after people that she feels are invading her kids' space. She might have been a bit irrational, but I'm sure it's not the first time paparazzi have shown up around her kids. It was probably just the straw that broke the camel's proverbial back. In an article in this month's Vanity Fair, Julia mentioned that she thinks it's wrong for the paparazzi to take pictures of kids and/or publish their faces. She's standing by what she believes, and every parents has the right and duty to look out for their kids' well-being. Though the paps did catch her parking in a handicap spot last week, so maybe she's riled up for another reason.