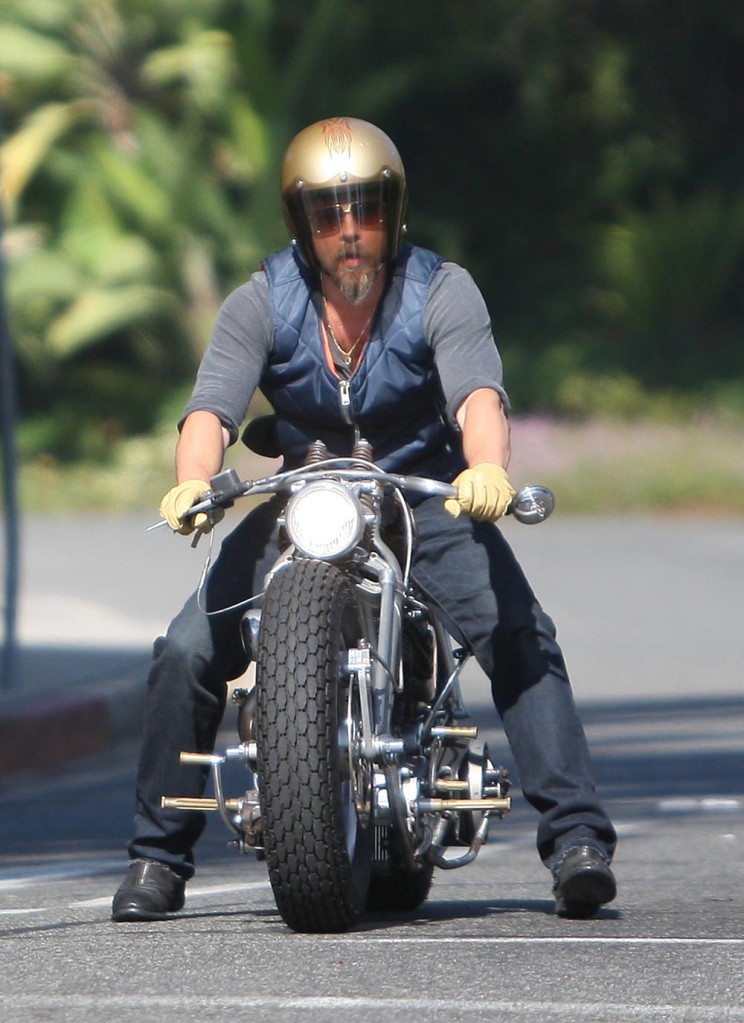 Brad Pitt's motorcycle accident made headlines a few weekends ago. Although there were several different versions of what exactly happened when Brad "crashed", the video (that was released a few days later) shows that Brad went in between a row of parked cars and a row of cars waiting at either a stop light or a stop sign. Brad clipped one of the parked car's rearview mirrors, and he lost his balance, going down. He wasn't hurt, his bike was scratched up, and there was very minor damage to the parked car.
While Brad was in Japan, for the Japanese premiere of Inglourious Basterds, he answered some questions about the crash. As it turns out, Brad wasn't riding on a new bike that he was unfamiliar with – he was actually on his "favorite" motorcycle. So, I have no explanation for his accident other than he just made a mistake, or wasn't paying attention, or was pulling a douchey bike move:
Brad Pitt says he is in the market for a new motorcycle.

The actor, in Tokyo to promote his latest movie, "Inglourious Basterds," said he trashed his favorite bike recently while trying to escape overzealous photographers.

"I had a little mishap," he said. "No injuries, except my ego. I was trying to get away from some paparazzi and instead gave them a good story. It was my favorite bike, so that is really sad."

Pitt, a well-known motorcycle buff, was involved in a minor accident in Los Angeles last month after a paparazzo reportedly cut him off in traffic. He said that while he is in Tokyo he will be looking for a replacement.

"I will definitely be looking at motorcycles," he said. "You've got some of the best builders right here."

"Inglourious Basterds," directed by Quentin Tarantino, premiered in Tokyo on Wednesday. As a promotion gimmick, Japanese movie viewers will be given a money-back offer if they are bored after watching the first 60 minutes of the revisionist World War II swashbuckler.

Pitt said he felt lucky to be chosen as the movie's leading man – Tarantino had initially planned to cast himself in that part.

"We had heard about this script for about eight years before it came my way, so it had taken on a mythical dimension," he said. "I was doubly flattered because Quentin originally wrote the part for himself."

"Inglourious Basterds" follows a band of Jewish American soldiers, led by Tennessean Lt. Aldo Raine (Pitt), who hunt Nazis with the goal of not just killing them but scalping them and sometimes carving swastikas into their foreheads.

"What made me want to make the film is simply that I like war movies," said Tarantino, who joined Pitt and other cast members at a news conference. "The initial idea sometimes is really as simple as wanting to make a war movie or a car chase movie. The rest goes from there."
[From Huffington Post]
Brad's beard is also making international headlines. He showed up in Japan with damn beads in the dreadlocks, and now people are wondering what the hell is up with Brad's grooming habits. Yesterday, we explored the theory that Brad is growing it out for his role in The Lost City of Z. Now Hello Magazine has a theory that Brad might be participating in 'No Shave November', which they describe as "a growing movement among young men who have vowed to not use their razor for a month…Social networking sites like Facebook have 'No Shave November' groups with over 10,000 members currently participating in what may become the scruffiest month of the year." Except that Brad has been growing his junk out for months. So maybe he feels strongly about "No Shave 2009". There is no ring to that.
Photos are from Pitt's accident on 10/24/09. Credit: Mac/Fame Pictures