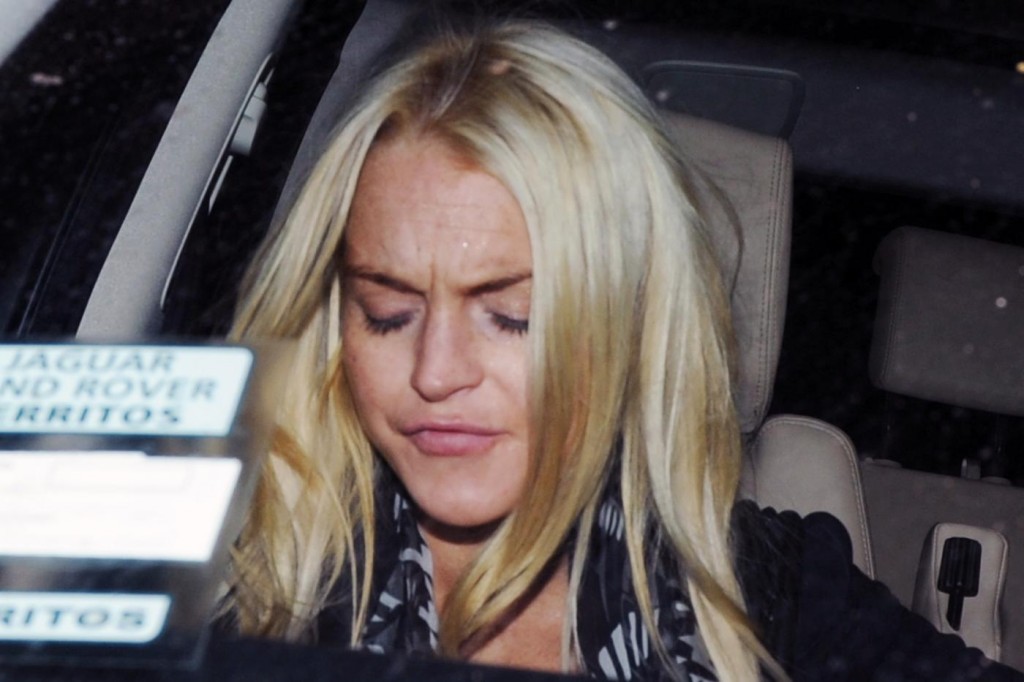 Radar has a recording of a very troubled phone call from Lindsay Lohan in which she slurs her words so heavily that it's nearly impossible to tell what she's saying. They include handy captions on the video, and she's talking about how she needs help while sobbing heavily. She sounds really pitiful, and doesn't make much sense at first, even with the words spelled out. Then she goes on to say that it "No one cares about me… It's about how they feel, not how I feel. It's not about me. It's never been about me, unless I fight for it." I would feel sorry for her if she wasn't such a narcissistic person who hadn't pissed away every opportunity she's been given.
Given the fact that the phone call is to her dad, who has been blabbing for weeks about how he'd like to stage an intervention for Lindsay, we can assume that he's the one who sold her out to the press. I wonder when he recorded that call and how much he got paid for it. It hardly seems worth the money since it just confirms what people already know. Michael Lohan is probably sitting somewhere with those crazy eyes of his, rubbing his hands together at how much money he made proving his point. Sadly he betrayed his daughter even more thoroughly than he had before, and she probably won't talk to him for a while. He's not going to "save" her like this, but it's not like that was ever his intention:
It's a shocking side of actress Lindsay Lohan we've never heard or seen before — three minutes of a recorded audio tape revealing her heart-wrenching and desperate plea for help.

The tape, obtained exclusively by RadarOnline.com, is the first of several which were recorded from phone calls Lindsay and her mom Dina made to Lindsay's dad Michael Lohan.

The tape reveals a tortured and inconsolable Lindsay. At times she wails and sobs uncontrollably— at others, she whimpers like a child as she complains about problems with her family and ex-girlfriend Samantha Ronson.

"Mommy says that I'm worse than you were," Lindsay can be heard crying to her dad. "And she's defending…She doesn't back me…she doesn't stand by me."

Lindsay continues, "No one cares about me. They don't, by the way. It's about how they feel, not how I feel. It's not about me. It's never been about me, unless I fight for it."
[From Radar Online]
It's like Lindsay's just figuring out that the world doesn't revolve around her and she can't handle it. Radar says this is "the first of several" recorded phone calls so does that mean they bought a package deal from Lindsay's dad and will they be leaking her calls piecemeal over the next few days and weeks? This is such a mess.
Lindsay is shown on 10/27/09. Credit: David Tonnessen, PacificCoastNews.com