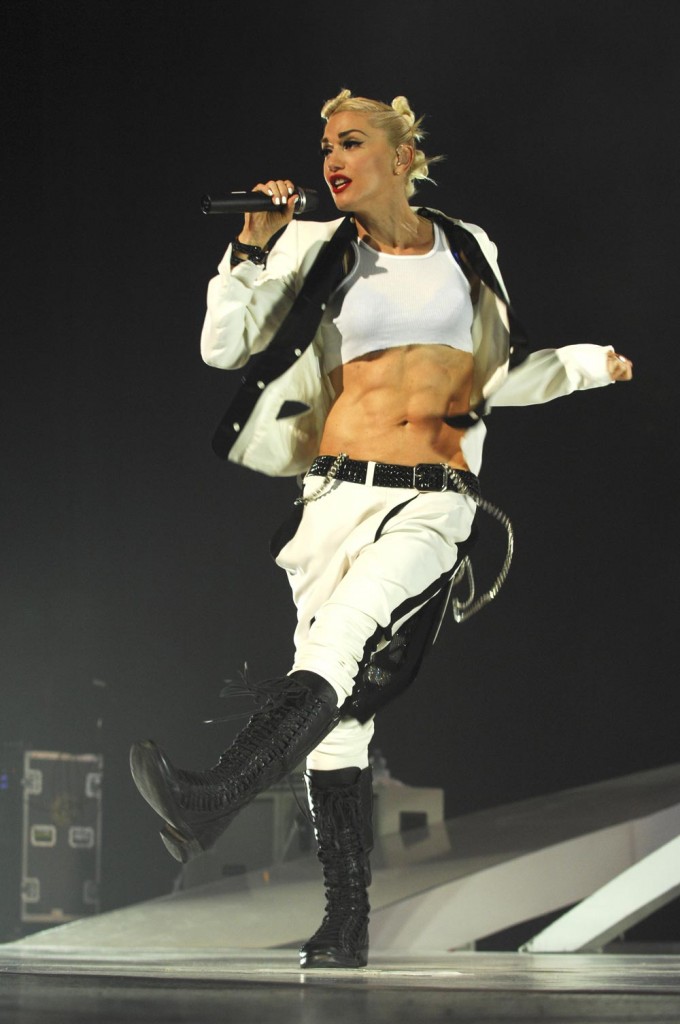 In September, the two remaining members of Nirvana issued a statement against the use of departed lead singer Kurt Cobain's avatar in the game Guitar Hero. There's a function in the game that lets you "unlock" a character and have it sing any number of songs, including songs of different genres and voiced by different gender singers. Former Nirvana members Krist Novoselic and Dave Grohl didn't object to the use of Kurt's image in the game, they objected to "the character [being] used with any kind of song the player wants." Novoselic and Grohl don't have rights to the Cobain estate or any say in how Kurt's image is used. Kurt's widow Courtney Love launched a confusing rant against the licensing of Kurt's image in the game, which she approved, and compared it to committing "necrophilai" [sic] and to "raping me and my family mother in law child."
The band No Doubt has taken a much more sane route to ensuring that their image isn't misused by Activision. They're suing the company for the same issue that Love and Nirvana members were rallying against. In the new Band Hero game the Gwen Stefani avatar can sing songs in a male voice and with material they consider objectionable. They say they didn't sign off on it at all.
Gwen Stefani is not a man and wants nothing to do with hookers — but according to a new lawsuit, Gwen claims she's being manipulated into all sorts of manly, unGwen-like behavior for a new "Guitar Hero" video game.

The band No Doubt is suing the makers of a new game called "Band Hero" — claiming gamers were only supposed to be able to use No Doubt's digital images to sing 3 No Doubt songs.

But in the lawsuit, filed in L.A. County Superior Court, the band claims Activision "transformed No Doubt band members into a virtual karaoke circus act" by having them "sing, dance and perform over sixty songs."

The band is particularly pissed that Gwen Stefani's animated image can channel a male voice to sing "Honky Tonk Woman" by the Rolling Stones … a song which contains lyrics about "having sex with prostitutes."

The band is suing for an injuction prohibiting "the unauthorized use of the No Doubt's name and likeness" in the game … along with an undetermined amount of damages.

UPDATE: TMZ spoke with a rep from Activision who tells us, "Activision has a written agreement to use No Doubt in Band Hero – an agreement signed by No Doubt after extensive negotiations with its representatives, who collectively have decades of experience in the entertainment industry …

… Activision believes it is within its legal rights with respect to the use and portrayal of the band members in the game and that this lawsuit is without merit."
[From TMZ]
The stuff about being able to unlock the characters was probably couched in legalese deep in the contract and I bet it wasn't disclosed properly to the artists and their lawyers. You can understand how they would be upset to see their likeness singing songs from someone else – particularly if they're in a voice and style that bears no resemblance to reality. It probably makes the game more interesting, though.
Here is a link to a video of what is supposed to be Gwen Stefani and No Doubt in another related game by Activision, Guitar Hero 3: Legends of Rock. It doesn't look like her at all. I wasn't able to find any screenshots of Stefani's avatar in Band Hero, but here are links to Taylor Swift and Adam Levine's avatars in the game and it looks just like them.
And here's a commercial for Band Hero. It looks like a lot of fun.

No Doubt is shown performing in LA on 8/1/09. Credit: Apega/WENN