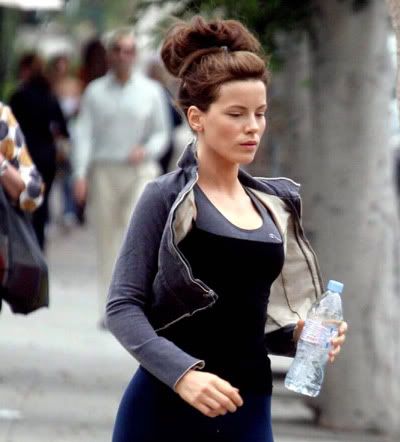 We know it's hard to believe that Kate Beckinsale is not in talks to play Wonder Woman since you read about it everywhere.
As we reported yesterday and are repeating so that we have an excuse to post these pictures of Beckinsale working out, the stories were based on an April Fool's blog post that got picked up by IMDB news. Here's what we wrote:
Site JoBlo.com
ran a parody article
stating that Beckinsale had been cast in the role and attributed obviously fabricated quotes to the director, like
"I couldn't tell you how many actresses…I'm talking married women here, promised to blow me left, right and center if I gave them the part."
IMDB picked up the story and sourced JoBlo, changing the details so that Beckinsale was in talks for the role, but had not yet been cast.
Pictures [via]
Three more pictures after the jump.