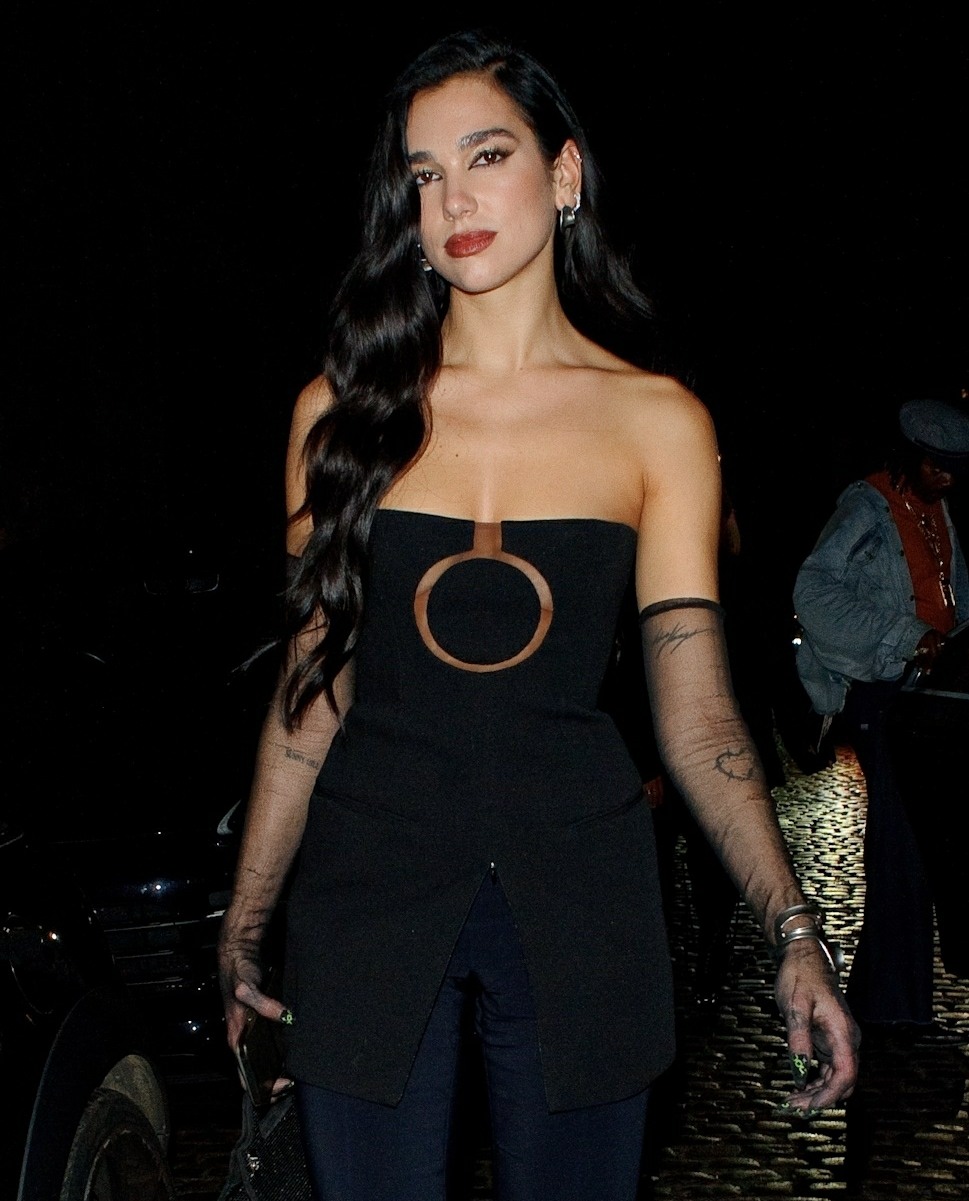 The beauty and skincare industry is a behemoth at this point, with girls and women being told constantly that they need to spend hundreds of dollars every month on endless products. It's actually pretty rare that a celebrity comes out and says "yeah, that doesn't really work for me, I'm not using wall-to-wall skincare products." Well, Dua Lipa did just that. She's currently promoting her partnership with YSL Beauty. She's the face of YSL's Libre fragrance, and she chatted with Byrdie about perfumes, days off and skincare. I was surprised by her quotes about skincare!
On working with YSL: "I love the toughness of the YSL woman. Yves Saint Laurent gave women the freedom to wear the tuxedo in the early stages of fashion, which separated the brand from others. That idea of strength has always resonated with me."

Scent memories: "My mom always had a very signature scent that was so comforting to me. I would always watch her put on makeup and was so fascinated by how much pride she took in caring for herself."

Her first perfume purchase: "I think that Curious by Britney Spears in the blue bottle was the first fragrance I ever bought. I like that it was really fresh."

Her days off: "On an off day—which is usually rare—I'd be at home in London and go to a hot yoga class first thing in the morning. Then there's a lovely brunch spot next to my yoga class where I get a smoothie and an English breakfast, which feels really comforting."

Mindfulness: Even when she's working, Lipa says her yoga practice, meditation before bed, and taking her vitamins are non-negotiables. "That mindfulness practice is super important to me. Making sure I am healthy inside and out helps me stay on top of everything."

Her skincare: "My skin gets really dry from traveling, and for a while, I tried so many products, and nothing made it better.". Instead, Lipa says her dryness bred breakouts, which subsequently left scars, that she's healed by adopting a minimal approach to skincare. "When I am on holiday spending time in the sun, I don't really need to put on a ton of treatments and serums. I realized when I put less on my skin, and it's much better. We're conditioned to believe that we need to use 500 things when sometimes less is more."
Do you know how rare it is to hear a celebrity woman say "We're conditioned to believe that we need to use 500 things when sometimes less is more"? Super-rare. I agree with her too – a lot of people love to have and use 20 million skin products and God bless, but if I was putting that much on my (sensitive, rash-prone) skin, I would break out. All of the skincare-startups are always like "you need this ten-product system, plus plus plus all of this other stuff." Just say: different people have different skincare needs and there is no one-size-fits-all answer, and do what works for you.
Photos courtesy of Backgrid, YSL Beauty IG.