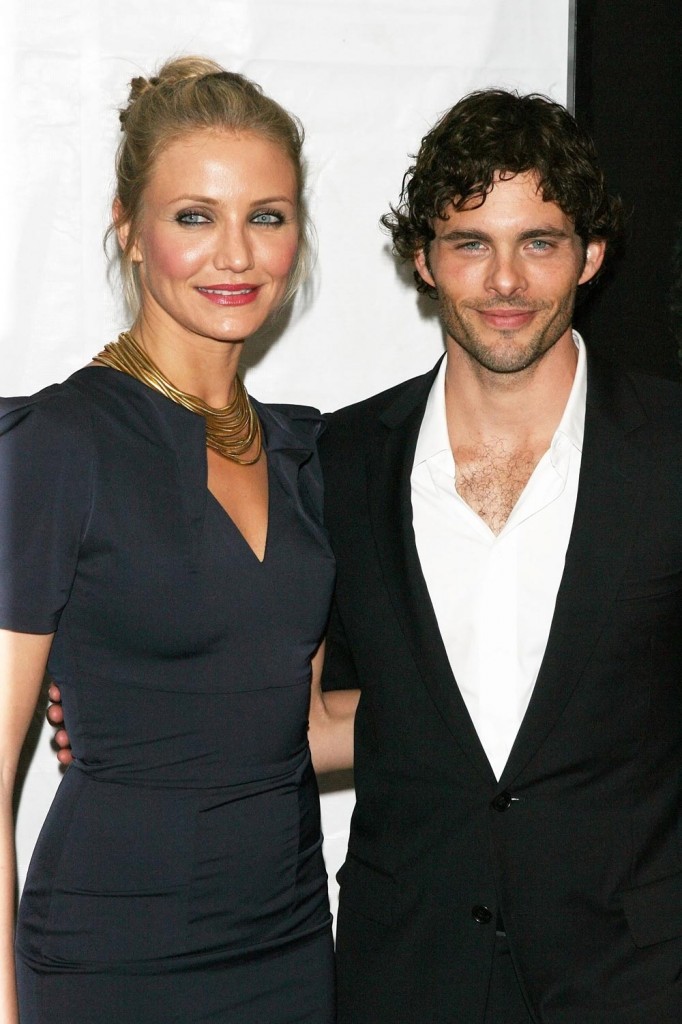 I've always been kind of "meh" on Cameron Diaz's beauty. I usually find her cute, but I never really find her stunning or gorgeous. I'm reconsidering though, because she's blowing me away in these photos. Camy was at the New York premiere of her newest film, The Box. Before I even go into how crappy that film looks, let's just admire Camy and how pretty she looks. According to Just Jared, Camy is wearing an RM by Roland Mouret "Electra" cocktail dress, and The Frisky is all over Camy's "messy topknot". I like the whole thing – I usually don't care for these excessively shouldered dresses, but Camy makes it work. I love her accessories too, and her makeup, skin and hair are all flawless, I think.
Now, for the crapfest film. The plotline for The Box is such: "Cameron plays the wife of James Marsden's character who is forced to worry about money when her husband is fired. Shortly thereafter they are presented with a box from a stranger that will give them a million dollars to push a button and kill some random person." When asked about it on the red carpet, Camy said: "It's not a decision that you take lightly, especially when you know the ugly consequences. We're all offered little buttons to push every day of our lives. I think the bottom line is, 'Nothing is for free.'" Oh, so wise!
Needless to say, this film is getting slammed by critics. Just to take one example out of the air, NPR calls their review "'The Box' Attempts To Persuade You That Contract Killing Is A Moral Dilemma". Perhaps the stupidity of the movie is the reason Cameron hasn't been doing a lot of press. She was on Jimmy Fallon last night, and she's got a totally boring interview in Parade, and that's about it. Yeah… Cameron must know the film sucks. That's why she's trying to change the subject by looking beautiful.
Here's the trailer for The Box

EMBED-The Box Trailer – Watch more free videos
Cameron Diaz is shown with her co-star James Marsden at the NY premiere of The Box last night. Credit: RAM/Fame Pictures and WENN.com