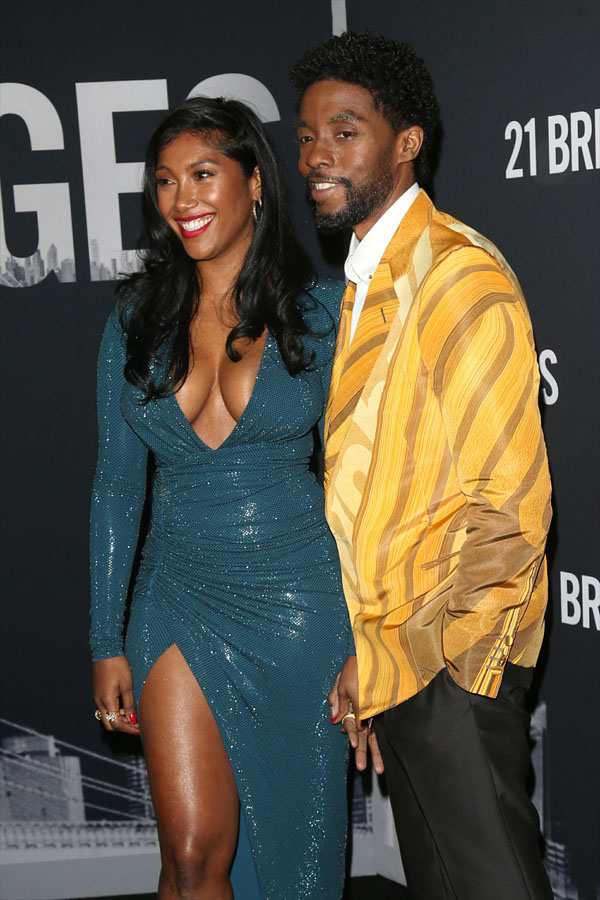 As we've seen, the Black Panther cast is out in full promo mode ahead of the sequel's premiere next week. But this surprised me a bit! Simone Ledward Boseman, Chadwick Boseman's widow, sat down for her first interview since his passing with Whoopi Goldberg. ABC previewed the interview on Good Morning America and it will be part of a special airing on Friday night, Black Panther: In Search of Wakanda. Simone talked about her grief and the difficulties of the past two years, keeping Chadwick's health quiet during the pandemic, and the scholarship in his honor at Howard University's Chadwick Boseman College of Fine Arts.
Chadwick Boseman's wife, Simone Ledward Boseman, is reflecting on her late husband's legacy in her first interview since his death.

Ahead of the premiere of Black Panther: Wakanda Forever, Simone sat down for an exclusive discussion with Whoopi Goldberg that aired Tuesday on Good Morning America, where she opened up about the "most challenging two years" of her life.

She revealed that it was during the COVID-19 pandemic that her husband's health really began to "spiral," as he managed through his fourth year battling colon cancer.

"It seemed like, 'Is this a crazy coincidence?' That we get to actually be inside, we get to be here with family, you know, together, and everybody in the world is also experiencing this togetherness in the midst of this awful, scary, unpredictable time," Simone recalled.

They kept their circle tight, she said, and as a result of their privacy, news of Boseman's death at the age of 43 in August 2020 "shocked and devastated" the world, explained Goldberg, 66.

"Some days, I'm doing worse than I'm really willing to acknowledge. Other days, I'm doing better than I feel comfortable admitting," Simone shared.

Best known for his portrayal of King T'Challa in 2018's Black Panther, Boseman's legacy lives on in a scholarship created in his name at his "beloved" alma mater, Howard University. The university's college of fine arts has also been renamed in Boseman's honor.

"We have four scholars. One of them graduated this past year, and was very proud to be the first graduating Boseman scholar of the first graduating class of the Chadwick Boseman College of Fine Arts," Simone said.

Through the honorary scholarship, Simone said she is "taking this mantle and we are carrying it to as many voices as we can."

"I can't believe that I was so lucky," she said tearfully. "I can't believe that I got to love this person, and I also got them to love me too."
Simone and Chadwick got together before Black Panther came out, around 2018, got engaged in 2019, and married in 2020 sometime before his untimely death in August. What she says about grief sounds helpful for others struggling with it. It's not a linear process and there's no right way to feel at specific points in time — it's possible to feel okay "too early" and not okay "too late." What Simone says about his health worsening around the time of the covid lockdowns was also very affecting. It was a scary time for everyone due to covid and a scary time for them too for a different reason. And they were already keeping his health struggles private, but the timing of covid really allowed them to spend lots of uninterrupted time together and with loved ones in Chadwick's final days without public scrutiny. While Chadwick's death was tragic and too soon, it's a small comfort that they had that time to just be together when much of the world was paused, so to speak. It's lovely that his legacy lives on through her and through the scholarship at his alma mater. I'm sure those students feel very honored to receive it. And Simone's words about being lucky she got to love Chadwick and got him to love her too were so sweet and so sad. I'm glad they found each other and were able to be together with the time he had.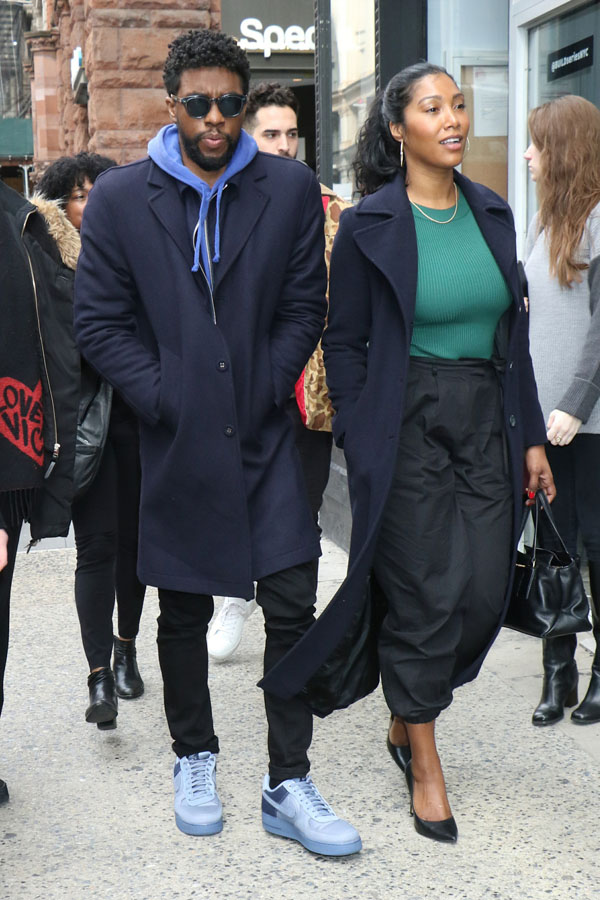 , New York, NY – 20191119 Stephan James, Sienna Miller, Chadwick Boseman and Taylor Kitsch attend the special screening of 21 Bridges. -PICTURED: Simone Ledward, Chadwick Boseman -PHOTO by: DARA KUSHNER/INSTARimages.com Disclaimer: This is an editorial, rights-managed image. Please contact INSTAR Images for licensing fee and rights information at sales@instarimages.com or call +1 212 414 0207. This image may not be published in any way that is, or might be deemed to be, defamatory, libelous, pornographic, or obscene. Please consult our sales department for any clarification needed prior to publication and use. INSTAR Images reserves the right to pursue unauthorized users of this material. If you are in violation of our intellectual property rights or copyright you may be liable for damages, loss of income, any profits you derive from the unauthorized use of this material and, where appropriate, the cost of collection and/or any statutory damages awarded For images containing underage children: Be advised that some Countries may have restricted privacy laws against publishing images of underage children. Inform yourself! Underage children may need to be removed or have their face pixelated before publishing Featuring: Simone Ledward, Chadwick Boseman Where: New York, New York, United States When: 19 Nov 2019 Credit: DARA KUSHNER/INSTARimages.com
, New York, NY – 20191120 The cast of 21 Bridges stop by Build Series to promote the movie. -PICTURED: Chadwick Boseman, Taylor Simone Ledward -PHOTO by: ROGER WONG/INSTARimages.com Disclaimer: This is an editorial, rights-managed image. Please contact INSTAR Images for licensing fee and rights information at sales@instarimages.com or call +1 212 414 0207. This image may not be published in any way that is, or might be deemed to be, defamatory, libelous, pornographic, or obscene. Please consult our sales department for any clarification needed prior to publication and use. INSTAR Images reserves the right to pursue unauthorized users of this material. If you are in violation of our intellectual property rights or copyright you may be liable for damages, loss of income, any profits you derive from the unauthorized use of this material and, where appropriate, the cost of collection and/or any statutory damages awarded For images containing underage children: Be advised that some Countries may have restricted privacy laws against publishing images of underage children. Inform yourself! Underage children may need to be removed or have their face pixelated before publishing Featuring: Chadwick Boseman, Taylor Simone Ledward Where: New York, New York, United States When: 20 Nov 2019 Credit: ROGER WONG/INSTARimages.com
photos credit: Cover Images, Getty and via Instagram