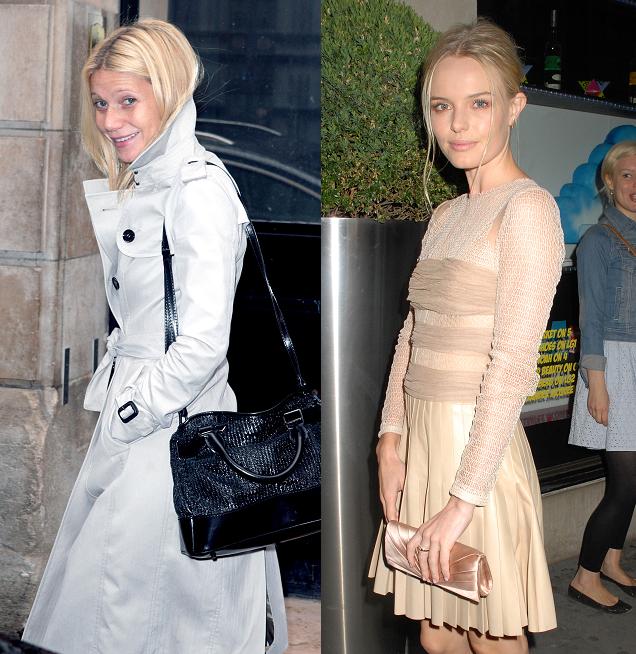 I've finally got the full Star Magazine article about Chris Martin cheating on wife Gywneth Paltrow with Kate Bosworth. The news of this alleged affair came out on Tuesday, and it's been simmering ever since. While both Gwyneth's and Chris's reps are out there, giving "this is so ridiculous" quotes to anyone who will listen, most of the gossip sites are running with "insider" quotes about how Chris and Gwyneth's marriage is totally on the rocks. X17 even ran this hilariously exquisite bitchy quote from a source: "Chris is totally Kate's type, she loves the Brits like Orlando and James Rousseau. And she's Chris's type too. A blonde bore, just like Gwyneth! Gwyneth and Chris are definitely done. Their marriage is over!" Meanwhile, ABC News declared yesterday that Chris Martin will definitely sue Star Magazine for their story, but I haven't seen that confirmed anywhere. So let's see what other dirt Star dragged up:
The witness says that since the backstage VIP section at the U2 concert on Oct. 23 was full of Secret Service agents keeping an eye on former President Clinton, perhaps Kate and Chris thought no one would notice them.

"They weren't even shy about it. There weren't too many regular people there, so maybe they thought no one would blab about them. But they looked really into each other – they held hands and kissed, and I saw Chris caress her cheek. It was pretty romantic."

Later, at an after party for Bono at The Palazzo's Carnevino restaurant, Chris and Kate kept carrying on, eyewitnesses report.

"Kate arrived around midnight with Chris and some other Coldplay members… they stayed until around 5 a.m. It was a wild party!"

When Kate and Chris first arrived, she went straight up to the hostess' stand and started rambling on about how she and Gwyneth were really good friends.

"Thinking about it now, it was like she was overcompensating," says an onlooker. "She said that whenever she's with Gwyneth in Los Angeles or New York, they always go to one of Mario Batali's restaurants. Carnevino is one of Mario's restaurants. It was so out of the blue that she was talking about her friendship with Gwyneth, like she was justifying why she was with Chris. And it's weird because Mario and Gwyneth are good friends too."

"Kate and Chris sat at a table towards the back of the room. They seemed pretty into each other," says an eyewitness. "They spent the entire time hanging out together, eating, drinking, laughing. Wherever Kate went, Chris would be right next to her. They sure looked like a couple to me."

Chris's hookup with Kate may not come as a shock to friends of the couple. Some say Gwyneth and Chris have been drifting apart for months. "It's like Chris suddenly realized he's a rock megastar and women throw themselves at him… he's become incredibly affected by female flattery. And Kate is just the kind of beauty who'll flatter him = bright, sexy and intelligent."

Whispers of trouble in Chris and Gwyneth's marriage have been around for a long time, but looked like they were making a go of it in August when they purchased a new house. But, "it didn't work. The marriage has major problems. They're at a crossroads and there's no knowing if the relationship can survive… they're leading separate lives. She finds him immature. He finds her pretentious."

Meanwhile, Kate Bosworth "has been chasing Chris for a long time," a source reveals. "All his friends think that there's something going on with them."

"Last summer, Gwyneth's ego was bruised when Chris told her that Kate was like a younger version of herself… he's had a crush on Kate since she starred in Blue Crush. Gwyneth knows that Chris flirts all the time on the road, but after that 'younger version of you' comment, Gwyneth is more sensitive and suspicious of Kate."
[From Star Magazine, print edition, November 16 2009]
This sh-t is epic. It's got it all – an affair, Goop, Secret Service, a Bubba Clinton shout-out, Mario Batali and scandal. So juicy! And I'm leaning more towards a large chunk of the story being true, too. Which is why I think Chris Martin won't end up suing Star. Many of the quotes were from eyewitnesses in very public places, it's not the normal "the walls have eyes" crap. I think Chris and Kate really are having an affair, and have probably been sleeping together for a while. Oh, and I would have loved to see Gwyneth's prissy face when Chris told her that Bosworth was a "younger version". Poor Goop. It's not so Goopy when you have the same problems as all the peasants, is it?
Here's Gwyneth leaving The Ritz Hotel in Paris on October 5th. Images thanks to Fame Pictures . Kate Bosworth is shown at a private dinner at Harvey Nichols in London on June 3rd. Images thanks to WENN.com .